LATEST NEWS
On Monday, November 23, 2020, General Teamsters Local Union No. 200 partnered with the Taylor-Made Foundation at John Marshall High School in Milwaukee to provide the community an offering of essential needs for this Thanksgiving Holiday. Local 200 has worked with the Taylor-Made Foundation and other businesses in these types of events that give back to the families of our communities, especially during this COVID-19 Pandemic where many families have seen a harsh impact. Local 200 would like to thank LU200 Union Stewards Demetrian McClain, Darryl Sheffa, Vice President Jeff Flayter, Recording Secretary Clayton Moesch, Business Agent Jay Couturier and so many other individuals and contributors in making this event a success.
YOUR CENTRAL STATES
PENSION IS IN CRISIS
Teamsters Mourn Passing of Tom Keegel
C. Thomas "Tom" Keegel, General Secretary-Treasurer Emeritus of the International Brotherhood of Teamsters, passed away on Thursday, November 19, 2020 following a lengthy illness. Keegel served as the union's General Secretary-Treasurer from 1999 until 2012.
"Tom Keegel was a great partner who exemplified what it means to be a Teamster," said Jim Hoffa, Teamsters General President. "He is going to be dearly missed by all who knew him."
Hoffa praised Keegel as a strong partner in their effort to rebuild the strength and power of the Teamsters Union. Together they rebuilt the finances of the union and established a dedicated strike fund.
As General Secretary-Treasurer, Keegel aimed to lift up his Teamster brothers and sisters through his work as their fiscal watchdog and the guardian of their hard-earned dues money.
When Keegel took office as General Secretary-Treasurer on March 19, 1999, he instituted sweeping reforms in every area of the union's finances. He balanced the budget for the first time in more than a decade; hired skilled auditors and accountants; and, developed programs to extend these reforms to Teamster affiliates. He also instructed his auditors to help local unions make their books models of clarity and ethics.
Born on September 27, 1941, in Minneapolis, Keegel retired in 2012 after a 52-year career with the Teamsters Union. He started his Teamster career in 1959 as a driver for Steeling Cartage Co. and member of Local 544 in Minneapolis.
He moved up through the ranks of the Teamsters Union, from steward up to General Secretary-Treasurer. He served in several capacities in the union, including President of Joint Council 32 and Local 120, both in Minnesota.
"My heritage is in the labor movement. I remember how I became inspired," Keegel said in 2012, detailing how his first co-workers were strong Teamsters who had fought in the famous Minneapolis Strike of 1934. "These men loved their union and taught me that the Teamsters never give up, Teamsters never give in or run from a fight."
When Keegel retired, he told his Teamster brothers and sisters, "You don't have to worry about where I'll be and how I'm doing. I'll be everywhere. Wherever someone is fighting for respect on the job, I'll be there. Wherever there's a mother striking for a fair day's pay, I'll be there. Wherever there are people trying to organize, I'll be there. Just look in their eyes and you'll see me."
Keegel is survived by his wife Patricia and three daughters, Holly, Heather and Heidi and their families.
Our future depends upon the youth forging new paths. For our Teamster Families that have children pursuing further education, please visit the James R. Hoffa Memorial Scholarship Fund at www.jrhmsf.org for more detailed information.
Union Steward Mark Hanley recently shared with us the Honorable Withdrawal Card that was issued to his Grandfather from Teamsters Local 200 back in August of 1936. A very early piece of Local 200 history, as the Local was just established the prior year of 1935 in May. Thanks for sharing the history with us Mark.
WISCONSIN TEAMSTERS PUT AT RISK BY KROGER
Kroger Disregards Health of Essential Workers During Pandemic
Press Contact: Thomas J. Bennett Phone: (414) 479-3645 Email: tbennett@teamsterslocal200.com
(MILWAUKEE) – On Tuesday, November 10, Wisconsin Governor Tony Evers (D), signed Executive Order 94 in response to the record setting surge of COVID-19 cases impacting Wisconsinites. Earlier the same day, Kroger without any announcement to Local 200, increased their work force with 75 nonunion workers and growing, creating conditions in an already congested warehouse that place Local 200 members and their families at risk.
"Our Teamsters and their families are priority one. Kroger without notice brought workers from parts unknown with no communication to us or any plan for our members' health and safety during this crisis in Wisconsin. The actions of Kroger are irresponsible and demonstrate Kroger places profits over safety," said Tom Bennett, Local 200 Secretary-Treasurer.
The 800 Teamster drivers and warehouse workers work at the 1.1 million square foot Kroger distribution center in Oconomowoc that serves 150 supermarkets throughout Wisconsin, including Pick 'n Save, Copps, Metro Market, and within the Chicagoland area, Mariano's.
The workers' contract expired more than a year ago and they are working on an extension agreement that will expire in less than two weeks.
Kroger, a multi-billion dollar corporation, is paying into a workers' health care fund at 2017 rates and has refused to make changes that will protect the health care of its essential workers during the COVID-19 pandemic. Close to 10 percent of workers have contracted the virus, which is turn has threatened the health of hundreds of their family members.
The main issue for workers is the grocers' effort to take away affordable health care from them and their families. The health care fund will not be able to maintain current benefits at a 2017 level, which will likely result in higher out of pocket costs and changes to the plan that will negatively impact these essential workers.
"Kroger has asked to use the value and financial strength of the Wisconsin Health Fund like its own personal ATM. The fund has been in existence for 60 years and receives payments from all employers; it's not there for Kroger to reap from," Bennett said. "Kroger can afford decent health care for its workers who are working 14-plus hour days in tough conditions. The company's CEO made $20 million last year. This is a company that can choose the right path and make sure its workers can maintain their health care and work safely, and they would be wise to do so," Bennett said.
Our health care partner, Wisconsin Health Fund, begins the Annual Open Enrollment period from November 1, 2020, until November 30, 2020. An informational mailer is at your home or just about to your mailbox describing what the Open Enrollment period is and how you can update your needs.
"Brothers and Sisters my name is Demetrian McClain, a proud member of Teamsters Local 200 for 22 years and serve as a Union Steward. I am asking everyone to that is registered to vote or make a plan to vote on November 3, 2020. For me it's easy. I am going to support the candidates that support me, my family, and the hard-working families of my community. Make a change, get out and vote on November 3, 2020."
Pictured with Demetrian is (left to right) LU200 Recording Secretary Clayton Moesch, Union Steward Darryl Sheffa, Union Steward Demetrian McClain and LU200 Business Agent Jay Couturier.
Teamsters Local 200 would like to recognize Graciela Ledezma of Cargill Cocoa & Chocolate on what was her last week of work. As a 4 decade plus Member of Local 200, Graciela made the decision to step into the leisure lifestyle of retirement. Enjoy Graciela!
TEAMSTERS LOCAL 200 RETIREES
Road project work on Wednesday, October 14, 2020 on Bluemound Road in Milwaukee, Wisconsin with Teamsters Local 200 delivered concrete.
The shipment of hoodies, black or grey in color, just arrived and will be available for sale on Monday, October 12, 2020 at 8 am. The sizes range from Large to 4XL. The price for any size hoodie is $40.00 and only are available for pickup at the Local Union Hall.
Teamsters Local 200 would like to recognize Brother James Smith from Waste Management on his 25th Year as a Teamster. Thank you for your service in an industry that has been determined as 1 of the top 10 most dangerous jobs in America.
On behalf of the Membership, Executive Board, Agents and Staff of Teamsters Local 200, we would like to congratulate Tim Robinson on his Retirement. Brother Robinson has been a Teamster member for 25 years and spent 11 of the 25 years as a Union Steward serving his Brothers and Sisters in the Freight Division. President Tim Pinter (left) and Secretary Treasurer Thomas J. Bennett are pictured with Tim as we extend our Best Wishes and Happy Retirement offeringon his 1st official day of Retirement.
TEAMSTERS LOCAL 695

A Message from Melissa Winker
Meet Teamster endorsed candidate for the 38th State Assembly District; Melissa Winker....
Available at the Local 200 Union Hall are Local 200 Neck Gaiters for $8.00 each. Understanding that we should continue to maintain physical/social distancing and take all necessary precautionary measures we can, these Neck Gaiters can be part of the overall effort that each individual takes during this Pandemic
Healthcare needs for you and your family are crucial components in our daily lives. For our Teamster families that use Wisconsin Health Fund as their Healthcare provider, there are numerous services offered through your WHF Benefit and these benefits are available for your use during these troubling times. With the COVID-19 Pandemic, there have been uncertainties that many families are being confronted with that can be addressed through your Wisconsin Healthcare Benefit. Please contact WHF to see how they may be able to assist you and your family.
Our Teamster families of Local 200 have other Taft Hartley Healthcare Plans or Employer provided Healthcare Benefit Plans will have similar services for your personal needs. Please contact your Healthcare provider and inquire about these services.
Brothers and Sisters,
Recently, the State of Wisconsin has mailed to your home's relevant information about the upcoming election/voting process here in Wisconsin. As part of our Member to Member information outlet, please take a moment to review the information in the link provided below.
In Solidarity,
Thomas J. Bennett
Secretary Treasurer
.
IMPORTANT UPDATES
SOLDON LAW FIRM, LLC.
ATTORNEYS AT LAW
Presents
Right To Work
Discussion
---
| | |
| --- | --- |
| What's New at Teamsters 200 | |
MAKE SURE WE HAVE YOUR
CURRENT E-MAIL ADDRESS
Make sure that you do not get missed when the Local sends important information to it's members and retirees.
Keep your information updated with the Local. If you have moved or changed addresses within the past 6 months, please contact the Local to request that your contact information be brought up-to-date.
You can message the office staff through the Local 200 website (go to the "Contact Us" page listed above), Facebook or call at 414-771-6363.
This request is for all members active and retired.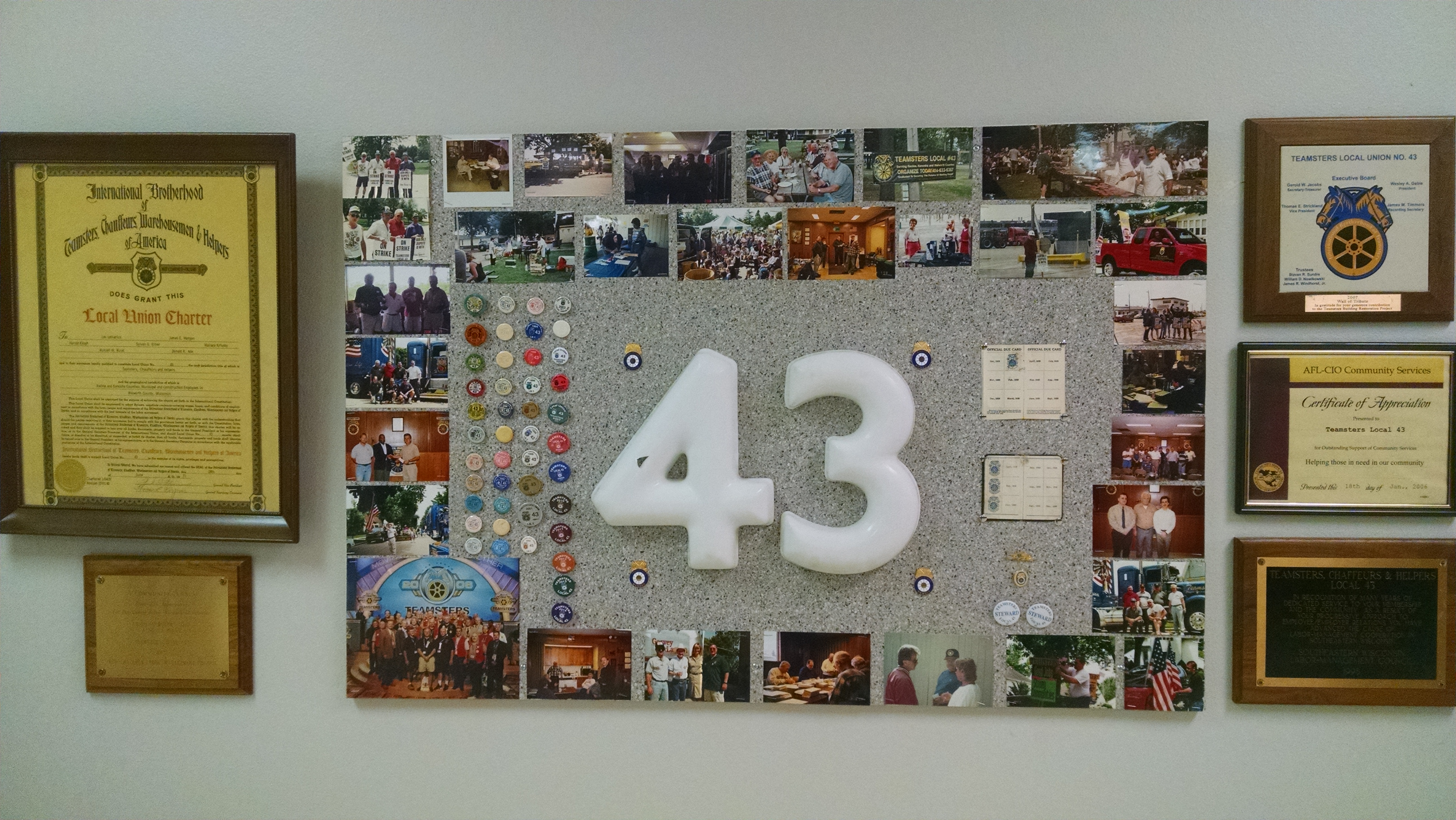 Teamsters Local 43 Remembered Post Merger
Dedicated to these members formerly from Local 43 is a shrine memorializing their Local in their Union hall in the Milwaukee location.
"Where we came from and how we got here helps move us forward," said Teamsters Local 200 Secretary Treasurer Tom Millonzi.
"We put together this shrine so when our new members from Racine and Kenosha come to their Union hall they will see and know that we remember. Remembering how we got here strengthens our solidarity," added Millonzi.