LATEST NEWS
Teamsters and Community
The recent loss of not one but two Milwaukee Police Officers brought Local 200 Teamsters and the Milwaukee Police Association together.
Pictured below are two donation checks from Teamsters Local 200 to the MPA Fallen Heros Fund which helps the families of fallen officer's cope with the loss of their loved one.
"I hope to not visit the MPA offices with donations of this sort in the future. The city and neighborhoods will surely miss these fine officers ,"said Teamsters Local 200 President Tom Bennett.
MPA President Michael Crivello was very thankful and gracious accepting the donations for his fellow officers.
Pictured below is Local 200 Vice-President Tim Pinter and Organizer Jared Wolski presenting one check and Local 200 President Tom Bennett, Vice-President Tim Pinter another.
TEAMSTERS LOCAL 200 GOLF SCHOLARSHIP WINNERS
This year Seven winners each receive $500 scholarship
"It was a great feeling handing out scholarships to these fine students" said Tony Ceretto.
Tony chairs the committee of three Local 200 retirees that review the applications and award the scholarships.
"The essay process is a great way to bring awareness to young people the value Unions bring to Americas workers" added Tony.
Applicants are asked to put in writing what role Unions have in the future of Americas workers and then the committee reviews the essays and pickers the winners.
Pictured left to right attending the award presentation
(scholarship winners are in bold)
Tony Ceretto, Patrick Passler, Eric Passler, Scot Passler,
Michelle Clark, Abigali Clark,
Morgan Franzen Gary Franzen,
Local 200 President Thomas Bennett,
Local 200 Vice-President Tim Pinter
Additional winners unable to attend the ceremony
Taylor Surprise, Jordyn Vetter,
Shelby Mallum, Hannah Kuehl
Congratulations to all the winners and good luck in your future studies!!
.
WASTE MEMBERS RATIFY
NEW 5-YEAR AGREEMENT
On Sunday August 12, 2018, Business Representative Tom Benvenuto and Local 200 members who work at Waste Management and Metro & Pheasant Run landfills met to discuss and then ratify a new five year labor agreement offer. At the proposal meeting prior to the first negotiation meeting, our members said the two most important items other than wage increases for them in these negotiations was keeping the Wisconsin Health Fund health and welfare plan and holding firm on our buckets, which deals with discipline for an employee. The Union bargaining committee was able to accomplish both of those two main goals. Our WM waste members will see a reduction in their weekly co-pay for the next 3 years from what they are currently paying for their WHF insurance and they will also enjoy many other enhancements that have been made to their current WHF plan.
The bargaining committee was also able to increase the level of discipline a member can incur, if they are written up by the Employer. The average wage will increase over the life of the contract will be between 11% to 14%. The Union was also able to achieve other improvements in the new agreement like, safety glasses, safety shoe & tool allowance and attendance. Local 200 would like to thanks all the members of our bargaining committee for their hard work during negotiations and ratification.
Congressional Town Hall Meetings
Throughout the month of August, while Congress is on recess, many of your congressional representatives hold town hall meetings in their district to hear directly from their constituents. Your representative needs to hear from you. These town halls provide you an opportunity to share your story about how important your pension is and the strain losing your pension would have on you and your family. Please consider taking an hour out of your day by attending a town hall meeting.
If your representative has not scheduled a town hall in your area, call and make an appointment to see them in their home office while they are back in district.
Visit VoicesForPensionSecurity.com to search for town hall meetings in your area.
Congressional Town Hall Meetings
Throughout the month of August, while Congress is on recess, many of your congressional representatives hold town hall meetings in their district to hear directly from their constituents. Your representative needs to hear from you. These town halls provide you an opportunity to share your story about how important your pension is and the strain losing your pension would have on you and your family. Please consider taking an hour out of your day by attending a town hall meeting.
If your representative has not scheduled a town hall in your area, call and make an appointment to see them in their home office while they are back in district.
Visit VoicesForPensionSecurity.com to search for town hall meetings in your area.
SAVE THE DATE

TEAMSTERS LOCAL 200 SCHOLARSHIP GOLF OUTING
SATURDAY SEPTEMBER 22, 2018


SAVE THE DATE
2018 TEAMSTERS LOCAL 200
SCHOLARSHIP FUND APPLICATION
CLICK HERE TO GET YOUR APPLICATION
2018 TEAMSTERS LOCAL 200
SCHOLARSHIP FUND FLYER/ENTRY FORM
On Sunday, August 5, 2018 a Craft Workers Appreciation Party was held at the Fiserv Forum in Milwaukee to honor the members of Organized Labor and their families involved in the building off the new home of the Milwaukee Bucks.
The event was well attended with a number of Local 200 members that were part of this historic project. The Local would like to thank our membership for their contributions on the building of the Fiserv Forum. The Local Union began our involvement with the new owners of the Bucks when their dream of a new arena was just a concept to now the completed building.
Our Local Union was instrumental in the very stages of this project. Under the direction of Tom Millonzi, Tom Bennett, Mike Gurich and Tom Benvenuto we took our Stewards from Roundy's to handbill the entire Statehouse in Madison on the day when the vote was needed to move this project forward with the necessary funding. That undertaking made an impact as the vote was in favor to proceed.
The Local Union would like to thank our members of Sonag and Rivcrete, our Construction Members, Freight Drivers and our entire membership for their participation on the project the changes the landscape of downtown Milwaukee for decades to come.
UPS Freight Tentative Agreement Background and Highlights
Bargaining commenced in December 2017 and the parties met over a seven-month period before reaching a tentative agreement on July 12. Bargaining was extremely complex and difficult. Economic and business information was requested and obtained from the company. Some of it was made up of sensitive internal corporate information that is covered by a legal "non-disclosure" agreement. Additionally, multiple attorneys, economists and consultants were used by the committee to sift through the data.
CLICK HERE To Listen to the latest episode of Teamster Nation News and learn how the Teamsters are spending their summer fighting for pension reform that will protect the retirement security of hundreds of thousands of workers and retirees.
RETIRED TEAMSTER ASKS CONGRESS TO SAVE TROUBLED PENSION FUNDS
A Milwaukee man who has been among leaders of a movement to secure government help for troubled pension plans urged members of Congress Wednesday to "think, pray and do what's right" for retirees threatened with loss of much of their pensions.

Kenneth Stribling, a retired Teamster covered by the Central States Pension Fund, a plan teetering on the brink of insolvency, testified in Washington, D.C., before a joint committee tasked with recommending steps to alleviate the mounting crisis in multi-employer pension plans.

Many of those plans, which cover union workers in fields such as trucking and construction and receive contributions from multiple employers, are on the verge of crashing financially.

And the Pension Benefit Guaranty Corp. projects its backstop program for multi-employer plans will itself be out of money by 2026.

In 2017, some 1 million Americans were covered by multi-employer plans that the PBGC said were on the road to insolvency and were deemed "critical and declining.

"Chief among those troubled plans is Central States, which covers nearly 400,000 people, including about 23,000 in Wisconsin.

Expected to be insolvent by 2025, Central States has suffered as the deregulation of trucking eroded union clout over the past few decades and the numbers of workers and companies contributing to the fund shrank drastically.

In 1980, with deregulation just beginning, Central States had four working Teamsters for every retiree. Today, the plan pays benefits to five retirees for every worker.

In 2015, Central States proposed to preserve the plan by slashing promised pensions. Many retirees, including Stribling, would have seen their pensions cut by more than 50 percent.

The Treasury Department rejected that proposal in May 2016. But the woes faced by Central States and other multi-employer plans have continued.

To address those problems, Stribling and others have called for passage of legislation introduced late last year and named for Butch Lewis, a former Ohio Teamster leader active in the pension fight. Under the legislation, a new Treasury Department agency would borrow money to finance loans to help distressed pension plans.

Wednesday, Stribling called the Butch Lewis Act "the right solution.

"He told members of the Joint Select Committee on Solvency of Multiemployer Pension Plans of how he was "devastated" when Central States proposed cutting his monthly benefits by 55 percent.

"You have no idea what it's like to be retired on a fixed income and suddenly be told your monthly check will be cut in half," Stribling said.

Then, he said, his wife, Beverly, a retired teacher, learned last November that she was terminally ill with pancreatic cancer. She continues to fight the disease.

Like everyone, Stribling said, the Teamster retirees "endure life's storms – death, illness, physical and mental health challenges. Now we also have the burden of traveling through our golden years with an uncertain financial future, a future that had been promised to us.

"He said the issue is "about fairness – keeping promises to working Americans who did everything right and are simply asking you to preserve what is due us now.

"The joint select committee is to make its recommendations by Nov. 30.

On Wednesday, July 25, 2018, Teamsters Local 200 Retiree Kenneth Stribling, has been notified that he will be testifying in front of the Joint Select Committee on Solvency of Multiemployer Pension Plans in Washington, DC. Kenneth has also ben requested to partake in a Round Table Discussion with elected officials about the negative impact of a reduction of an earned pension benefit or the entire loss of a earned retirement benefit by the Actives and Retirees. Bernie Anderson will be traveling with Kenneth to Washington DC next week and both, amongst so many others, will be continuing to be activists on the part of Active and Retired Teamsters of General Teamsters Local Union No. 200 and so many others of Multiemployer Pension Plans that are in the path of insolvency. Bob Amsden, Bernie Andersen and Kenneth Stribling just returned from attending the Pension Town Hall Meeting that was conducted in Detroit, Michigan by Michigan Joint Council 43. General President Hoffa led the discussion at this Town Hall Meeting with a number of elected officials and IBT Officials to a well-attended , standing room event.
Pension Reform, 2018 Election Top Issues at IBT Political Conference
Teamsters from across the nation descended on Capitol Hill this week to lobby lawmakers and learn about the union's plans to get involved and activate membership in advance of the 2018 election.
About 125 political coordinators from locals all over the U.S. spent today going from office to office meeting with elected officials and talking about pension reform, specifically the Butch Lewis Act. The bill would boost financially troubled multiemployer pensions so they don't fail. It would create a new agency under the U.S. Treasury Department that would sell bonds in the open market to large investors such as financial firms.
Two of those Teamsters involved in such efforts were from Local 104 in Phoenix. Dawn Schumann, the local's statewide political coordinator, and Ryan Proctor, a business agent, visited seven offices and met with lawmakers and staff. Their message was pension reform is necessary for workers.
"There needs to be some kind of reform for these members," Proctor said. "They set this money aside. They worked these hours and are entitled to their pensions."
Among their stops was to the office of Rep. David Schweikert (R-Ariz.), a member of the Joint Select Committee on Solvency of Multiemployer Pension Plans. There, they left 1,500 petitions from Arizona Teamsters asking the lawmaker to support the Butch Lewis Act.
Pensions were also a top issue during the first day of the Teamsters Political & Legislative Coordinators Conference, when several lawmakers spoke to attendees about the need for reform.
Rep. Richard Neal (D-Mass.), lead sponsor of the Butch Lewis Act in the House, thanked the Teamsters for all their work to get the word out on the legislation. "I'm delighted with what you have done on this," he said. "The Democrats will hold fast. We have got to convince some Republicans. And I have a few in mind."
One GOP lawmaker who doesn't need any convincing is Rep. Peter King (R-N.Y.). He became the first Republican to co-sponsor the bill, and said more in Congress need to stick up for pension reform. "I am proud to be on the bill and will do everything I can to enact it," he said. "Working people kept their part of the deal on this. To lose [their pensions] now … is completely unfair."
The concerns of the Teamsters, however, go beyond pensions. Speaking about trade, Rep. Linda Sanchez (D-Calif.) said the North American Free Trade Agreement (NAFTA) is one area where a bipartisan solution involving the White House might be possible.
"Every year … we try to build a better template for NAFTA," she said. "I hope this is an area where Democrats in Congress and the administration can find some common ground."
Meanwhile, Teamsters General President Jim Hoffa, speaking to attendees, told them they must be ready to seize upon the momentum building to elect officials who will stand up for hardworking Americans.
"People are saying what the heck is going on," he said. "Things are changing. We need to get people out to the polls. We have to be at the forefront to turn this thing around."

Today is a second National Call-In Day to tell Congress to #ProtectOurPensions. Stand with working men and women by taking action for millions of working families.
Call 1-888-979-9806 to urge Congress to find a legislative solution that keeps or pensions whole
for active and retired workers.
On Thursday, July 13, 2018, members of Organized Labor stood together on the grounds of the Ohio State House in support of the Butch Lewis Act of 2018.
" Our Wisconsin Retiree's have been at the forefront fighting to preserve our Pensions with no cuts. We know the Butch Lewis Act is a viable solution and the Joint Select Committee must act immediately, stated Secretary Treasurer Tom Millonzi to many in attendance yesterday at the Rally."
Retirement
Thousands rally to save pensions
Ohio Statehouse in Columbus scene of protest before hearing scheduled for Friday
By Owen Daugherty
Columbus Dispatch GateHouse Media Ohio
COLUMBUS: The passion from the crowd of thousands who traveled from all over the country was palpable as union workers descended on the Statehouse on Thursday to call on their elected representatives — both in Columbus and Washington — to save their dwindling pension funds.
The massive crowd gathered for a rally ahead of a Friday hearing at the Statehouse. The hearing includes both Ohio U.S. Sens. Sherrod Brown and Rob Portman, who will take part in a bipartisan joint congressional committee tasked with solving the looming pension crisis that has put at risk the pensions of about 1.3 million retirees and active workers.
But before the elected leaders take to the drawing board in hopes of crafting a bipartisan solution to protect pensions, those at risk of losing their livelihood and retirement made it a point to have their voices heard and blow off a little steam in the process.
Those in attendance said their elected officeholders have pushed this problem Please see Pension, B4
Crowds cheer during an appearance by James Hoffa, the General President of the International Brotherhood of Teamsters, during a rally in Columbus on Thursday. | Brooke LaVaLLey/Dispatch
---
Pension
Continued from Page B1
off for too long. Retirees spent years paying into multi-employer pension funds with the hope of having that money when they finish working. With the Wall Street collapse and subsequent recession, those funds are now struggling and in need of support.
Without new legislation, the Pension Benefit Guaranty Corporation — the federal entity that insures pensions — could go under.
Speakers representing dozens of labor unions took the stage to draw attention to the crisis that impacts active workers and retirees.
"This is the people's building," said Tim Burga, president of the Ohio AFL-CIO, pointing to the Statehouse in front of him. "We have had to assemble here to remind everyone of that."
Repeated chants of "Fix it!" rang through the crowd as speakers urged them on. Retired union workers and those planning for retirement called on Congress to pass legislation that would pump hundreds of millions into struggling pension funds to which they say they are entitled.
"This is not a bailout," said Mike Walden, President of the National United Committee to Protect Pensions. "Why aren't we viewed as a taxpayer like everyone else?"
Brown proposed the Butch Lewis Act, which many in attendance supported, but it failed to get bipartisan support. That bill would have created a low-interest, 30-year federal loan to troubled pension plans, with no cuts to retiree benefits.
Dave Field, a lifelong Republican who voted for now-President Donald Trump in 2016 and donated to his campaign, said he stopped supporting the president following the passage of the tax plan Republicans passed in December because it gave tax cuts to corporations but forgot about pensions earned by people like him and others in attendance.
Field came in from North Carolina to attend the rally. He says he is doing his part by showing up as a sign of solidarity. After working for almost 40 years, Field has seen his monthly pension check cut by more than half, losing nearly $700 a month. He is worried that if things don't get better, he would be forced to sell his house.
"People work for 40 years to earn a pension and now its being taken away," he said. "The companies that caused it had bailouts. The government fined those companies, kept the fine money and left us hanging."
Numerous pension plans, including the massive Central States Teamsters Pension Plan, the United Mine Workers Pension Plan, the Ironworkers Local 17 Pension Plan and many others are currently on the brink of failure.
More than 300 multiemployer plans across the nation are in danger of failing.
The hearing at the Statehouse will be the fifth on the pension crisis, but the first outside of Washington D.C. Ohio was chosen because it is among the states with the most pensions at risk, with nearly 60,000 workers in the Central States fund, which is in severely declining status.
By the end of July, the committee will finish the hearings and move on to finding a solution, one that needs bipartisan support.
A solution must be approved by five out of eight members of each party on the committee and then pass both the House and the Senate by an up-or-down vote, with no amendments allowed to be added.
Protestors gather at the Ohio Statehouse for protection of their pension rights. | ErIc AlBrEcht/Dispatch photos
Roger Hulsey (left), 69, of Jasper, Ala., and Mike Barnett, 61, of Springville, Ala., both retired coal miners, sit in the shade of the columns to protest at the Ohio Statehouse for protection of their pension rights on Thursday.
ATTENTION ALL TEAMSTERS LOCAL 200 MEMBERS
The negative impact of the Multiemployer Pension Crisis can affect everyone. Take a moment and view the Central States Pension link below to see the economic impact the Multiemployer Pension Crisis could have on Wisconsin families and its communities.
https://mycentralstatespension.org/congressional-campaign/economic-impact
As Teamsters, the Multiemployer Pension Crisis is a real time event happening today and now and the days are short in number to get the politicians attention to take action in Washington DC. Please visit www.VoicesForPensionSecurity.com and view the information provided.
The upcoming August 2018 Primary Elections in Wisconsin are critical to working families, especially leading into the 2018 Midterm Elections in November. Participation in the election process begins with Voter Registration. If you are registered, encourage and assist someone that may not be registered. With the attack on workers rights, affordable health care, and the American middle class built by Union's, your vote does matter.
FROM THE DESK OF THE SECRETARY TREASURER
OPEN LETTER TO THE MEMBERS OF LOCAL 200
Brothers and Sisters of Teamsters Local 200,
As the current Secretary Treasurer and Principal officer of Teamsters Local 200, the Secretary Treasurer of the Wisconsin Teamsters Joint Council 39 and a member on the Wisconsin Health Fund Board of Trustees, I have had the distinct honor of serving the membership in these capacities.
These positions come with great responsibility and I carry their weight with pride and respect.
Now after serving for over 11 years as your Principal Officer and 41 years as a Teamster my time has come to an end. I will serve the remainder of my term and not seek re-election as other opportunities for myself have recently presented themselves, that for the betterment of myself and my family I simply cannot turn away from.
I would like to sincerely thank every member of this Local Union and every Teamster of this state for the opportunity I have had to serve them, and I wish nothing but the best for you and your families moving forward.
Respectfully and in solidarity,
Thomas L. Millonzi
Secretary Treasurer
General Teamsters Local Union No. 200
WATERFORD LIBRARIANS
JOIN LOCAL 200
The three fulltime librarians for the Village of Waterford have joined Teamsters Local 200.
"These three ladies saw the benefit of the available health insurance as well as knowing what being in a Union is all about," said
Local 200 organizer Jared Wolski.
"Public sector employees wages and benefits are under attack by the current representatives in Madison as well as Washington DC, so having a group of workers, even a small group being able to sift through the fog and see the value of joining a union is encouraging," said
Local 200 President Tom Bennett.
Pictured below left to right is Village of Waterford librarian Samantha Vogel, Local 200 organizer Jared Wolski, and librarian Patricia Cox.
WEEKEND WITH THE TEAMSTERS
The 8th Annual "A weekend with the Teamsters" event was held from Friday, June 8th to Sunday, June 10, 2018 here in Milwaukee, Wisconsin that brought Teamster leaders and Community leaders from all over North America to communicate and educate with the theme of "The Power of Hope". This event hosted by, Elder Ricky Price and Pastor Monica Parchia Price, was conducted at the M. Zion Assembly Church on the evenings of Friday and Sunday, with Recognitions, Workshops and Activities at the Early View Academy on Saturday Afternoon.
Teamster honorees that were recognized were Stan Hennessy (International President Teamsters Canada and President Teamsters Local 31), Gregory Floyd (IBT Trustee and President Teamsters Local 237), Roy Gillespie of Teamsters Local 600, James Curbeam (IBT), Larry Dupree (Local 79), Sequette Baldwin (Local 988) Joe Williams (Local 20), Mark Chapman (Local 20 and Gregory Foster (Local 705). In attendance were Teamsters Woody Wilson (Vice President Local 769), Ralph Stubbs (President Local 41), Teresa Smith and Ray Nixon (Local 41), Ben Hennessy Vice President Local 31), Duane Bryan Trustee Local 31), Anthony Kirk (Business Representative Local 31), Caley Fieldhouse (Business Representative Local 31), Pat Smith (Local 344) and Tim McCall (BMWED).
Teamsters Local 200 members attended the weekend events to include Tom Bennett (President Local 200), Tim Pinter (Vice President Local 200) Clayton Moesch (Trustee Local 200) and Darrick Jordan (Business Representative Local 200). Brother Jordan conducted a TNBC Central Region Meeting with Brothers and Sisters who were in attendance.
Not only does this event recognize the contributions Teamsters make to their Organization and Communities, this event recognizes leaders outside the Teamster Organization that provide dedication and commitment to those within their communities. Captain Timothy Heier, Detective Deneen McClintion, Lieutenant Charles Berard, Officer Gerald Winding and Valeria Zorich of the Milwaukee Police Department, Assistant Fire Chief Gerard Washington and Deputy Fire Chief Aaron Lipski of the Milwaukee Fire Department and Aretha Simons from Orlando, Florida were all honorees at this weekend's event.
Elder Ricky Price, a 38-year Teamster (recently retired) was also recognized by numerous elected leaders in the Community and from the State of Wisconsin for the commitment of his outreach. This powerful event and its growth is driven by Elder Price's vision and the work of those involved in this program. Teamster Locals from across North America provided additional support and offering to make this year's event a success. Teamsters Local 200, along with Teamster Local 237, Local 118, Local 174, Local 769, Local 31, Local 25 and Local 41 were recognized by Elder Price for their contributions.
Local 200 has offered our support for this event in 2019 and we look forward to the next "A weekend with the Teamsters".

CLICK HERE TO GO TO "2018 WEEKEND WITH THE TEAMSTERS" IN THE PHOTO GALLERY
On Saturday June 2nd, 90 plus Local 200 members from Ozinga Ready Mix supplied almost 7, 000 yards of concrete for the new BMO Tower across from the Milwaukee City Hall, starting just after midnight on Saturday. The pour was expected to last 25 hours, but was completed 6 hours ahead of schedule.
FOR YOUR INFORMATION
Local 200 Secretary Treasurer Tom Millonzi and Local 200 President Tom Bennett recently visited the Teamster International headquarters in Washington DC to meet and confer with IBT representatives Cindy Impala, director of Training and Development for the IBT, and Brian Tierney from the communications department.
"In an effort to bring continued education to the members of this local about right to work, President Tom Bennett and myself are reaching out to our International. Cindy and Brian were very knowledgeable and will be working with Local 200 in our effort," said Secretary Treasurer Millonzi.
Pictured are Secretary Treasurer Tom Millonzi and President Tom Bennett in the front lobby of the IBT headquarters in Washington DC
IMPORTANT UPDATES
SOLDON LAW FIRM, LLC.
ATTORNEYS AT LAW
Presents
Right To Work
Discussion
---
| | |
| --- | --- |
| What's New at Teamsters 200 | |
MAKE SURE WE HAVE YOUR
CURRENT E-MAIL ADDRESS
Make sure that you do not get missed when the Local sends important information to it's members and retirees.
Keep your information updated with the Local. If you have moved or changed addresses within the past 6 months, please contact the Local to request that your contact information be brought up-to-date.
You can message the office staff through the Local 200 website (go to the "Contact Us" page listed above), Facebook or call at 414-771-6363.
This request is for all members active and retired.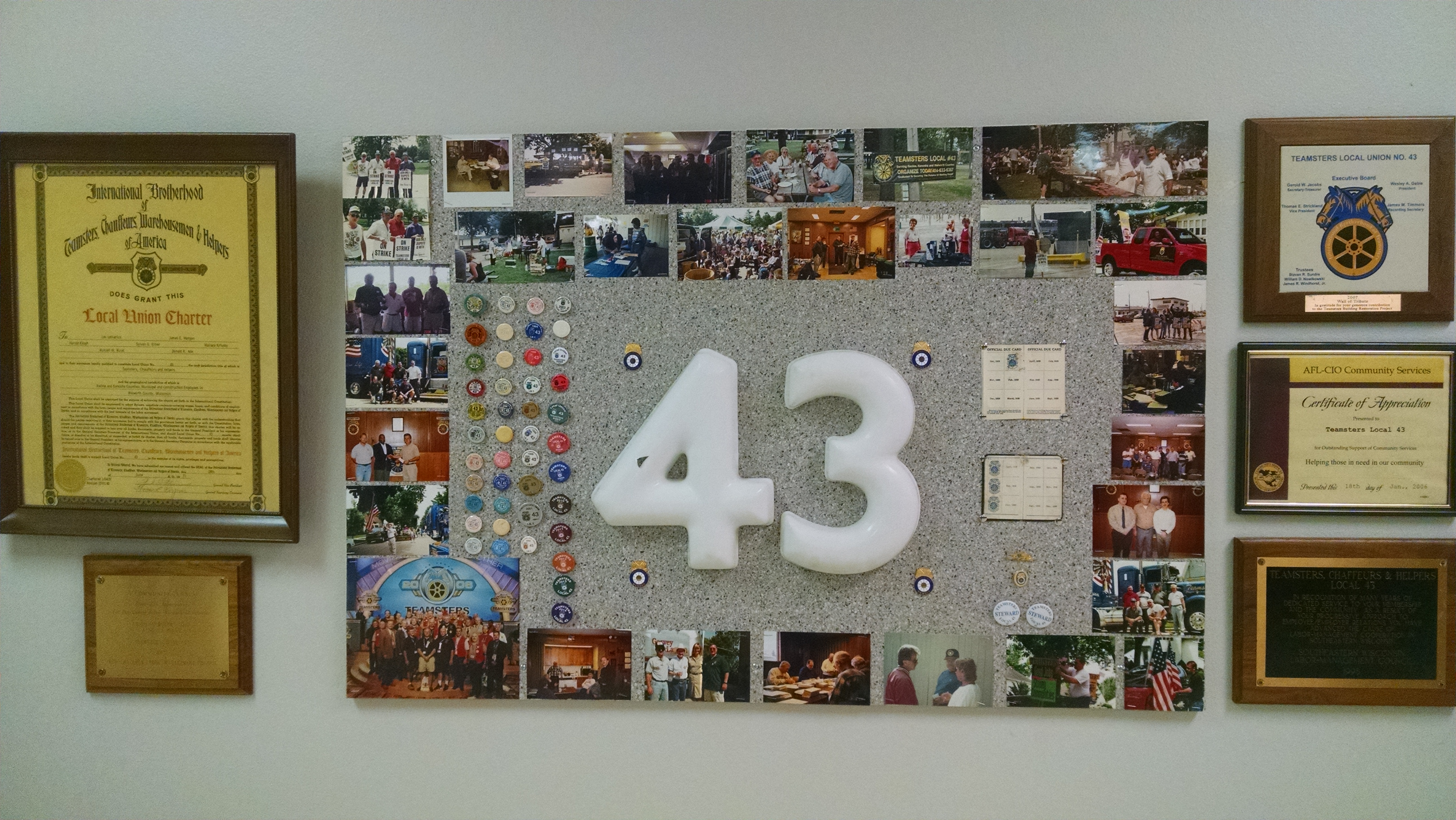 Teamsters Local 43 Remembered Post Merger
Dedicated to these members formerly from Local 43 is a shrine memorializing their Local in their Union hall in the Milwaukee location.
"Where we came from and how we got here helps move us forward," said Teamsters Local 200 Secretary Treasurer Tom Millonzi.
"We put together this shrine so when our new members from Racine and Kenosha come to their Union hall they will see and know that we remember. Remembering how we got here strengthens our solidarity," added Millonzi.
Separate seniority list for regular fulltime dock workers includes
health insurance and pension contributions
On Saturday July 12th and Tuesday July 15th Teamster Local 200 members working at Standard Forwarding overwhelmingly endorsed a dock only seniority list for workers at three facilities in Wisconsin.
"This agreement will give our members heightened protection from subcontracting, and the company help with the ever growing driver shortage nationally," said Teamsters Local 200 Secretary Treasurer Tom Millonzi.
With the help of the International Brotherhood of Teamsters National Freight Division, an agreement was forged and agreed upon by both the Union and the company to give added protection to current drivers at Standard Forwarding.
"Thanks to Assistant National Freight Director Gordon Sweeten for his help in this important issue for curtailing the use of subcontracting and getting more Teamster Drivers at Standard Forwarding," added Local 200 Business Representative Jim Seelow.
Local 200 would like to thank all the Standard Forwarding Teamsters that took part in the vote.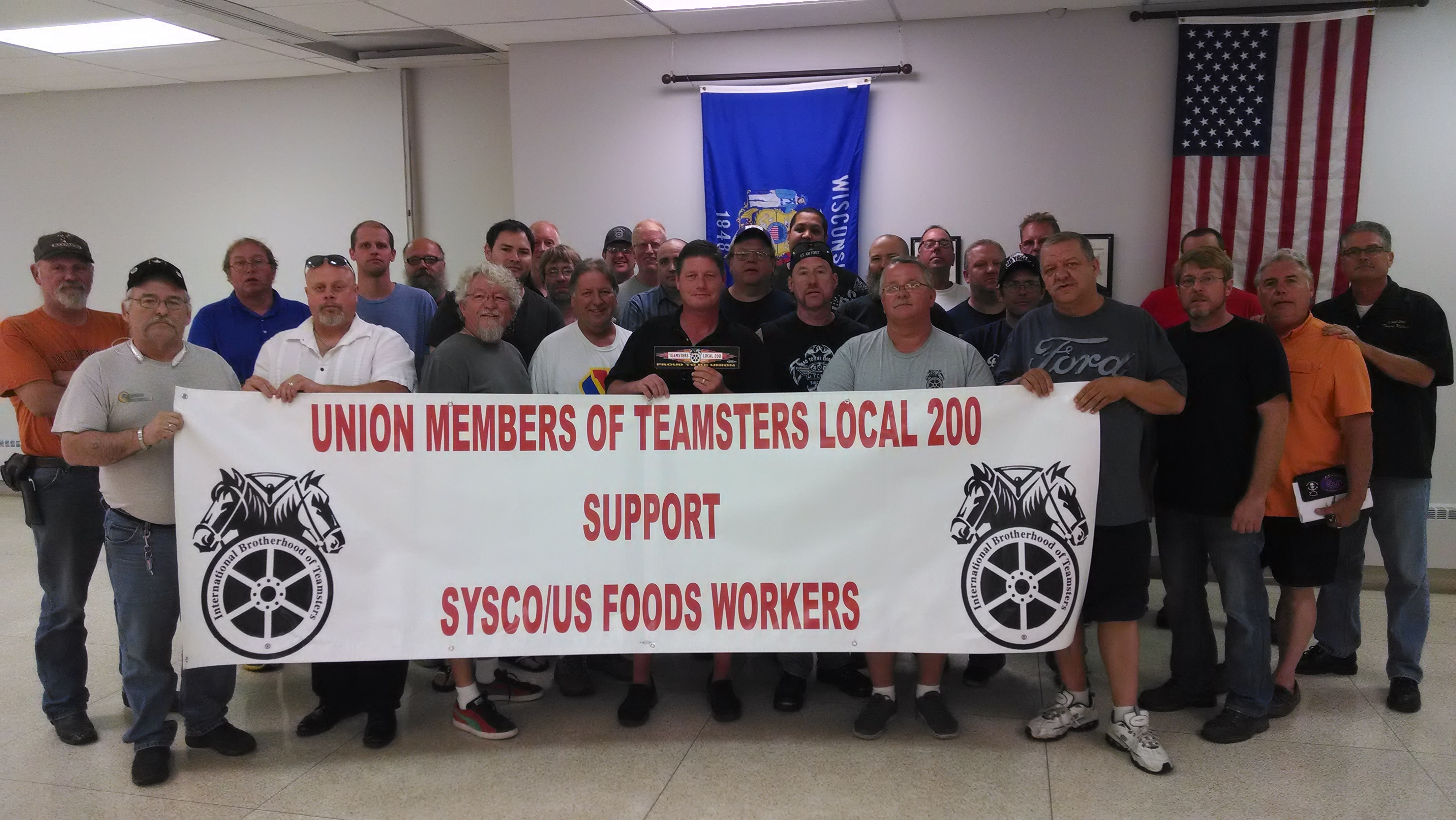 STANDARD FORWARDING LOCAL 200 MEMBERS TAKE TIME OUT OF THEIR RECENT MEETING TO SHOW THEIR SUPPORT FOR THE US FOODS LOCAL 200 TEAMSTERS
---
TEAMSTER LOCAL 43 MEMBERS
VOTE YES TO MERGE
Members of Local 43 overwhelmingly give nod to merge
Saturday June 21, 2014, Teamsters Local 43 members gave their approval to merge with Local 200.
"The message was very clear, the members of Local 43 are in favor of the merge," said Local 200 Secretary Treasurer Tom Millonzi.
Pictured in the accompanying photos during the vote count are; Local 43 office staffer Cindi Vance-Smith, Teamsters Local 43 Secretary Treasurer Wes Gable, Local 200 President Tom Bennett, and Local 200 Secretary Treasurer Tom Millonzi.
Teamsters Local 43 and Local 200 have been in talks about a merger for some time and the membership approval was the next step in the process.
"Now the process moves to the International Brotherhood of Teamsters General Secretary Treasurer Ken Hall's desk where we will await his stamp of approval," said Local 200 President Tom Bennett.
Thanks to all the members of Teamsters Local 43 that participated in the merger vote process.
Local 43's jurisdiction includes the Racine and Kenosha areas, all the way to the Illinois border.
---
---