LABORFEST 2014
Labor Fest kicks off with parade downtown
CLICK ON PICTURE TO WATCH VIDEO
TEAMSTERS
-
A Union's Story
STANDARD FORWARDING TEAMSTERS VOTE DOCK ONLY LIST
Separate seniority list for regular fulltime dock workers includes
health insurance and pension contributions
On Saturday July 12th and Tuesday July 15th Teamster Local 200 members working at Standard Forwarding overwhelmingly endorsed a dock only seniority list for workers at three facilities in Wisconsin.
"This agreement will give our members heightened protection from subcontracting, and the company help with the ever growing driver shortage nationally," said Teamsters Local 200 Secretary Treasurer Tom Millonzi.
With the help of the International Brotherhood of Teamsters National Freight Division, an agreement was forged and agreed upon by both the Union and the company to give added protection to current drivers at Standard Forwarding.
"Thanks to Assistant National Freight Director Gordon Sweeten for his help in this important issue for curtailing the use of subcontracting and getting more Teamster Drivers at Standard Forwarding," added Local 200 Business Representative Jim Seelow.
Local 200 would like to thank all the Standard Forwarding Teamsters that took part in the vote.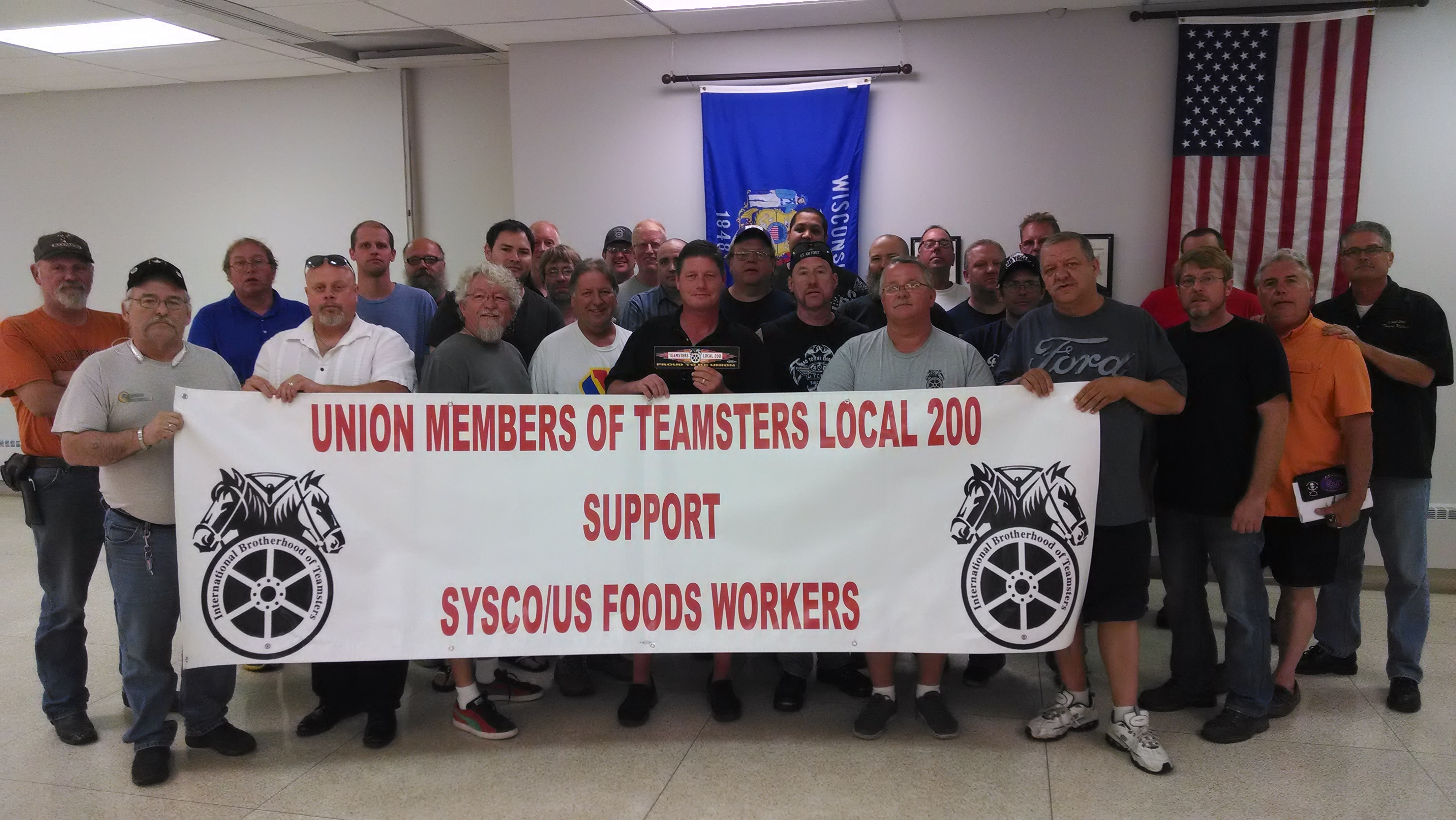 STANDARD FORWARDING LOCAL 200 MEMBERS TAKE TIME OUT OF THEIR RECENT MEETING TO SHOW THEIR SUPPORT FOR THE US FOODS LOCAL 200 TEAMSTERS
---
| | |
| --- | --- |
| What's New at Teamsters 200 | |
TEAMSTER LOCAL 43 MEMBERS
VOTE YES TO MERGE
Members of Local 43 overwhelmingly give nod to merge
Saturday June 21, 2014, Teamsters Local 43 members gave their approval to merge with Local 200.
"The message was very clear, the members of Local 43 are in favor of the merge," said Local 200 Secretary Treasurer Tom Millonzi.
Pictured in the accompanying photos during the vote count are; Local 43 office staffer Cindi Vance-Smith, Teamsters Local 43 Secretary Treasurer Wes Gable, Local 200 President Tom Bennett, and Local 200 Secretary Treasurer Tom Millonzi.
Teamsters Local 43 and Local 200 have been in talks about a merger for some time and the membership approval was the next step in the process.
"Now the process moves to the International Brotherhood of Teamsters General Secretary Treasurer Ken Hall's desk where we will await his stamp of approval," said Local 200 President Tom Bennett.
Thanks to all the members of Teamsters Local 43 that participated in the merger vote process.
Local 43's jurisdiction includes the Racine and Kenosha areas, all the way to the Illinois border.
---
---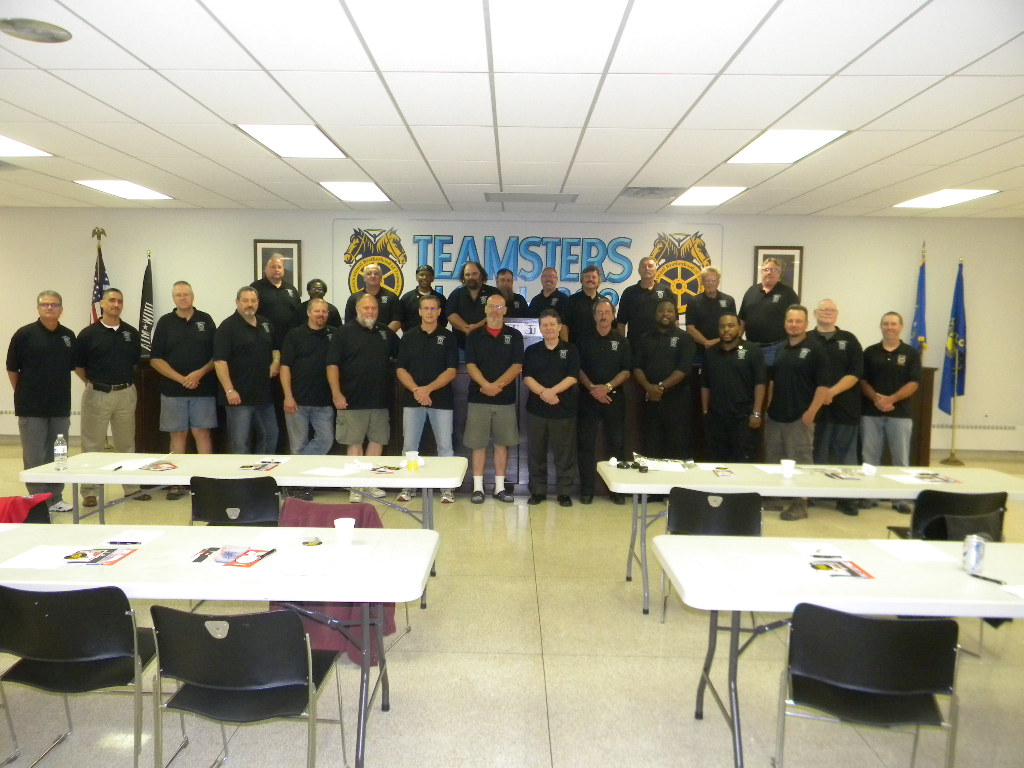 THE LOCAL 200 T.E.A.M. ORGANIZES
Organizing seminar held at Teamsters Local 200
"Organizing is how Unions grow," said Teamsters Local 200 Secretary Treasurer Tom Millonzi. "The more member involvement the higher the odds of having success and growing."
Local 200 recently held a "101" of organizing training class at the local which saw participation by members from many different groups represented by the local.
"Organizing is steered by the guidelines set before us by the National Labor Relations Board (NLRB)," said Millonzi. "Members knowing the process is crucial to success."
"We have started this Local 200 T.E.A.M., which stands for Teamsters Energized And Mobilized. This T.E.A.M. will be called upon for many Local Union activities from political rallies to organizing and more," said Local 200 President Tom Bennett.
Local 200 hopes to hold more classes like these
in the future where even more members can join the T.E.A.M.
---
BREWERS VICTORIOUS FOR TEAMSTER EVENT
Good weather and a Brewer victory highlighted the 2014 Teamsters Local 200 Tailgate.
400 Teamsters, family and friends were in attendance on a perfect day for a tailgate and a baseball game.
"We were happy the Brewers were able to bring us a victory for our event this year. Local 200's Executive Board and staff would like to thank all who were in attendance," said Local 200 Secretary Treasurer Tom Millonzi.
The Brewers, led by a home run from Ryan Braun, beat the visiting Cincinnati Reds 4 to 2 and remain in first place in the NL Central.
---
On a beautiful afternoon, members and families of Teamsters Local 200/344 Retirees Chapter enjoyed some food, drink and friendship at their annual picnic. Always a good way to keep in touch with your co-workers and Teamsters Brother and Sisters.
---
Sysco hand billing in Jackson WI, June 19, 2014 retirees Larry Bilda, Eric Jorgensen, Jerry Popp, Mark Mehling along with Tom Millonzi, Secretary Treasurer Local 200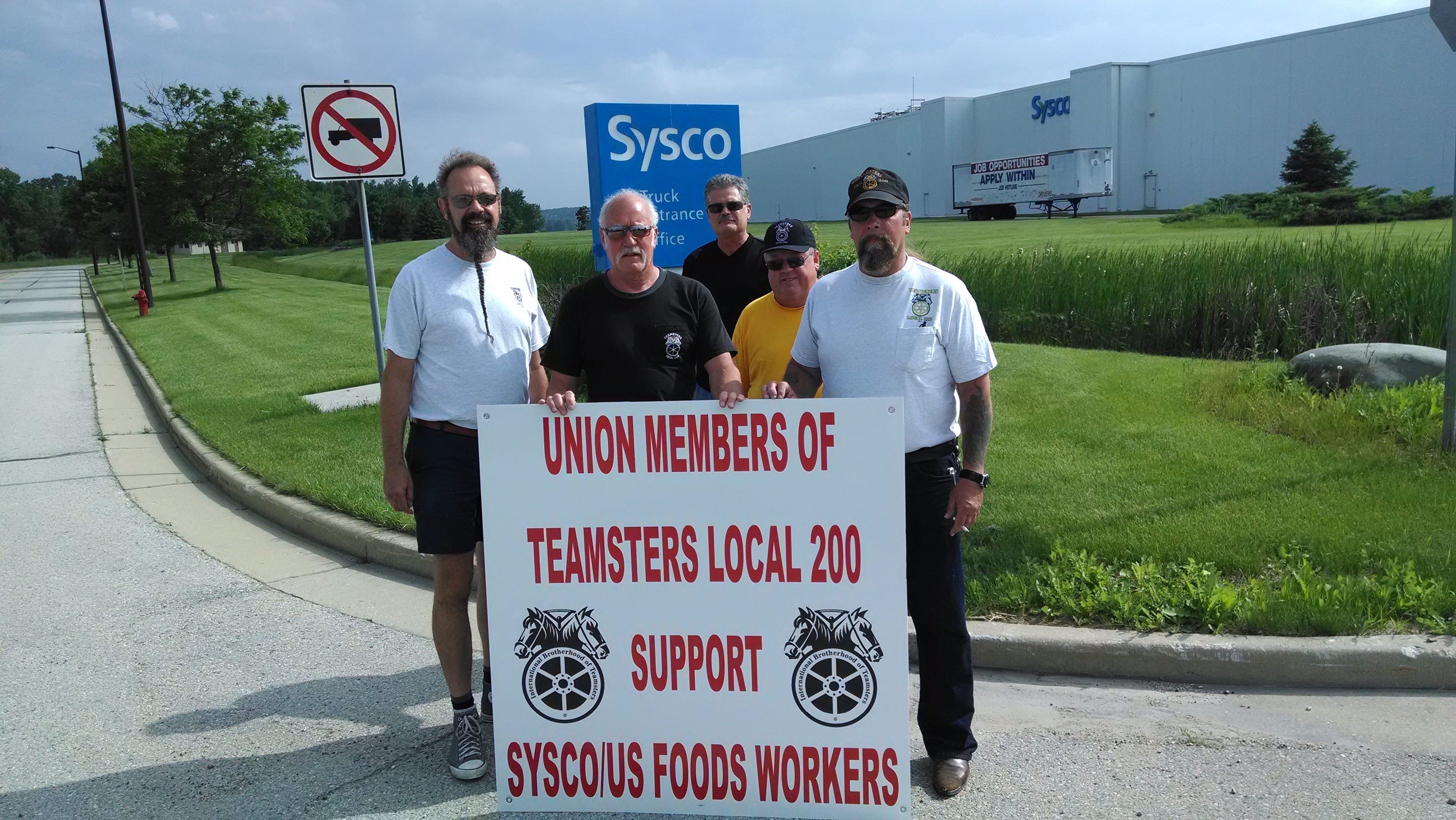 ---