LATEST NEWS
11.30.18
U.S. SENATOR TAMMY BALDWIN STATEMENT ON THE HOUSE AND SENATE JOINT SELECT COMMITTEE ON PENSIONS ANNOUNCEMENT
Pension crisis remains for 25,000 workers and retirees in Wisconsin
WASHINGTON, D.C. – U.S. Senator Tammy Baldwin released the following statement after the House and Senate Joint Select Committee on Pensions announced that they had not reached a bipartisan agreement on a solution to the pension crisis threatening 1.3 million Americans,including 25,000 workers and retirees in Wisconsin, and thousands of small businesses around the country. The Joint Select Committee was tasked with coming up with a package by November 30 that could be voted on in Congress but they announced they would not meet today's deadline.
"Pension promises must be kept and it's simply wrong that Washington has once again failed to protect the retirement security of 25,000 workers and retirees in Wisconsin and put small businesses on the hook for a pension liability that may cost them everything," said Senator Baldwin. "I am disappointed that the Joint Select Committee on Pensions failed to reach a bipartisan agreement this week to resolve the multiemployer pension crisis. I will continue to stand with retirees and workers in our fight because they should be able to count on the pensions they have earned. They will not stop until the job is done and I will not stop until the job is done to keep this promise."
Senator Baldwin is not a member of the House and Senate Joint Select Committee on Pensions but she has cosponsored the Butch Lewis Act to ensure American retirees and workers can keep the retirement they have earned so their families and livelihoods are not put at risk. Specifically, the legislation would allow the Treasury Department to make loans, leveraged by safe investments, to pension plans to ensure that retirees and their families are guaranteed their promised benefits. The Butch Lewis Act would put the pension plans back on solid footing, ensure they can meet their obligations to current retirees and workers for decades to come without cutting the benefits retirees earned and safeguard them for the future.
ATTENTION ATTENTION ATTENTION
Teamsters Local 200 Members

If you have NOT received a ballot
to your home for the
upcoming Local Union Election of Officers
Please call the offices of

Merriman River Group at
1-877-324-7655
VOICES FOR PENSION SECURITY
12/07/2018 -
6:30pm

to

9:00pm
Our Annual Christmas Parade is full of sweets, happiness, and fantastical floats that glide through our historic downtown.
This year's parade theme is "Jingle all the Way" in Burlington. The parade will take place at 6:30 p.m. on Friday, December 7, 2018
This year will be a
Christmas Tree Lighting

in Wehmhoff Square Park immediately following the Christmas Parade. Mr. & Mrs. Claus will be on hand to do the lighting and then retreat to the Chalet where they will be meeting children eager to tell them what they want for Christmas. Also, in the park, will be Live Reindeer, Door County Sled Dogs, carolers, hot chocolate, cookies and music for all to enjoy.
If you would like information on how to participate in the parade please download the parade form by clicking

HERE

. If you have any questions, call 262-763-6044.
Teamsters Local Union No.200 will be participating in this year's Burlington Christmas Parade with our Brothers and Sisters employed at the Burlington Nestles USA Plant. We have enjoyed the partnership with Nestles USA during this event, offering Christmas cheer along the parade route. Please attend this event and Look for the Wisconsin Teamsters Joint Council Tractor Trailer just in front of Santa.
UPS Freight Contract Update
Last, Best and Final (LBFO) Contract Proposal Received From UPS Freight
The Teamsters National UPS Freight Negotiating Committee has received a Last, Best and Final (LBFO) contract proposal from UPS Freight. You may view the proposal at http://ibt.io/UPSFreightupdate
Please read the proposal in preparation for voting scheduled November 9, 10 or 11 at your local union hall or other local area. Your local union will notify you of the time, date and locations for voting.
As you are aware, on October 5, the proposed tentative agreement was rejected. The Teamsters UPS Freight National Negotiating Committee (negotiating committee) notified the company that the 30-day extension agreement would terminate effective Monday, November 12, 2018, at 12:01 a.m. Meanwhile, all members of the negotiating committee have been talking to you about the issues that caused you to reject the tentative agreement.
On Monday, October 22, the negotiating committee met and formulated a list of issues that have been presented to the company. The negotiating committee demanded: 1) tighter restrictions and limits on subcontracting and rail usage; 2) higher wage increases that are not split; 3) earning protection for city drivers when they perform dock work; 4) elimination of the new qualifiers for pension and vacation benefits; and 5) a week's worth of vacation pay for all classifications based on 1/52 of the prior year's earnings.
The negotiating committee has met with the company but has not been able to reach a revised tentative agreement. We have, however, won the following changes over the tentative agreement you rejected:
1) In Article 25, Section 6, the 1,800-hour qualifier for a full year of pension credit will be reduced to the prior 1,500-hour level;
2) In Article 25, Section 5, the 182 reports qualifier for full vacation benefits will be reduced to the prior 156-day level; and
3) In Article 26, Section 1, pick-up and delivery drivers will receive their applicable driver rate of pay rate when performing dock work; and
4) In Article 26, Section 2, road drivers will maintain their applicable local/road driver hourly rate when performing dock work if they are not otherwise entitled to the Article 44(d) $37.61 rate.
One additional change is in Article 44(e) where the percentages that subcontracting will be reduced over the life of the agreement will be adjusted so that the overall (4) percentage points remain the same but that the annual reductions will now be reallocated as: .5% by July 31, 2019; .5% by July 31, 2020; 1% by July 31, 2021; 1% by July 31, 2022; and 1% by July 31, 2023.
The negotiating committee has determined that the LBFO does not sufficiently address the issues raised by the members. Nevertheless, because of the company's insistence that there is no more money to be had and in order to allow you to make an informed decision on a question that will affect you and your family, the negotiating committee decided to submit the LBFO for acceptance or rejection. You have already authorized a strike. While a strike is a last resort, if you reject this final offer from the company there will be no other options and there will be a strike at a time and location(s) determined by the negotiating committee.
While the national negotiating committee makes no recommendation for or against this offer, we have agreed to forward it to you for your acceptance or rejection as the consequences of this decision are yours alone to make.
Sample picket sign language and picket line instructions will also be forwarded to all UPS Freight local unions for use in the event you reject the LBFO. It is important to note that any strike against UPS Freight is directed only at UPS Freight and not against UPS parcel or any other UPS entity.
As noted above, the extension agreement will expire on Monday, November 12, at 12:01 a.m. No work stoppage can take place until after that time and then only with the approval of the negotiating committee.
*To view the proposal, go to: http://ibt.io/UPSFreightupdate
UPS and UPS FREIGHT
CONTRACT RATIFICATION UPDATE
UPS National Master and Supplements
Since the announcement that a tentative agreement had been reached with UPS, the National Negotiating Committee (NNC) has provided members with an unprecedented number of leaflets and summaries explaining the terms of the proposed contract. We have conducted teleconferences to highlight the improvements in the new agreement and take questions from members, which were answered in writing and available on several electronic platforms. Members supporting and opposing the tentative agreement have freely and energetically exchanged their views through social media and in the workplace, examining every aspect of the proposal. The debate has been vigorous, and any member could easily obtain information necessary to determine whether to support or oppose the National Master Agreement as well as his/her applicable Supplement and Rider.
Once the ballot materials were printed and ready for mailing to the members, both the NNC and opponents to the agreement have repeatedly encouraged members to vote. The NNC contacted members through postcards, social media messages, text messages and robo-calls urging them to exercise their right to vote. Every Local Union reached out to its members with similar programs designed to encourage membership participation in the ratification.
2018 TEAMSTERS LOCAL 200
SCHOLARSHIP GOLF OUTING
LABOR DAY 2018
DONATION FROM L200
IN THE NAME OF
MEMBER BRENDA WILLIAMS
L200 Secretary Treasurer Tom Millonzi and L200 President Tom Bennett visited Love Inc. in Burlington Wi. this morning and delivered a donation check to Barbara Howard, Executive Director of Love Inc. in the name of L200 Nestle member Brenda Williams who passed recently.
" Love Inc. was one of Brenda's donation requests in lieu of flowers at her recent funeral, said President Bennett. " "Brenda will be missed by us all"
Towne and Country Lanes of Burlington, Wisconsin will host an event on October 28, 2018 for the Schmidt Family. Bonnie Schmidt became a Retired member of Teamsters Local 200 on September 4, 2018 with years of service to Nestles USA at the Burlington Plant. The event being held at Towne and Country Lanes is in the spirit to assist the efforts facing Bonnie and the Schmidt Family. Teamsters Local 200 has provided a contribution to assist in this event to Lorraine and Merrill Draper, owners of the Towne and Country Lanes, Coty Holbek (pictured) and Theresa Riemer. The Draper's are proudly hosting the event for The Schmidt Family as they explained this was in respect to what Bonnie Schmidt has done for so many others. For more information on this event, please call Towne and Country Lanes at 262-763 7333.
Organized Labor beats back Mother Nature on Labor Day
The Labor Day 2018 events in the State of Wisconsin dealt with two forces. One force was the demostration of a strong Organized Labor Movement marching in unison and the second force of Mother Nature adding the unpredictable rain showers to the festivities at many events.
The 2018 Milwaukee Labor Day event is one of the largest assembly of Union Brothers and Sisters representing Organized Labor in the State. As in past years, Local 200 displays a very impressive line up of equipment and a strong and united Teamster membership.
The trek to the Summer Fest grounds through the streets of Milwaukee continues to be a moment where Organized Labor can be recognized by each other and the members of our communities. This event showcases Unionism and the commitment of the Brothers and Sisters to work together empowering those within our communities.
Local 200 partnered with other Trade Union's to sponsor a live feed from our friends at Resistance Radio, 1510 AM Radio, from the Milwaukee Labor Day event. There was also an introduction of Senator Tammy Baldwin by Teamster Retiree Bob Amsden to the crowd at the Milwaukee Labor Day event.
On behalf of the entire Executive Board, Secretary Treasurer Tom Millonzi and President Tom Bennett, we proudly thank our dedicated membership for making the Labor Day Event a success.
TEAMSTERS LOCAL 200 GOLF SCHOLARSHIP WINNERS
This year Seven winners each receive $500 scholarship
"It was a great feeling handing out scholarships to these fine students" said Tony Ceretto.
Tony chairs the committee of three Local 200 retirees that review the applications and award the scholarships.
"The essay process is a great way to bring awareness to young people the value Unions bring to Americas workers" added Tony.
Applicants are asked to put in writing what role Unions have in the future of Americas workers and then the committee reviews the essays and pickers the winners.
Pictured left to right attending the award presentation
(scholarship winners are in bold)
Tony Ceretto, Patrick Passler, Eric Passler, Scot Passler,
Michelle Clark, Abigali Clark,
Morgan Franzen Gary Franzen,
Local 200 President Thomas Bennett,
Local 200 Vice-President Tim Pinter
Additional winners unable to attend the ceremony
Taylor Surprise, Jordyn Vetter,
Shelby Mallum, Hannah Kuehl
Congratulations to all the winners and good luck in your future studies!!
.
CLICK HERE To Listen to the latest episode of Teamster Nation News and learn how the Teamsters are spending their summer fighting for pension reform that will protect the retirement security of hundreds of thousands of workers and retirees.
FROM THE DESK OF THE SECRETARY TREASURER
OPEN LETTER TO THE MEMBERS OF LOCAL 200
Brothers and Sisters of Teamsters Local 200,
As the current Secretary Treasurer and Principal officer of Teamsters Local 200, the Secretary Treasurer of the Wisconsin Teamsters Joint Council 39 and a member on the Wisconsin Health Fund Board of Trustees, I have had the distinct honor of serving the membership in these capacities.
These positions come with great responsibility and I carry their weight with pride and respect.
Now after serving for over 11 years as your Principal Officer and 41 years as a Teamster my time has come to an end. I will serve the remainder of my term and not seek re-election as other opportunities for myself have recently presented themselves, that for the betterment of myself and my family I simply cannot turn away from.
I would like to sincerely thank every member of this Local Union and every Teamster of this state for the opportunity I have had to serve them, and I wish nothing but the best for you and your families moving forward.
Respectfully and in solidarity,
Thomas L. Millonzi
Secretary Treasurer
General Teamsters Local Union No. 200
WATERFORD LIBRARIANS
JOIN LOCAL 200
The three fulltime librarians for the Village of Waterford have joined Teamsters Local 200.
"These three ladies saw the benefit of the available health insurance as well as knowing what being in a Union is all about," said
Local 200 organizer Jared Wolski.
"Public sector employees wages and benefits are under attack by the current representatives in Madison as well as Washington DC, so having a group of workers, even a small group being able to sift through the fog and see the value of joining a union is encouraging," said
Local 200 President Tom Bennett.
Pictured below left to right is Village of Waterford librarian Samantha Vogel, Local 200 organizer Jared Wolski, and librarian Patricia Cox.
WEEKEND WITH THE TEAMSTERS
The 8th Annual "A weekend with the Teamsters" event was held from Friday, June 8th to Sunday, June 10, 2018 here in Milwaukee, Wisconsin that brought Teamster leaders and Community leaders from all over North America to communicate and educate with the theme of "The Power of Hope". This event hosted by, Elder Ricky Price and Pastor Monica Parchia Price, was conducted at the M. Zion Assembly Church on the evenings of Friday and Sunday, with Recognitions, Workshops and Activities at the Early View Academy on Saturday Afternoon.
Teamster honorees that were recognized were Stan Hennessy (International President Teamsters Canada and President Teamsters Local 31), Gregory Floyd (IBT Trustee and President Teamsters Local 237), Roy Gillespie of Teamsters Local 600, James Curbeam (IBT), Larry Dupree (Local 79), Sequette Baldwin (Local 988) Joe Williams (Local 20), Mark Chapman (Local 20 and Gregory Foster (Local 705). In attendance were Teamsters Woody Wilson (Vice President Local 769), Ralph Stubbs (President Local 41), Teresa Smith and Ray Nixon (Local 41), Ben Hennessy Vice President Local 31), Duane Bryan Trustee Local 31), Anthony Kirk (Business Representative Local 31), Caley Fieldhouse (Business Representative Local 31), Pat Smith (Local 344) and Tim McCall (BMWED).
Teamsters Local 200 members attended the weekend events to include Tom Bennett (President Local 200), Tim Pinter (Vice President Local 200) Clayton Moesch (Trustee Local 200) and Darrick Jordan (Business Representative Local 200). Brother Jordan conducted a TNBC Central Region Meeting with Brothers and Sisters who were in attendance.
Not only does this event recognize the contributions Teamsters make to their Organization and Communities, this event recognizes leaders outside the Teamster Organization that provide dedication and commitment to those within their communities. Captain Timothy Heier, Detective Deneen McClintion, Lieutenant Charles Berard, Officer Gerald Winding and Valeria Zorich of the Milwaukee Police Department, Assistant Fire Chief Gerard Washington and Deputy Fire Chief Aaron Lipski of the Milwaukee Fire Department and Aretha Simons from Orlando, Florida were all honorees at this weekend's event.
Elder Ricky Price, a 38-year Teamster (recently retired) was also recognized by numerous elected leaders in the Community and from the State of Wisconsin for the commitment of his outreach. This powerful event and its growth is driven by Elder Price's vision and the work of those involved in this program. Teamster Locals from across North America provided additional support and offering to make this year's event a success. Teamsters Local 200, along with Teamster Local 237, Local 118, Local 174, Local 769, Local 31, Local 25 and Local 41 were recognized by Elder Price for their contributions.
Local 200 has offered our support for this event in 2019 and we look forward to the next "A weekend with the Teamsters".

CLICK HERE TO GO TO "2018 WEEKEND WITH THE TEAMSTERS" IN THE PHOTO GALLERY
On Saturday June 2nd, 90 plus Local 200 members from Ozinga Ready Mix supplied almost 7, 000 yards of concrete for the new BMO Tower across from the Milwaukee City Hall, starting just after midnight on Saturday. The pour was expected to last 25 hours, but was completed 6 hours ahead of schedule.
FOR YOUR INFORMATION
Local 200 Secretary Treasurer Tom Millonzi and Local 200 President Tom Bennett recently visited the Teamster International headquarters in Washington DC to meet and confer with IBT representatives Cindy Impala, director of Training and Development for the IBT, and Brian Tierney from the communications department.
"In an effort to bring continued education to the members of this local about right to work, President Tom Bennett and myself are reaching out to our International. Cindy and Brian were very knowledgeable and will be working with Local 200 in our effort," said Secretary Treasurer Millonzi.
Pictured are Secretary Treasurer Tom Millonzi and President Tom Bennett in the front lobby of the IBT headquarters in Washington DC
IMPORTANT UPDATES
SOLDON LAW FIRM, LLC.
ATTORNEYS AT LAW
Presents
Right To Work
Discussion
---
| | |
| --- | --- |
| What's New at Teamsters 200 | |
MAKE SURE WE HAVE YOUR
CURRENT E-MAIL ADDRESS
Make sure that you do not get missed when the Local sends important information to it's members and retirees.
Keep your information updated with the Local. If you have moved or changed addresses within the past 6 months, please contact the Local to request that your contact information be brought up-to-date.
You can message the office staff through the Local 200 website (go to the "Contact Us" page listed above), Facebook or call at 414-771-6363.
This request is for all members active and retired.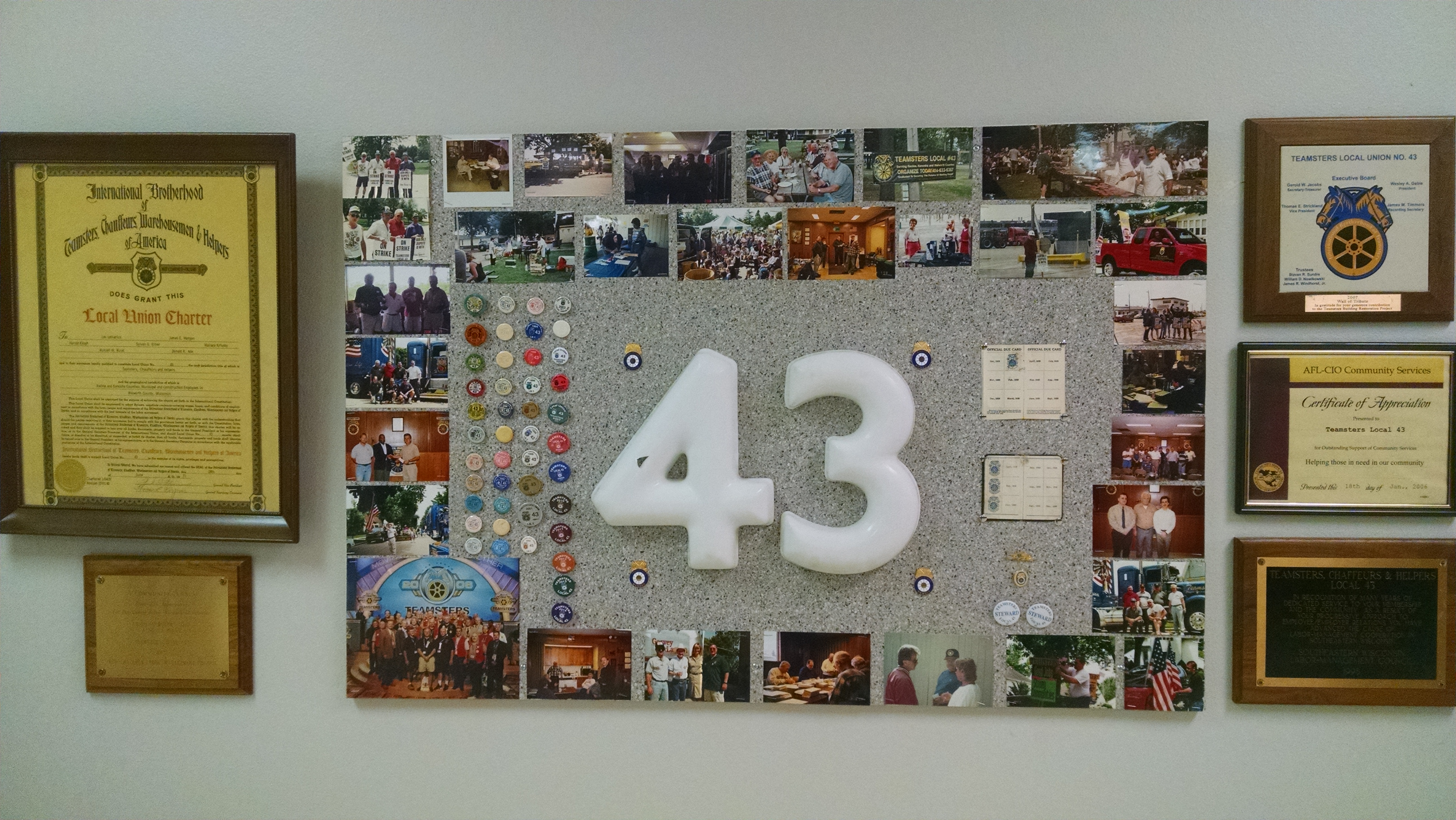 Teamsters Local 43 Remembered Post Merger
Dedicated to these members formerly from Local 43 is a shrine memorializing their Local in their Union hall in the Milwaukee location.
"Where we came from and how we got here helps move us forward," said Teamsters Local 200 Secretary Treasurer Tom Millonzi.
"We put together this shrine so when our new members from Racine and Kenosha come to their Union hall they will see and know that we remember. Remembering how we got here strengthens our solidarity," added Millonzi.