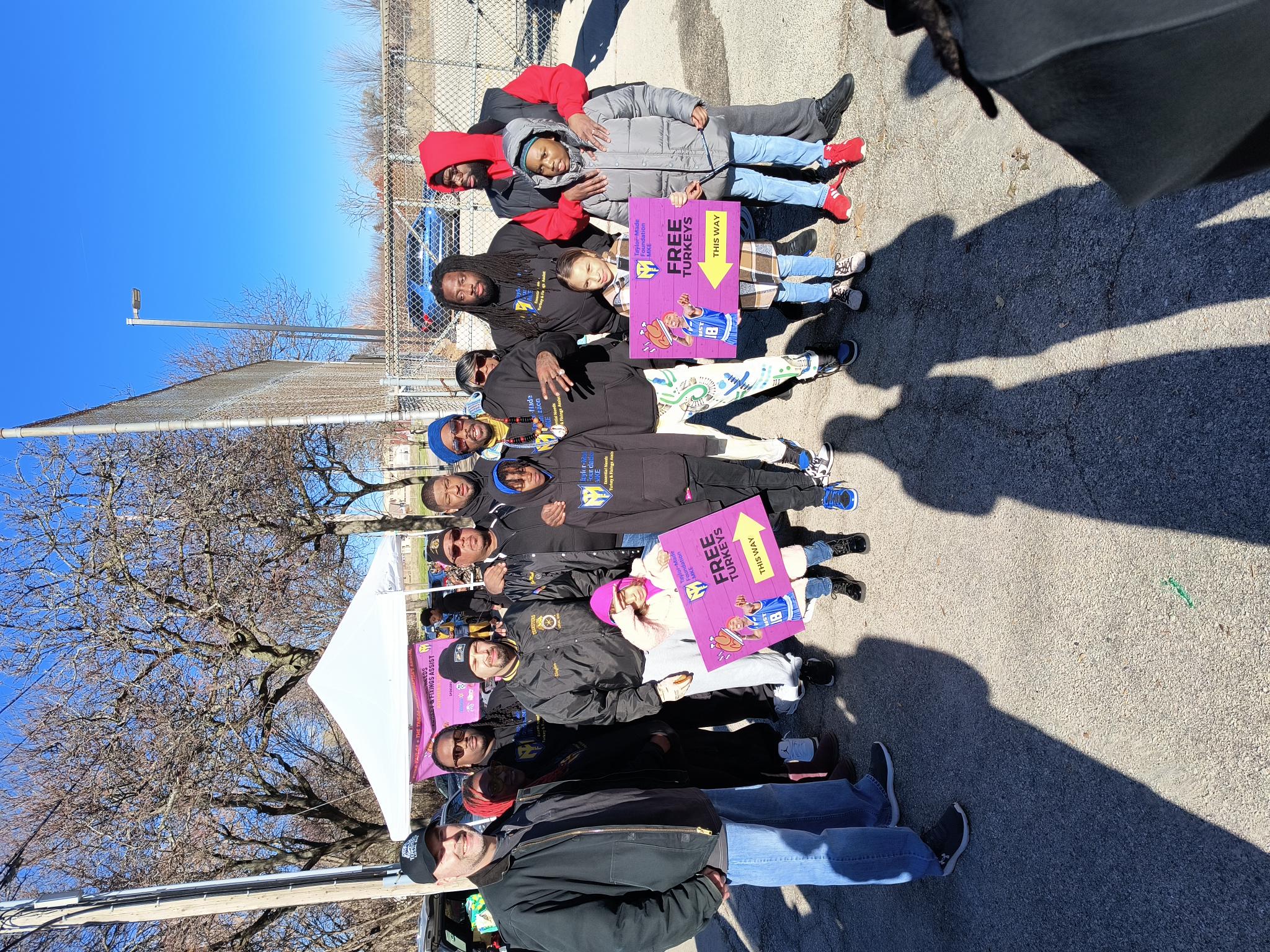 On November 18, 2023, the Taylor-Made Foundation organized its annual Essential Needs Assist at Brown Street Academy in Milwaukee. During this event, the community was given 300 turkeys with fixings. Teamsters Local 200 proudly donated and participated in the food distribution, making it a great success.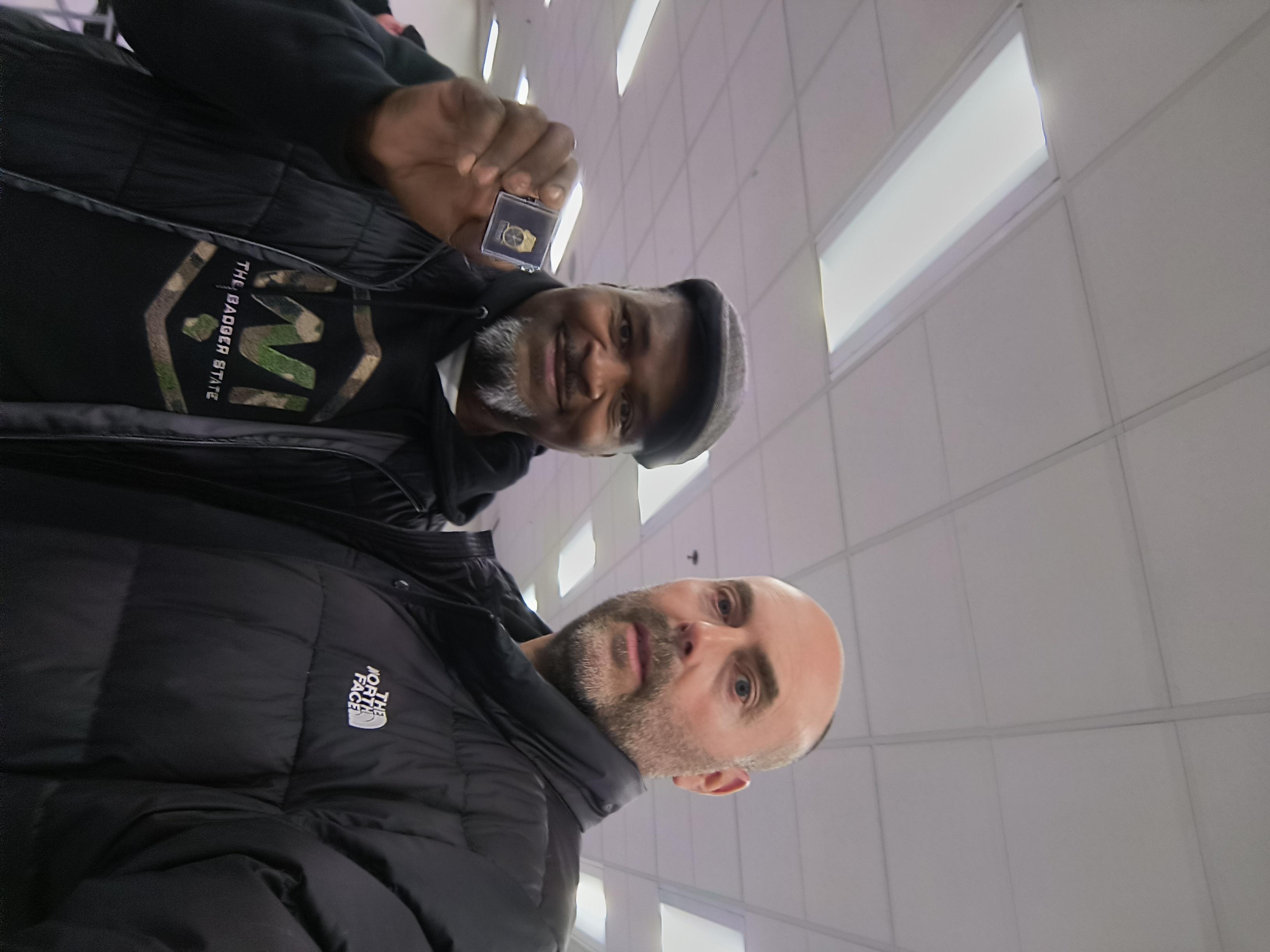 Joe Bell, a 30-year employee at Roundy's, works as a sanitation worker in the perishable department. Local 200 would like to thank him for his hard work, dedication, leadership, and friendship. (Pictured on the left is Joe Bell, and on the right is Business Representative Jay Couturier.)
O'BRIEN: NEW JOINT EMPLOYER STANDARD A MAJOR
BLOW AGAINST CORPORATE GREEd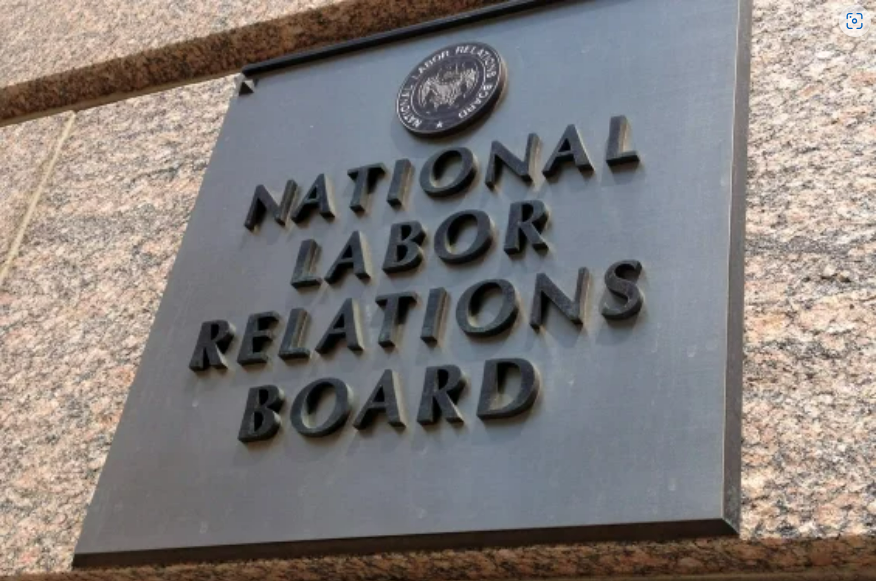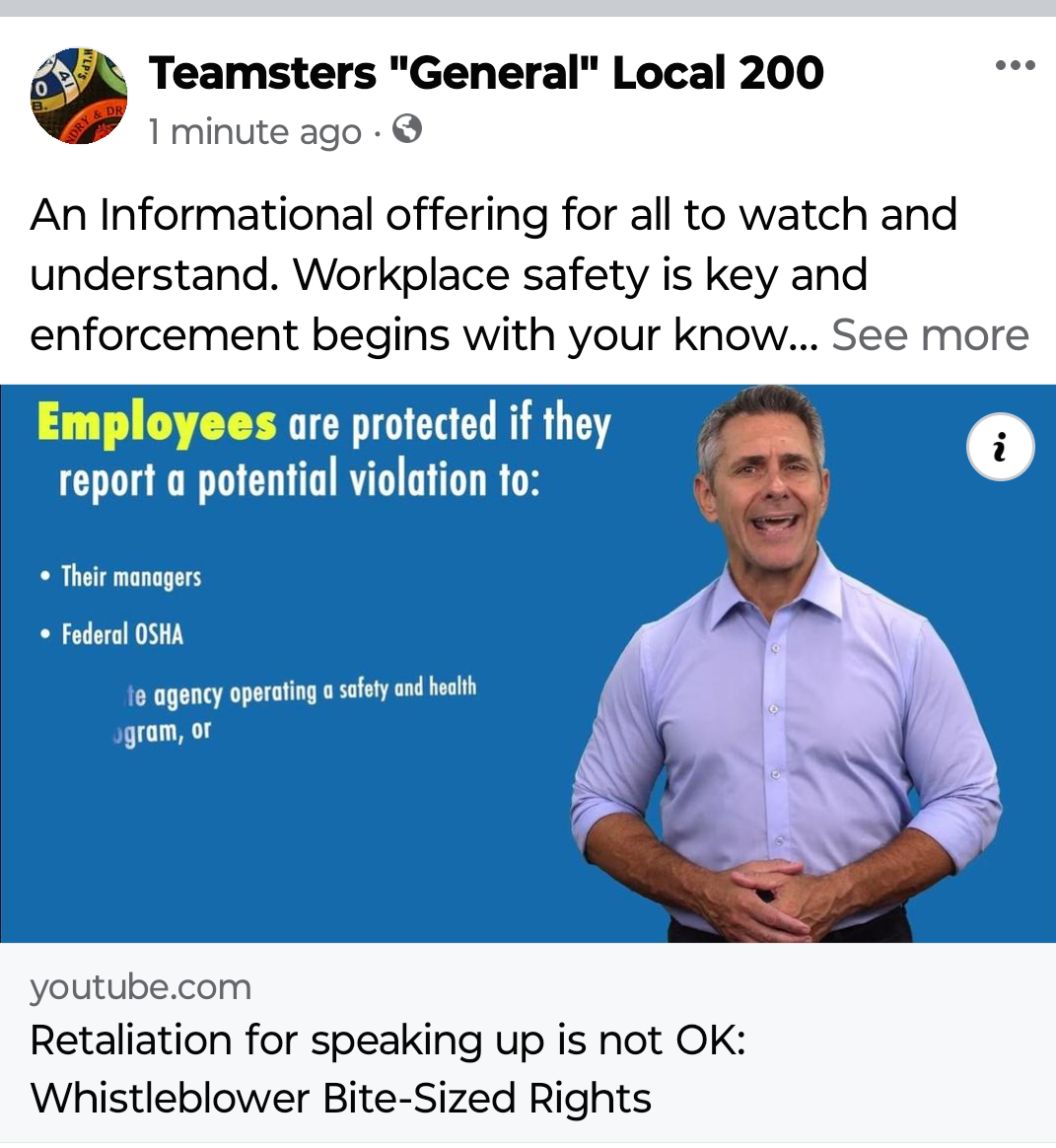 From left: Jared Wolski (Agent LU200), Officer Randy Santarelli (Teamster Bayside PD), David Miller (Agent LU200)
Officer Randy Santarelli, Teamster from Bayside PD, was recognized for his heroic actions on September 13, 2023. Responding to a call regarding an unresponsive driver, Officer Santarelli was able to quickly assess the situation and identify the signs of an overdose. He promptly administered Narcan and began CPR. As a result of his actions, the driver survived what otherwise would have been a fatal experience. In a line of duty so often underappreciated, it can be easy to forget all the good the men and women of the police force do. It was an honor to present Officer Santarelli with a certificate of appreciation for his dedicated and selfless service to the community. His actions represent the core value of being a Teamster. On behalf of the General Teamsters Local Union 200, thank you, Officer Randy Santarelli, for your dedicated service.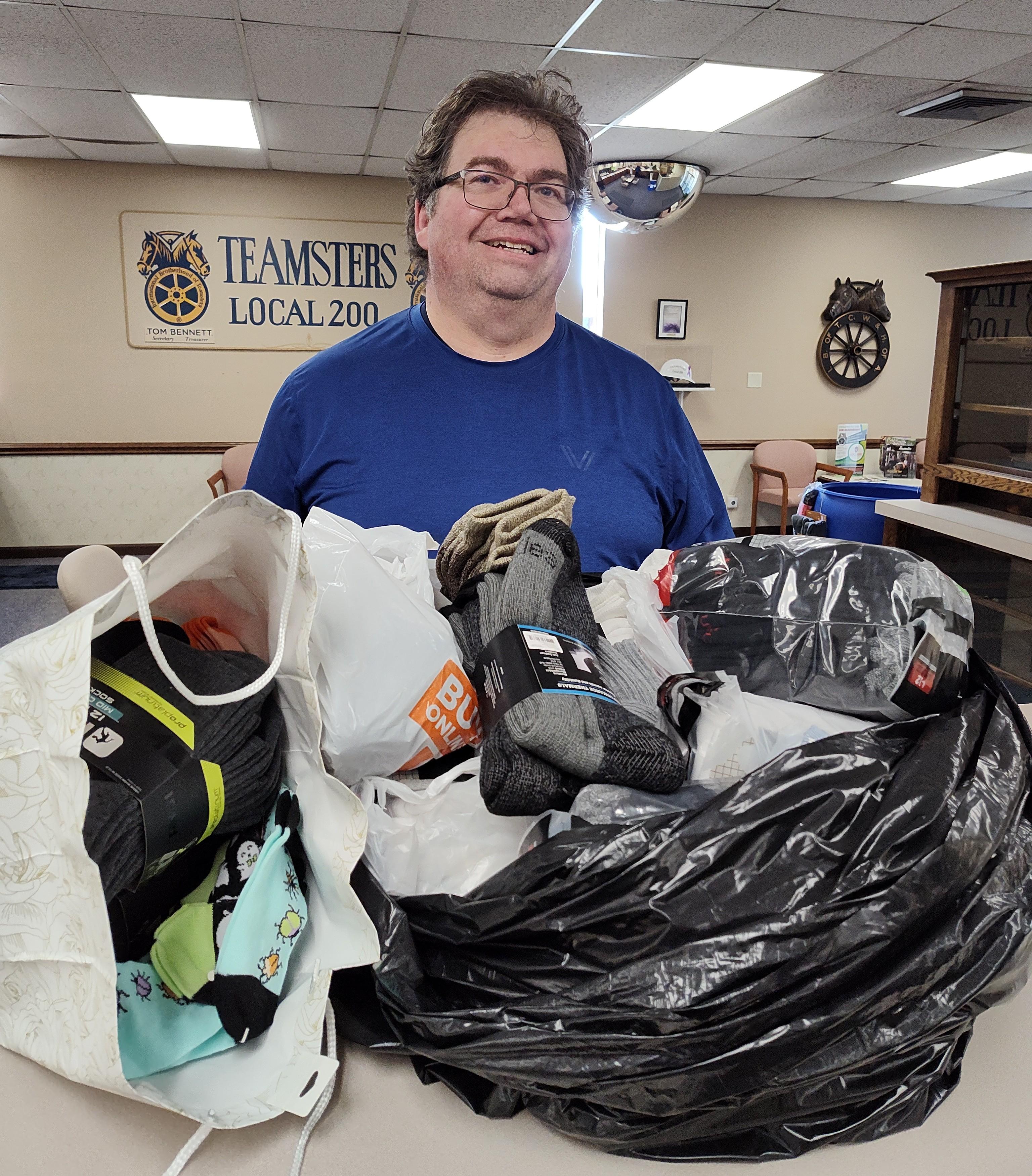 Herb Bagley, the Union Steward of Brenntag Great Lakes, led a Sock Drive that was a great group effort. It's fantastic to see everyone come together for a good cause, and the Union Brothers and Sisters deserve a big thank you for their gift of socks.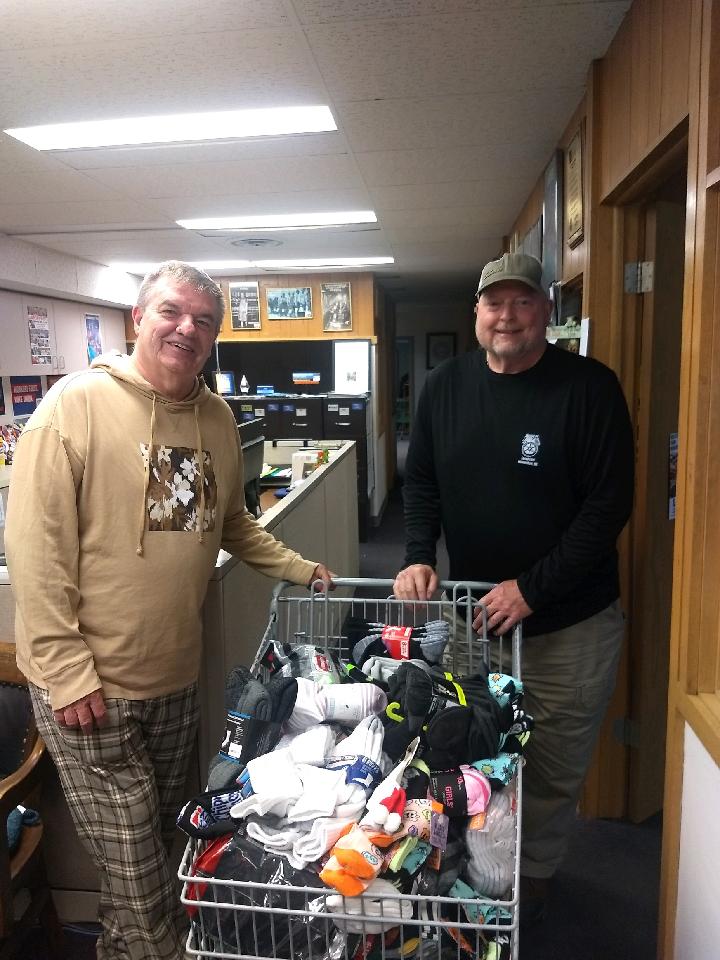 General Teamsters Local Union No. 200 participated in the annual Sock Drive sponsored by the Milwaukee Area Labor Council and the United Way. Jay Reinke, on the left, oversees the Sock Drive; Jeff Bandur, President Local 200, along with Jared Wolski, not pictured, delivered a shopping cart full of socks to the Milwaukee Area Labor Council, where they will be given to people who need a helping hand. We want to thank all who made donations this year and remind everyone that we will do this again next year when we hope to double the number of socks donated.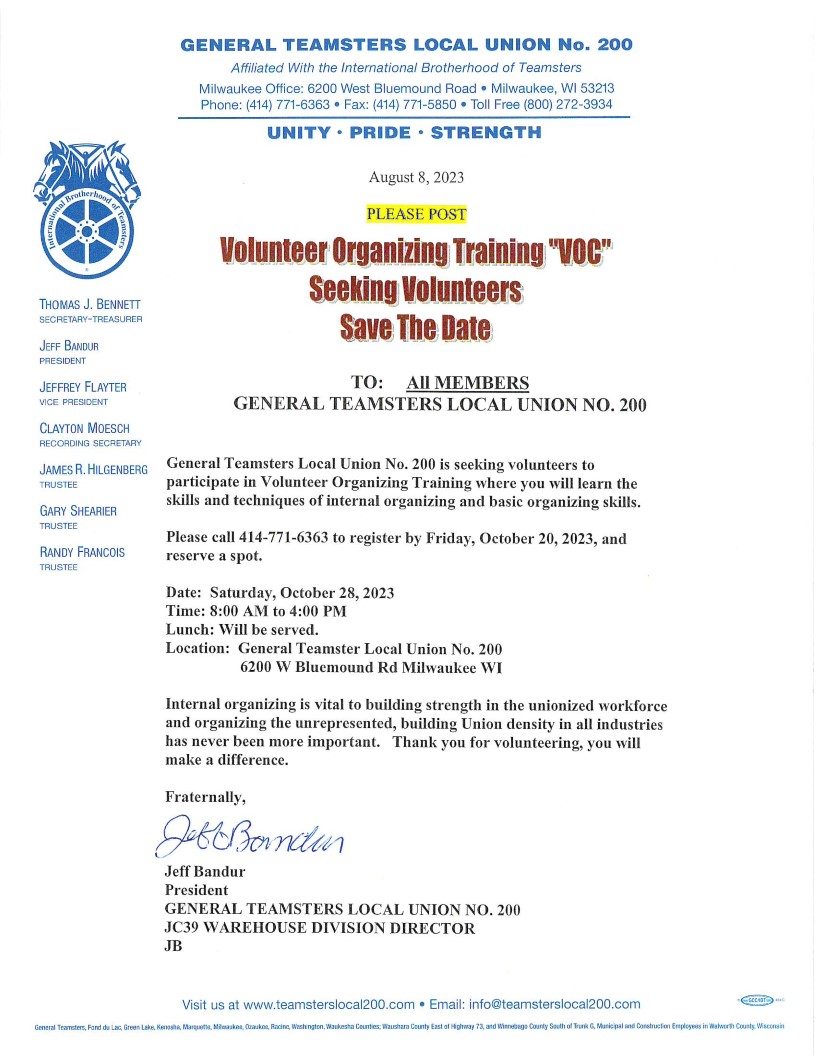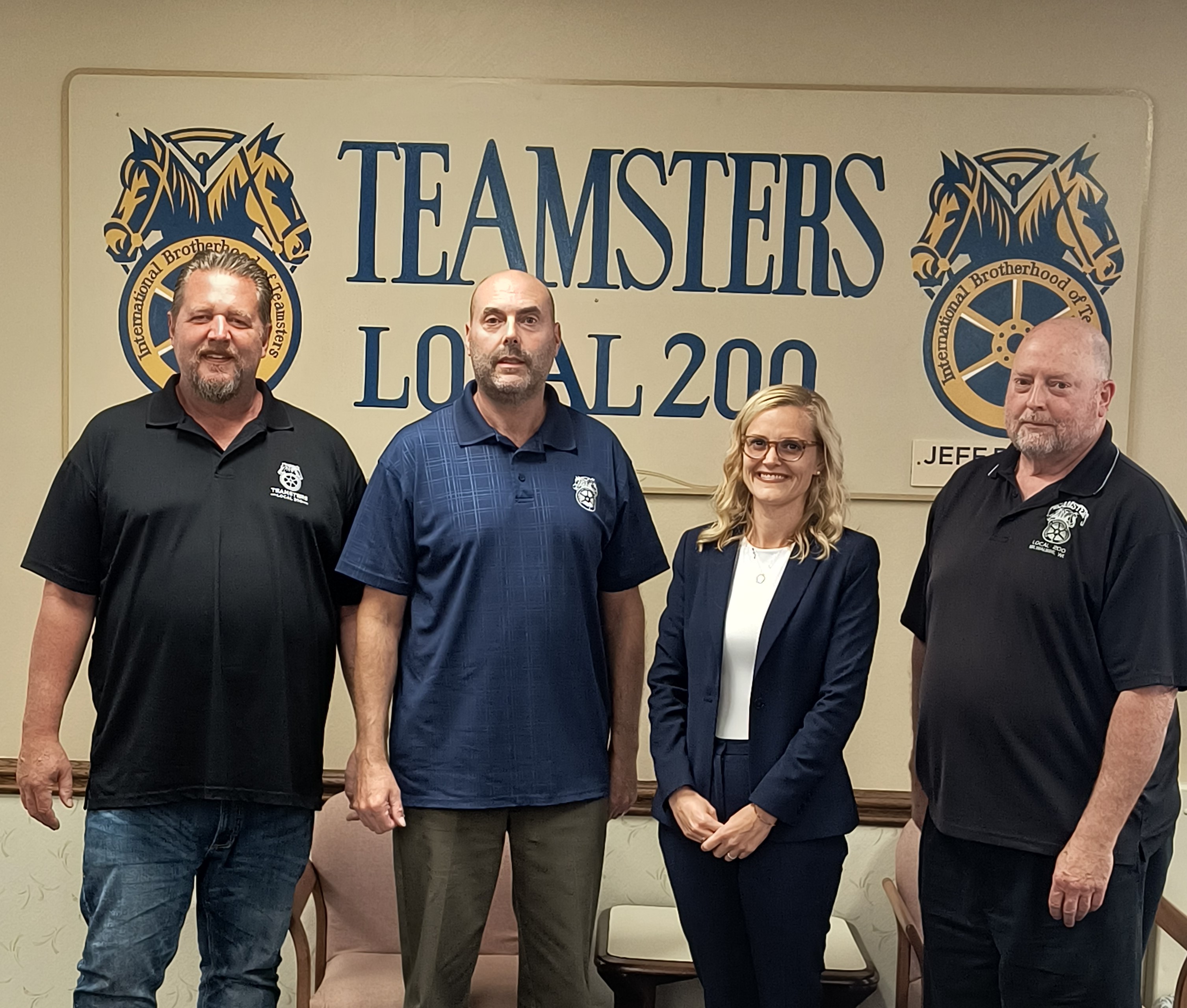 On September 25, 2023, Teamsters General Local Union No. 200 met with Wisconsin Secretary of State Sarah Godlewski regarding the Kroger/Albertsons merger. From left to right, Business Representatives Mark Hanley, Jay Couturier, Secretary of State Sarah Godlewski, and President Jeff Bandur are pictured after the meeting.
We shared Local 200's concerns and the concerns of our members about the potential job loss that could occur at the Roundy's Distribution Center in Oconomowoc, Wisconsin, if the proposed merger and store divestiture are approved.
Kroger and Albertsons have proposed to divest 413 stores, including 14 Kroger-owned Mariano's stores and the Mariano brand to C&S Wholesale Grocers. These stores are supplied by Roundy's Distribution Center in Oconomowoc, which employs around 800 hard-working Teamster Members with good wages and Union benefits.
This plan could lead to a 20 percent loss in volume at Roundy's D.C. and potentially more loss in volume with an expanded divestiture or rebranding of stores. Local 200 thanks Secretary of State Sarah Godlewski for meeting with us and listening to the concerns of our Members and Local 200.
Member engagement is a vital element within your Union. As an example, one of the methods that may be utilized is a contract survey mailer sent to your attention for you to complete and return. If there has been any change in your contact info, please get in touch with the Local Union to update your information.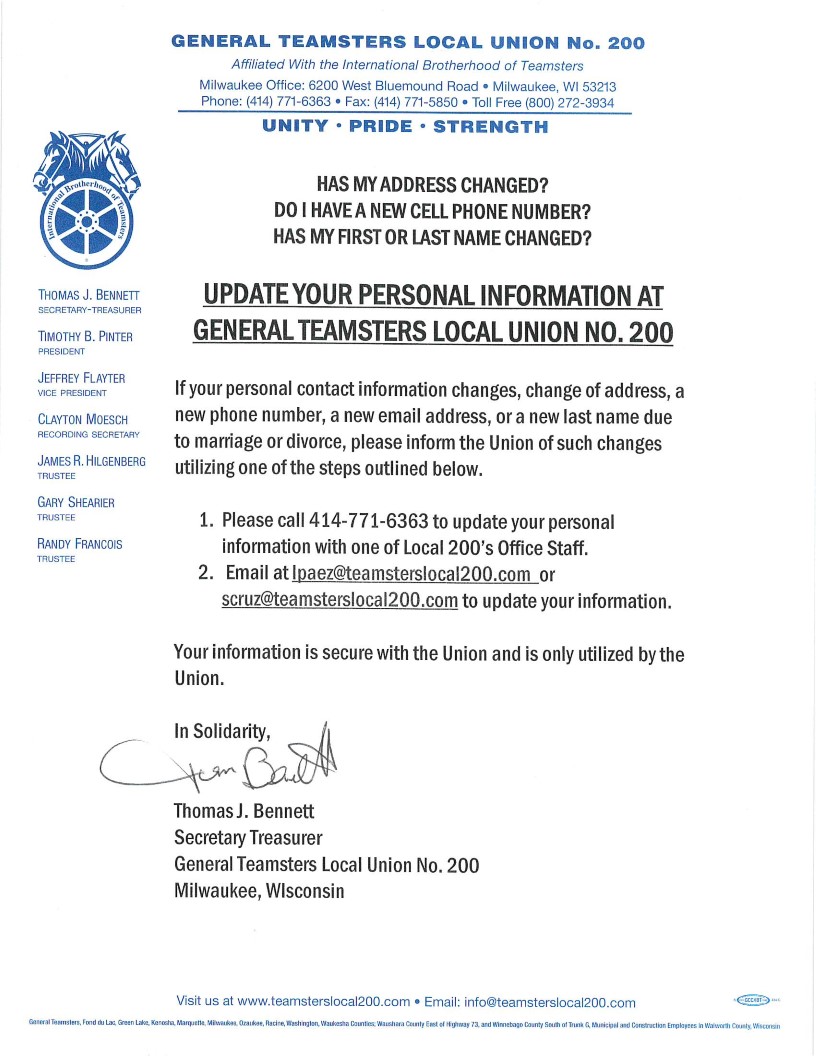 Phil Lawrence, a 26-year Teamster, retired on Friday, September 29, 2023, from Roundy's Supermarkets Inc. Phil finished his career as a Sanitation Worker, and his presence will be missed. Congratulations to Phil (left) on his well-deserved retirement. Business Agent Jay Couturier (right) is also pictured.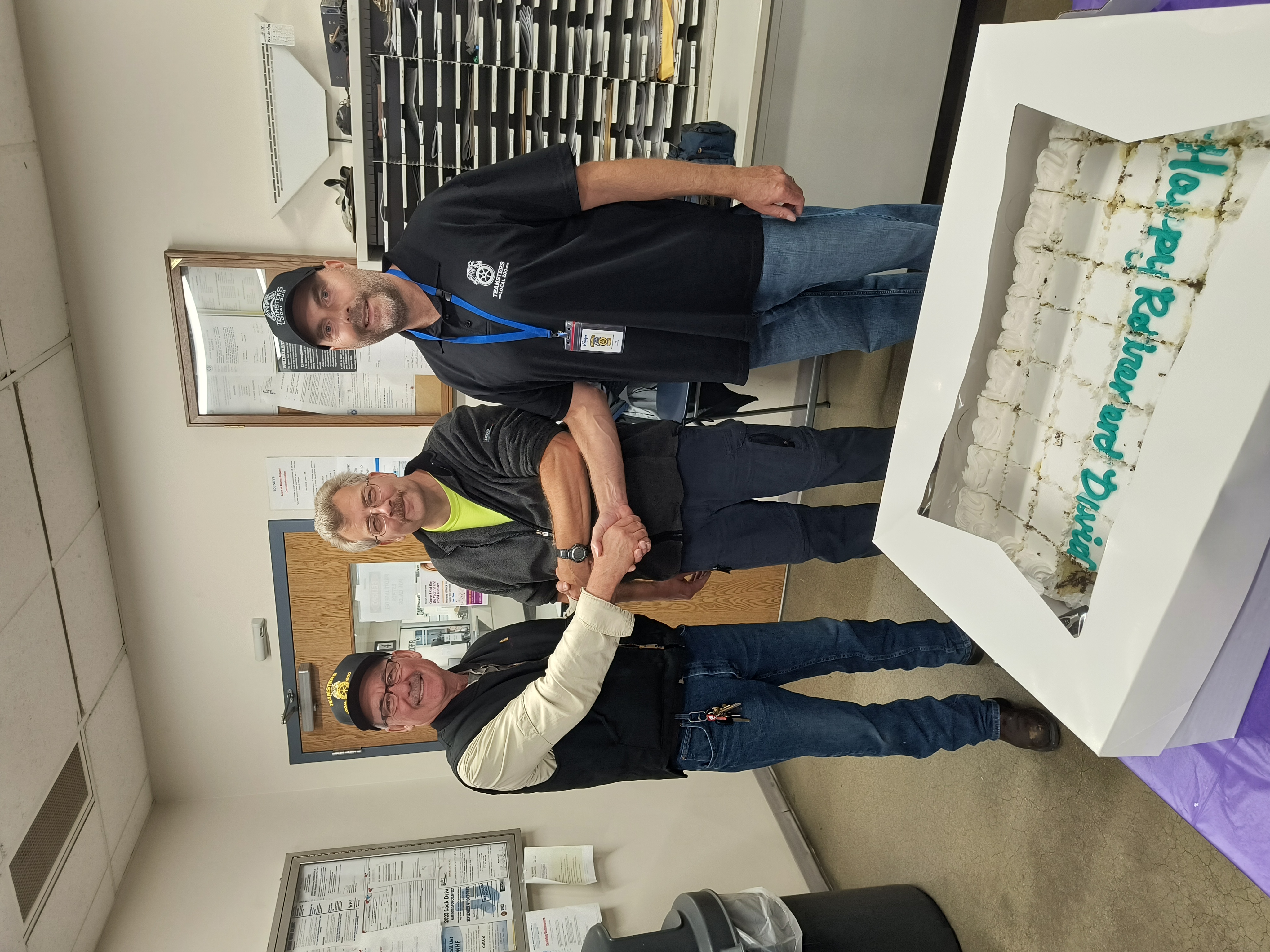 #1 Driver and Warehouseman at Roundy's, retire today!
Dave Bourque, a 38 year Teamster, Senior most Driver, and Glen Wollert, 43 year Teamster, Senior most Warehouseman, both retired from Roundy's Supermarkets incorporated today, September 28, 2023, where they worked at the distribution Center in Oconomowoc, WI. Dave Bourque has been an excellent driver for the company, and Glen Wollert has been a receiver and most recently worked in the salvage department at Roundy's.
Local 200 thanks Dave and Glen for their hard work, dedication, leadership, and friendship. Congratulations!
YRC and HOLLAND Teamsters, please review the link below and complete the request by October 1, 2023. This document will be forwarded by the owed participants to the Law Firm handling the Bankruptcy Filing at emw@previant.com as soon as possible.
CLICK THE BLUE LINK BELOW
YELLOW BANKRUPTCY - Member Proof of Claims Information (google.com)
When you visit WHF or the Local Union, please donate a new pair of socks for those that are in need. Teamsters Local 200 has a donation site set up beginning on Wednesday, August 9, 2023, at our counter at 6200 West Bluemound Road in Milwaukee. Your donated gift is appreciated.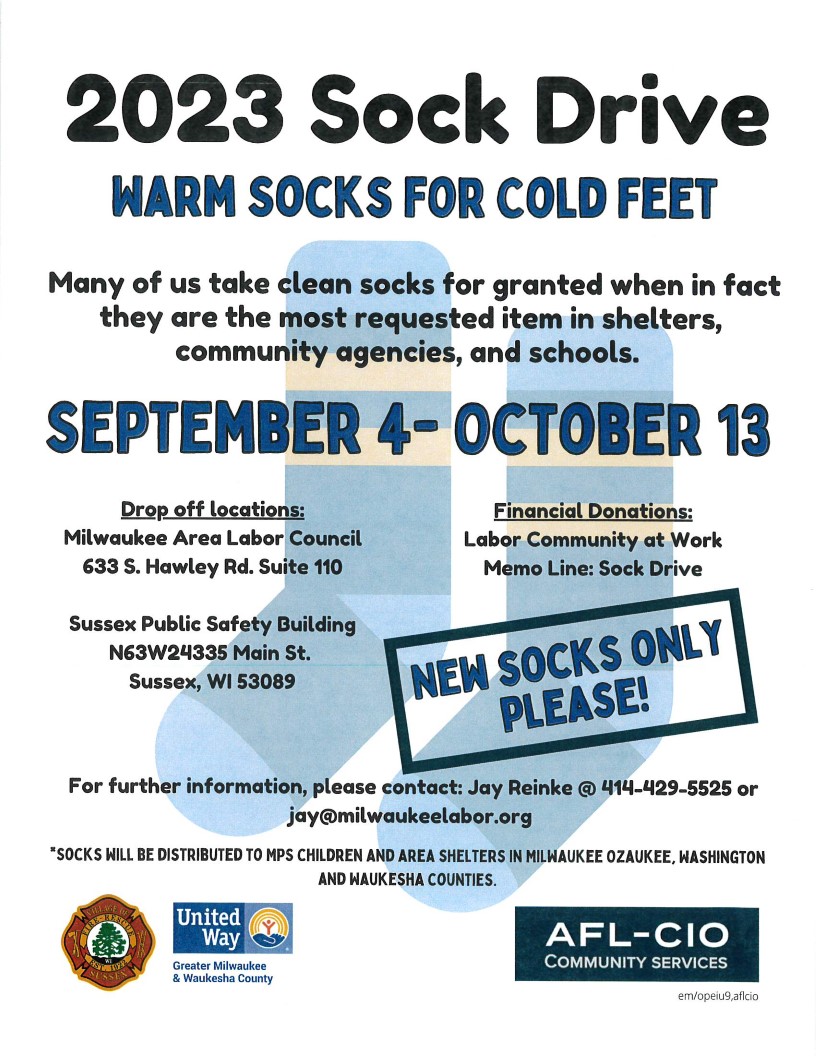 | | |
| --- | --- |
| What's New at Teamsters 200 | |
On Sunday, July 30, 2023, Representatives of Yellow began to contact our Teamsters to announce the closure of YRC and HOLLAND in Milwaukee, Wisconsin. This action was not presented to the Local Union prior to its undertaking. The Local Union is devastated by this news about the closure regarding our Teamsters and their Families. Read More...