LATEST NEWS
ðŸÂÂ'ª Teamster Fire Medics on the COVID-19 frontlines! These heroes are employed at Village of Salem Lakes Fire & Rescue in Wisconsin and are members of Teamsters Local 200.
Kroger Family of Companies and Teamsters Announce Hero Bonus for All Hourly Frontline Associates
Announcement follows company's previous appreciation bonus for hourly grocery, supply chain, manufacturing, pharmacy and call center associates
The Kroger Family of Companies and the International Brotherhood of Teamsters today announced that Kroger and its affiliates will provide all hourly frontline grocery, supply chain, manufacturing, pharmacy and call center associates with a Hero Bonus – a $2 premium above their standard base rate of pay, applied to hours worked March 29 through April 18. The premium will be disbursed weekly to ensure associates have access to additional cash.
Your VOTE does matter. The deadline to request your Absentee Ballot is Thursday, April 2, 2020 at 5pm. Please visit myvote.wi.gov and the request can be processed.
These Brothers and Sisters are working around the clock to serve our Communities.
Thank you to the Members of Local 200.
2020 Spring Election and Presidential Preference Vote
Tuesday, April 7, 2020
Our communities depend on essential needs, and mass transit is crucial to many families. Our Teamster Brothers and Sisters at the City of Racine RYDE Transit System are essential service workers during this Emergency Order of "Safer at Home". Thank you for your dedication to your Community.
Local 200 Sister Erma King at City of Racine. THANK YOU to our ESSENTIAL SERVICE TEAMSTERS!
The Executive Board of General Teamsters Local Union No. 200 has passed a Resolution in reference to Article XII - Contract Ratification, Wage Scales, Disputes over Jurisdiction.
With the demand on the Food Supply Chain to service our communities during these unprecedented times based on a declared National Emergency by the President, the Emergency Order #12 "Safer at Home Order" by Governor Evers, the CDC Guidelines, Teamsters join together to meet the needs. Our Members at US Foods have seen volume decrease due to the mandates related to restaurants restrictions, so they are temporarily at the Oconomowoc Roundy's Distribution Center assisting our Brothers and Sisters at that site. Our Teamster Organization and its Members have seen our efforts prevail during so many other historical events over the decades that Americans have faced. The COVID-19 Coronavirus pandemic has impacted our communities like never seen before and as a country are responding in heroic ways.
Please, take this pandemic seriously. Working together we can be part of "flattening the curve" by common sense activities. Practice Social Distancing, wash your hands, but most of all, support each other, respect each other and acknowledge each other's values.
With the Emergency Order #12, "Safer at Home Order" as enacted by Governor Evers on Tuesday, March 24, 2020, Wisconsinites need to re-think the methods of voting in the Spring Election on Tuesday, April 7, 2020.
Please visit
www.myvote.wi.gov
for the best possible method to vote.
Your VOTE MATTERS!
In our time of need, America moves by truck with an essential Teamster behind the wheel.
America moves by Truck. A truck with an essential Teamster behind the wheel. We can never thank them enough.
A VERY IMPORTANT ANNOUNCEMENT FROM TEAMCARE
FOR OUR BROTHERS AND SISTERS THAT HAVE TEAMCARE, PLEASE REVIEW THE INFORMATION
Working to serve our communities in our time of need
COVID-19 OUTBREAK RESOURCES
The International Brotherhood of Teamsters is closely monitoring the global health crisis caused by the coronavirus pandemic. Working with other unions, public health officials and other experts in our Safety and Health Department, the Teamsters Union is focused on providing our affiliate locals, 1.4 million members, and staff with the most up-to-date information and resources to help everyone in this difficult time.
Many Teamster members across multiple industries are seeing the effects of the widespread transmission of the disease caused by the virus, known as COVID-19. These workers are at increased risk if they frequently interact with potentially infected or infected individuals.
Teamster Local 200 Brothers and Sisters at
Roundy's serving our communities
A Message to Warehouse Teamsters from Division Director Steve Vairma
As one of the largest divisions in the Teamsters Union, the Warehouse Division has been working with our local unions in the Grocery and Broadline industries during the coronavirus outbreak.
In a number of states. restaurants and schools have been closed affecting our members in the Broadline Industry and putting even more pressure on the Grocery Distributors and our members to meet the demands of the public.
This update is from Wisconsin Health Fund.
General Teamsters Local Union No. 200 supports the efforts of all governmental agencies and organizations that are working together to bring social awareness and preventable measures as to the COVID-19 Coronavirus. As our communities and business address the path moving forward, the impact may affect the business practices of Teamster Members and their Employers. To protect the health and well-being of individuals must be foremost under the circumstances facing us. If you become laid off due to the conditions facing us due to the change of business conditions or become ill due to the coronavirus and are out of work for at least 30 days, please contact your Local Union to request a withdrawal card.

Let's exercise caution, not fear. Following the guidelines set forth by trained professionals and medical professionals will prevail.
General Teamsters Local Union No. 200 proudly endorses Robert Hansen for Greenfield School Board. The commitment Robert displays is a sound focus on the needs of the students for their success today and for the future. For our Teamster Brothers and Sisters that make Greenfield their home, we encourage supporting Robert Hansen for School Board. Learn more about Robert at RobertHansenforGreenfield on Facebook.
March is celebrated as Women's History Month to recognize and honor the contributions of all women in our society. There has been solid path of leadership by women with their dedication to end violence, create progressive empowerment, strengthen the rights of women and equality globally. Our Teamster Sisters are part of a culture to create a strong message by their advocacy and are visionaries for generations to come.
Teamsters Local 200 Union Steward Matt Brown retired on Friday, February 28, 2020 after a 41-year career at Pereles Brothers Inc. On behalf of the Local Union Membership, Executive Board, Agents and Staff, we wish Matt the best in his retirement.
Teamsters Local 200 celebrates
the month of March as
Women's History Month.

The strength of our Teamster Organization is based on all being recognized as equals and with a equal voice. Our path forward continues to build Unity and Solidarity in our workplaces, communities and government by the empowerment of women leadership.
Please save the date. This 3-day gathering of Brothers and Sisters from Local Union's across the country develops relationships that last forever. Awesome Family gathering!
Teamster Local 200 member Demetrian McClain prepared a public service announcement on the importance of Get out the Vote in the upcoming elections. Please take a moment and listen to the message and share with others. Thank you to Polictial Talk Radio 101.7FM in Milwaukee for the opportunity.
Hoffa: House Approval of PRO Act Will Benefit Hardworking Americans
Lawmakers Pass Bill That Will Improve Rights of Those on the Job
(WASHINGTON) – The following is a statement from Teamsters General President Jim Hoffa about legislation approved by the House today that would comprehensively update the National Labor Relations Act (NLRA) to benefit workers.
"In approving the Protecting the Right to Organize (PRO) Act, the House agreed to restore fairness to the economy at a time when income inequality has stifled the ability of far too many hardworking Americans to earn a decent wage that allows them to support their families.
"The PRO Act will strengthen the NLRA so that workers seeking to organize a union and negotiate higher wages and better benefits will be protected. Workers deserve a safe workplace, the ability to stand together and negotiate better working conditions, and to live a middle-class lifestyle.
"Lawmakers have realized what happens when workers are abandoned by their elected officials. The misclassification of workers is on the rise and too many working Americans are falling through the cracks. The Teamsters have witnessed such behavior firsthand as XPO workers across the country try to organize with this union. I'm glad to see a majority of the House are standing with workers by allowing them to join together to negotiate on the job."
Founded in 1903, the International Brotherhood of Teamsters represents 1.4 million hardworking men and women throughout the United States, Canada and Puerto Rico. Visit www.teamster.org for more information. Follow us on Twitter @Teamsters and "like" us on Facebook at www.facebook.com/teamsters.
The International Brotherhood of Teamsters Freight Division represents hard working Brothers and Sisters that include Local and Over the Road Drivers, Dockworkers, Mechanics and Office Personnel across America. Our Freight membership of Teamsters Local Union No. 200 are the cornerstone of the saying, "America moves by Truck".
Wisconsin Teamsters Joint Council No. 39 "James Jesinski Scholarship" application process is underway for those that are eligible and attend the UW-Madison Campus. The current copy of the Wisconsin Teamster Newspaper is being delivered to your home and additional information for this Scholarship is within this edition.
General Teamsters Local Union No.200 has endorsed the candidacy of Marina Dimitrijevic as the next Alderwoman for the 14th District of the City of Milwaukee.
Milwaukee is built by many neighboring communities and Marina has has demonstrated her commitment to serve the families of Milwaukee in an honorable fashion. Marina's voice and actions are straight forward, determined to reach results that create positive solutions.
Please visit Marina for Milwaukee at Facebook to learn more about Marina's campaign, important dates and events.
Today is National Voter Registration Day. Visit the below link to ensure you are registered or registration is needed.
.
IMPORTANT UPDATES
SOLDON LAW FIRM, LLC.
ATTORNEYS AT LAW
Presents
Right To Work
Discussion
---
| | |
| --- | --- |
| What's New at Teamsters 200 | |
MAKE SURE WE HAVE YOUR
CURRENT E-MAIL ADDRESS
Make sure that you do not get missed when the Local sends important information to it's members and retirees.
Keep your information updated with the Local. If you have moved or changed addresses within the past 6 months, please contact the Local to request that your contact information be brought up-to-date.
You can message the office staff through the Local 200 website (go to the "Contact Us" page listed above), Facebook or call at 414-771-6363.
This request is for all members active and retired.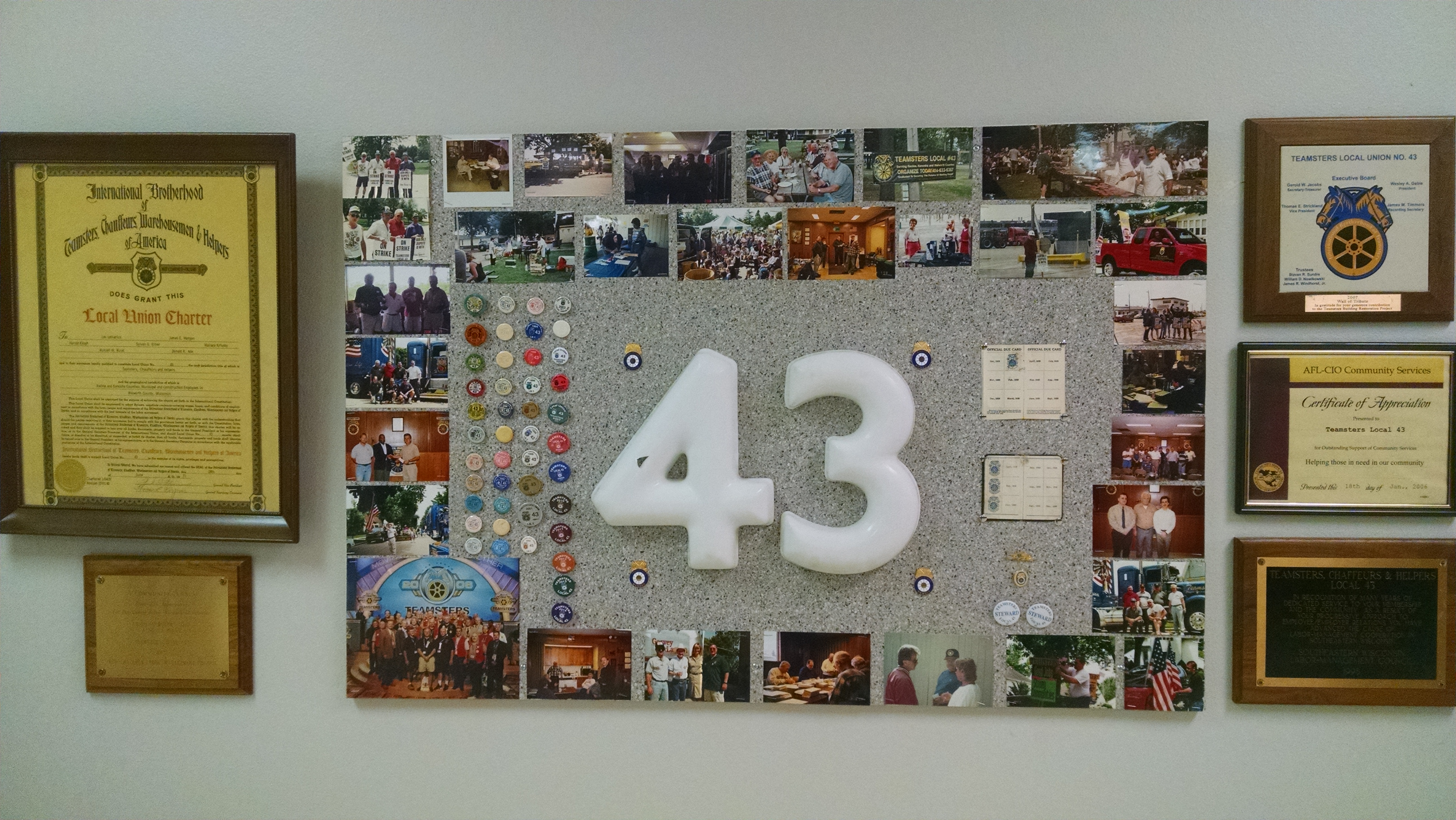 Teamsters Local 43 Remembered Post Merger
Dedicated to these members formerly from Local 43 is a shrine memorializing their Local in their Union hall in the Milwaukee location.
"Where we came from and how we got here helps move us forward," said Teamsters Local 200 Secretary Treasurer Tom Millonzi.
"We put together this shrine so when our new members from Racine and Kenosha come to their Union hall they will see and know that we remember. Remembering how we got here strengthens our solidarity," added Millonzi.