LATEST NEWS
| | |
| --- | --- |
| | |
| JARED WOLSKI | TERRY SIMENSON |
| | |
| JAY COUTURIER | GARY SHEARIER |
TEAMSTERS LOCAL 200 & 344

RETIREES LUNCHEON FOR

TUESDAY FEBRUARY12, 2019

HAS BEEN CANCELLED DUE

TO THE FORECAST OF

INCLEMENT WEATHER
Hoffa, Teamsters Call on Congress to Reopen Government
Teamsters General President Jim Hoffa joined other labor leaders at a rally today in the nation's capital to call for an end of a partial federal government shutdown that has left 800,000 government workers without a paycheck for nearly a month.
Speaking outside of Nationals Park, Hoffa said it is time for the Senate to vote on a funding bill approved by the House earlier this month that would fully reopen the government and allow not only federal workers but contractors as well to return to the job with pay.
"We all know what's going on," Hoffa told union workers, including many Teamsters, in attendance. "We are here to rally with you and call for the vote. It's time for this to come to an end."
He added, "Congress is getting paid, but the most essential people, the government workers, aren't getting paid. I call for them to go on and do their job!"
Today's rally marks the second such gathering in as many weeks. Thousands showed up at similar events outside the AFL-CIO headquarters in Washington and all over the country on Jan. 10 demanding that Senate Majority Leader Mitch McConnell stop holding workers hostage as part of the shutdown.
Teamsters Celebrate the Legacy of

Dr. Martin Luther King Jr.
Teamsters across the country will honor the legacy of civil rights and labor leader Martin Luther King Jr. on Jan. 21, 2019.
King actively supported the labor movement, frequently speaking to union audiences. He devoted his life to securing rights for minorities and eliminating segregation in society. King believed that the path to economic freedom and social justice were one and the same and strongly supported the labor movement.
At present, due to the government shutdown, unions all over the world have been coming together rallying for Congress to "Call the Vote" and reopen the government to put more than 800,000 people back to work. King, always an advocate of working families, would have been standing shoulder to shoulder with the union members, clergy and community leaders demanding an end to the shutdown.
"We are now faced with the fact that tomorrow is today. We are confronted with the fierce urgency of now. In this unfolding conundrum of life and history, there is such a thing as being too late. This is no time for apathy or complacency. This is a time for vigorous and positive action," King said at Riverside Church in New York City in 1967.
The Teamsters Union was an early supporter of King, donating money to his cause and sending supplies to marchers and other civil rights workers.
"Even in death, Martin Luther King Jr. continues to inspire and guide us," said Teamsters General President James P. Hoffa on the occasion of Martin Luther King Jr. Day. "His legacy lives on in every union member, every labor activist, and every American who has stood up in the name of justice, equality, peace and compassion."
Today, Teamsters across the country are committed to the union's tradition of standing up for social justice. Through organizations like the Teamsters Human Rights Commission, Teamsters are able to carry on the legacy of Dr. King.
UPS Freight Agreement Available Online
The 2018-2023 National Master UPS Freight Agreement is now available online and ready to print.
You may access the agreement here.
Workers at UPS Freight ratified the new five-year agreement in November 2018 that was the company's last, best and final offer. Members approved the contract by a 77 percent to 23 percent margin.
The agreement covers about 11,600 workers at the company.
Visit www.UPSrising.org for more info. Download and sign up for the UPS Rising mobile app here to find the current UPS contract, along with all the UPS contract updates and other news. Visit the UPS Rising Facebook page where members can see the latest updates.
Text "UPS" to 86466 to receive text message alerts (message and data rates may apply).
WE WILL NOTIFY YOU WHEN THE CONTRACTS ARE AVAILABLE. FOR NOW YOU CAN SEE THE DOCUMENT AT:

On January 9, 2019, Ways & Means Committee Chairman Richard Neal (D-MA) introduced the Rehabilitation for Multiemployer Pensions Act to address the nation's multiemployer pension crisis. The newly introduced bill, which tracks similar legislation introduced by Rep. Neal and Sen. Sherrod Brown (D-OH) last Congress, has five Democratic and five Republican co-sponsors.
The bill establishes the Pension Rehabilitation Administration (PRA), a new agency within the Department of the Treasury that is authorized to issue bonds in order to finance loans to "critical and declining" status multiemployer pension plans, plans that have suspended benefits, and some recently insolvent plans currently receiving financial assistance from the Pension Benefit Guaranty Corporation (PBGC). The PRA would be headed by a Director, who will have a term of five years and be appointed by the President.
Over one hundred multiemployer pension funds across the U.S., including the Central States Pension Fund, have become severely underfunded and are in critical and declining status. Without Congressional action, Central States will run out of money by 2025 or sooner. The other funds in crisis face a similar fate. A steep or total loss of promised pension benefits would clearly be devastating to current and future beneficiaries.
Original co-sponsors of the legislation are Rep. Peter King (R-NY), Rep. Bobby Scott (D-VA), Rep. Don Young (R-AK), Rep. Debbie Dingell (D-MI), Rep. Chris Smith (R-NJ), Rep. Donald Norcross (D-NJ), Rep. John Katko (R-NY), Rep. Marcy Kaptur (D-OH), and Rep. Jeff Fortenberry (R-NE).
A summary of the bill can be found here, and the full text of the legislation is available here.
For more information on the pension crisis, please visit VoicesForPensionSecurity.com.
About James R. Hoffa Memorial Scholarship Fund
James R. Hoffa became a Teamster member in 1934 and served as General President for 14 years, and, in recognition of his tireless service to the union and its members, was honored as General President Emeritus for life. At the November 1999 General Executive Board meeting, then-General Secretary-Treasurer C. Thomas Keegel presented a resolution to establish the new scholarship fund. This site describes the James R. Hoffa Memorial Scholarship Fund (JRHMSF) and outlines eligibility requirements and application procedures. Please click here.
The James R. Hoffa Memorial Scholarship Fund is an independent organization established and registered as a tax-exempt entity under Section 501(c)(3) of the Internal Revenue Code. The Fund is established solely to provide scholarships to the child or dependent of a member of the International Brotherhood of Teamsters, and contributions to the Fund are deductible as charitable contributions to the extent permitted by law.
All of us at the Central States Pension Fund wish you and your families warm holiday greetings and best wishes for 2019.
We also want to thank all of you for the phone calls, letters, emails, and visits you made this year to your Members of Congress, members of the Joint Select Committee on Solvency of Multiemployer Pension Plans, and The White House.
While the Joint Select Committee's deadline may have passed, productive discussions among Members of Congress from both political parties have occurred and will continue into the new year.

As a result of the Joint Select Committee process, Members of Congress now have a fuller and more complete understanding of the severe problems facing so many multiemployer funds throughout our nation, and the hardships that all participants will face if a solution isn't found. Members of Congress have been educated not only through the Joint Select Committee's hearings and other meetings, but also through the voices of thousands of active and retired members, local unions, and employers – including the pension funds themselves.

As a new year dawns, we urge you to continue to share your stories and views with your Members of Congress. Rest assured that we will continue to engage on Capitol Hill with Members of both houses and with both political parties and their staffs.

Much progress has been made toward a solution, and we won't stop until one is found to protect your retirement security.

You can keep updated about developments in Washington by visiting our website, VoicesForPensionSecurity.com. Happy Holidays.
Results of the Teamsters Local Union No. 200 Officers Election
Please see below the results of the recent General Teamsters Local No. 200 Union Officers Election.
Thanks to all the Teamster Brothers and Sisters who voted.
Your new Board will take up the duty of serving the membership with their three year term commencing January 1, 2019.
Thomas L. Millonzi
Secretary Treasurer
VOICES FOR PENSION SECURITY
UPS Freight Contract Update
Last, Best and Final (LBFO) Contract Proposal Received From UPS Freight
The Teamsters National UPS Freight Negotiating Committee has received a Last, Best and Final (LBFO) contract proposal from UPS Freight. You may view the proposal at http://ibt.io/UPSFreightupdate
Please read the proposal in preparation for voting scheduled November 9, 10 or 11 at your local union hall or other local area. Your local union will notify you of the time, date and locations for voting.
As you are aware, on October 5, the proposed tentative agreement was rejected. The Teamsters UPS Freight National Negotiating Committee (negotiating committee) notified the company that the 30-day extension agreement would terminate effective Monday, November 12, 2018, at 12:01 a.m. Meanwhile, all members of the negotiating committee have been talking to you about the issues that caused you to reject the tentative agreement.
On Monday, October 22, the negotiating committee met and formulated a list of issues that have been presented to the company. The negotiating committee demanded: 1) tighter restrictions and limits on subcontracting and rail usage; 2) higher wage increases that are not split; 3) earning protection for city drivers when they perform dock work; 4) elimination of the new qualifiers for pension and vacation benefits; and 5) a week's worth of vacation pay for all classifications based on 1/52 of the prior year's earnings.
The negotiating committee has met with the company but has not been able to reach a revised tentative agreement. We have, however, won the following changes over the tentative agreement you rejected:
1) In Article 25, Section 6, the 1,800-hour qualifier for a full year of pension credit will be reduced to the prior 1,500-hour level;
2) In Article 25, Section 5, the 182 reports qualifier for full vacation benefits will be reduced to the prior 156-day level; and
3) In Article 26, Section 1, pick-up and delivery drivers will receive their applicable driver rate of pay rate when performing dock work; and
4) In Article 26, Section 2, road drivers will maintain their applicable local/road driver hourly rate when performing dock work if they are not otherwise entitled to the Article 44(d) $37.61 rate.
One additional change is in Article 44(e) where the percentages that subcontracting will be reduced over the life of the agreement will be adjusted so that the overall (4) percentage points remain the same but that the annual reductions will now be reallocated as: .5% by July 31, 2019; .5% by July 31, 2020; 1% by July 31, 2021; 1% by July 31, 2022; and 1% by July 31, 2023.
The negotiating committee has determined that the LBFO does not sufficiently address the issues raised by the members. Nevertheless, because of the company's insistence that there is no more money to be had and in order to allow you to make an informed decision on a question that will affect you and your family, the negotiating committee decided to submit the LBFO for acceptance or rejection. You have already authorized a strike. While a strike is a last resort, if you reject this final offer from the company there will be no other options and there will be a strike at a time and location(s) determined by the negotiating committee.
While the national negotiating committee makes no recommendation for or against this offer, we have agreed to forward it to you for your acceptance or rejection as the consequences of this decision are yours alone to make.
Sample picket sign language and picket line instructions will also be forwarded to all UPS Freight local unions for use in the event you reject the LBFO. It is important to note that any strike against UPS Freight is directed only at UPS Freight and not against UPS parcel or any other UPS entity.
As noted above, the extension agreement will expire on Monday, November 12, at 12:01 a.m. No work stoppage can take place until after that time and then only with the approval of the negotiating committee.
*To view the proposal, go to: http://ibt.io/UPSFreightupdate
2018 TEAMSTERS LOCAL 200
SCHOLARSHIP GOLF OUTING
LABOR DAY 2018
Organized Labor beats back Mother Nature on Labor Day
The Labor Day 2018 events in the State of Wisconsin dealt with two forces. One force was the demostration of a strong Organized Labor Movement marching in unison and the second force of Mother Nature adding the unpredictable rain showers to the festivities at many events.
The 2018 Milwaukee Labor Day event is one of the largest assembly of Union Brothers and Sisters representing Organized Labor in the State. As in past years, Local 200 displays a very impressive line up of equipment and a strong and united Teamster membership.
The trek to the Summer Fest grounds through the streets of Milwaukee continues to be a moment where Organized Labor can be recognized by each other and the members of our communities. This event showcases Unionism and the commitment of the Brothers and Sisters to work together empowering those within our communities.
Local 200 partnered with other Trade Union's to sponsor a live feed from our friends at Resistance Radio, 1510 AM Radio, from the Milwaukee Labor Day event. There was also an introduction of Senator Tammy Baldwin by Teamster Retiree Bob Amsden to the crowd at the Milwaukee Labor Day event.
On behalf of the entire Executive Board, Secretary Treasurer Tom Millonzi and President Tom Bennett, we proudly thank our dedicated membership for making the Labor Day Event a success.
TEAMSTERS LOCAL 200 GOLF SCHOLARSHIP WINNERS
This year Seven winners each receive $500 scholarship
"It was a great feeling handing out scholarships to these fine students" said Tony Ceretto.
Tony chairs the committee of three Local 200 retirees that review the applications and award the scholarships.
"The essay process is a great way to bring awareness to young people the value Unions bring to Americas workers" added Tony.
Applicants are asked to put in writing what role Unions have in the future of Americas workers and then the committee reviews the essays and pickers the winners.
Pictured left to right attending the award presentation
(scholarship winners are in bold)
Tony Ceretto, Patrick Passler, Eric Passler, Scot Passler,
Michelle Clark, Abigali Clark,
Morgan Franzen Gary Franzen,
Local 200 President Thomas Bennett,
Local 200 Vice-President Tim Pinter
Additional winners unable to attend the ceremony
Taylor Surprise, Jordyn Vetter,
Shelby Mallum, Hannah Kuehl
Congratulations to all the winners and good luck in your future studies!!
.
On Saturday June 2nd, 90 plus Local 200 members from Ozinga Ready Mix supplied almost 7, 000 yards of concrete for the new BMO Tower across from the Milwaukee City Hall, starting just after midnight on Saturday. The pour was expected to last 25 hours, but was completed 6 hours ahead of schedule.
FOR YOUR INFORMATION
Local 200 Secretary Treasurer Tom Millonzi and Local 200 President Tom Bennett recently visited the Teamster International headquarters in Washington DC to meet and confer with IBT representatives Cindy Impala, director of Training and Development for the IBT, and Brian Tierney from the communications department.
"In an effort to bring continued education to the members of this local about right to work, President Tom Bennett and myself are reaching out to our International. Cindy and Brian were very knowledgeable and will be working with Local 200 in our effort," said Secretary Treasurer Millonzi.
Pictured are Secretary Treasurer Tom Millonzi and President Tom Bennett in the front lobby of the IBT headquarters in Washington DC
IMPORTANT UPDATES
SOLDON LAW FIRM, LLC.
ATTORNEYS AT LAW
Presents
Right To Work
Discussion
---
| | |
| --- | --- |
| What's New at Teamsters 200 | |
MAKE SURE WE HAVE YOUR
CURRENT E-MAIL ADDRESS
Make sure that you do not get missed when the Local sends important information to it's members and retirees.
Keep your information updated with the Local. If you have moved or changed addresses within the past 6 months, please contact the Local to request that your contact information be brought up-to-date.
You can message the office staff through the Local 200 website (go to the "Contact Us" page listed above), Facebook or call at 414-771-6363.
This request is for all members active and retired.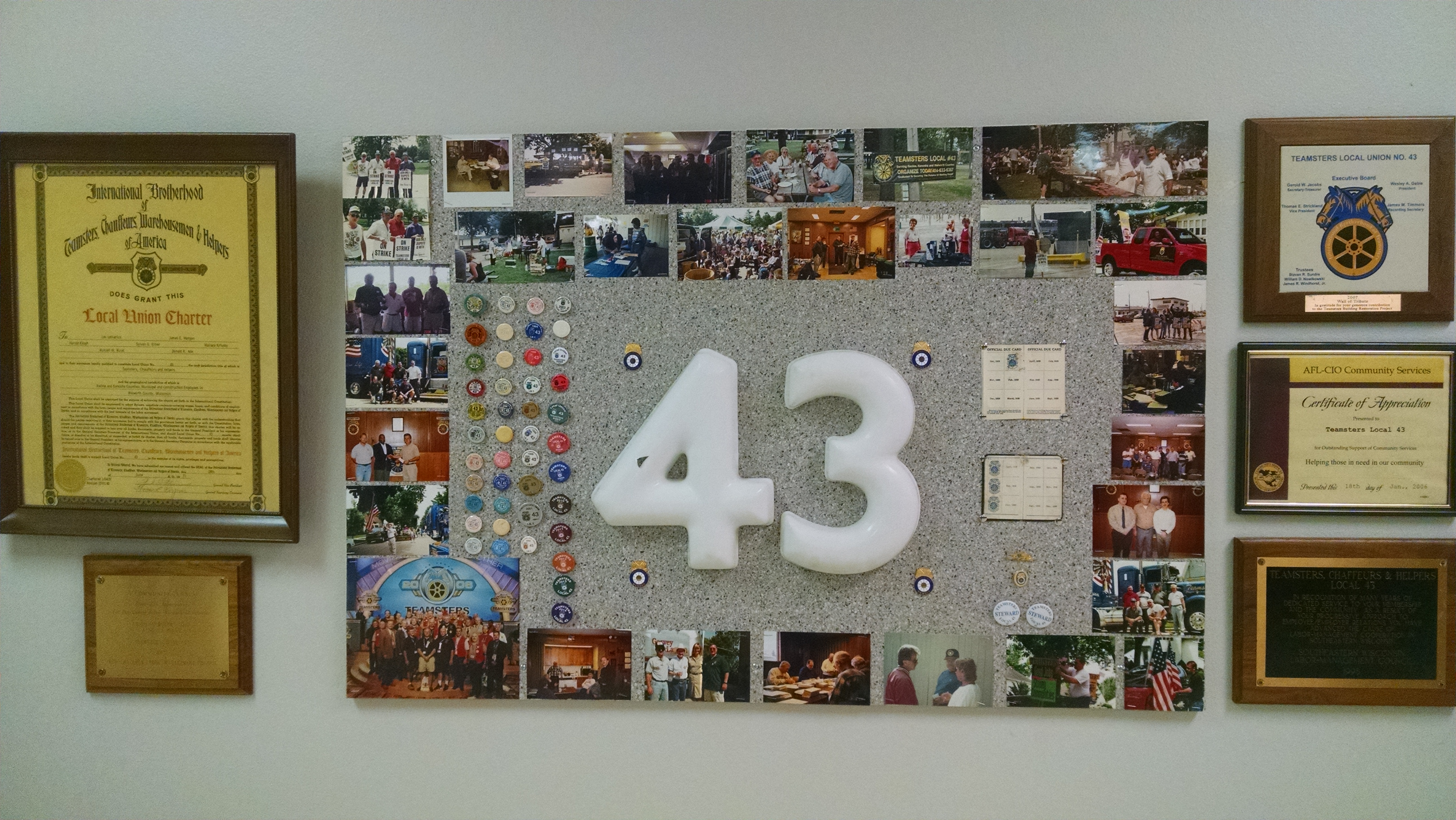 Teamsters Local 43 Remembered Post Merger
Dedicated to these members formerly from Local 43 is a shrine memorializing their Local in their Union hall in the Milwaukee location.
"Where we came from and how we got here helps move us forward," said Teamsters Local 200 Secretary Treasurer Tom Millonzi.
"We put together this shrine so when our new members from Racine and Kenosha come to their Union hall they will see and know that we remember. Remembering how we got here strengthens our solidarity," added Millonzi.