LATEST NEWS
Take a moment and read the most current document from the Desk of General President James P. Hoffa to Senate on the Teamsters Overall Priorities for Stimulus.
The Multiemployer Pension Crisis has brought Retired and Active Teamsters together to be advocates in the messaging to have our voices heard. Please take a moment and listen to the Employers message on this Crisis.
With the Tuesday, August 11, 2020 Wisconsin Primary upon us, Wisconsin Teamsters Joint Council No.39 has made the following political endorsements. Shortly after the results of the Primary Election, additional endorsements will be announced.
We are saddened to receive the news of the passing of Jackie Domgalski, wife of Local 200 Steward Tim Domgalski and Driver at Advance Waste.
Our heartfelt condolences from Teamsters Local 200 to Tim and the entire Domgalski Family.
On behalf of the Executive Board, Members, Agents and Staff, our deepest sympathies to the Family of Travis Vargas. Travis, a Teamster Driver at Roundy's died unexpectedly in a motorcycle accident on Thursday, July 16, 2020.
Once we have additional arrangement information, we will share that notice with the membership.
HOFFA STATEMENT ON PASSING OF CONGRESSMAN JOHN LEWIS
2020.07.18
(WASHINGTON) – The following is an official statement from Teamsters General President Jim Hoffa:
"Last night, our country lost a lion of the civil rights movement and a national force for good. As Teamsters, we are devastated to learn of the passing of Congressman John Lewis.
"John Lewis dedicated his life to causes that were bigger than himself. For more than 60 years, his courageous leadership gave hope to the entire nation, reminding us all to be better.
"More than anything, John Lewis was a fighter. He never backed down when it came to the rights and equality of Black people and the disadvantaged, be it at the ballot box or in the workplace. He never stopped fighting, and he never lost sight of the ultimate goal of equality for all. He was a happy warrior looking for 'good trouble' to protest the wrongs of racism and systemic oppression.
"He took his fight from the streets of Selma and Atlanta to the halls of the Capitol, becoming the 'conscience of the U.S. Congress.' He broadened the struggle for civil rights to include all like-minded supporters, regardless of race, ethnicity or economic status. Through his deep faith and belief in the inherent goodness of people, he sought to lift those in need by focusing on their humanity.
Social Distancing and the wearing of a Mask is a common sense approach that can help you and others stay safe.
There has been an increased count in confirmed positive cases at several work sites throughout our Local Union. Let's work together to combat this pandemic.
NATALIE'S EVERYDAY HEROES:
BELOVED ST. FRANCIS GARBAGE MAN MATTHEW LAZARSKI, SAYS GOODBYE TO HIS ROUTE
By: Natalie Shepherd
ST. FRANCIS, Wis. (CBS 58) -- A St. Francis neighborhood had to say goodbye to a beloved member of their community recently -- their garbage man. Most everyone who lives there agrees he's no ordinary trash collector. Since it's such an essential service, they wanted to make sure they gave him a big send-off.
"It's kind of a thankless job, I would imagine," said Lori Schultz. "Kind of alone, driving around in your truck, picking up everyone's trash."
Sometimes though, a job is what you make it. And that's definitely the case for Matthew Lazarski.
On behalf of the Executive Board, Agents and Staff, have a safe and enjoyable Independence Day Weekend.
Our Local Union Offices will be closed on Friday, July 3, 2020.
TEAMSTERS UNION LAUDS CARES ACT RELIEF FOR YRCW WORKERS
Loan Will Protect Livelihoods of 30,000 Workers Impacted by Pandemic
(WASHINGTON) – A $700 million loan provided by the United States Treasury under the CARES Act will help YRC Worldwide, Inc.'s operating companies pay its employees' health care and other benefits and get through this pandemic while protecting the livelihoods of about 24,000 Teamsters and their families, Teamsters General President James P. Hoffa said today.
SOLID WASTE AND RECYCLING DIVISION UPDATE
2020.06.29
A Message to Division Members from Director Chuck Stiles - June 29, 2020
General Teamsters Local 200 and the Taylor Made Foundation have combined our forces to focus on strengthening the youth of the Milwaukee community. Mike Taylor, the Founder of the Taylor Made Foundation, is the first player in NBA history to be drafted from the D-League and has made Milwaukee and its youth priority one. Please visit the website of http://taylormadefoundation414.org/ to learn more about Mike's passion and commitment.
TEAMSTERS JOIN IN
CELEBRATING JUNETEENTH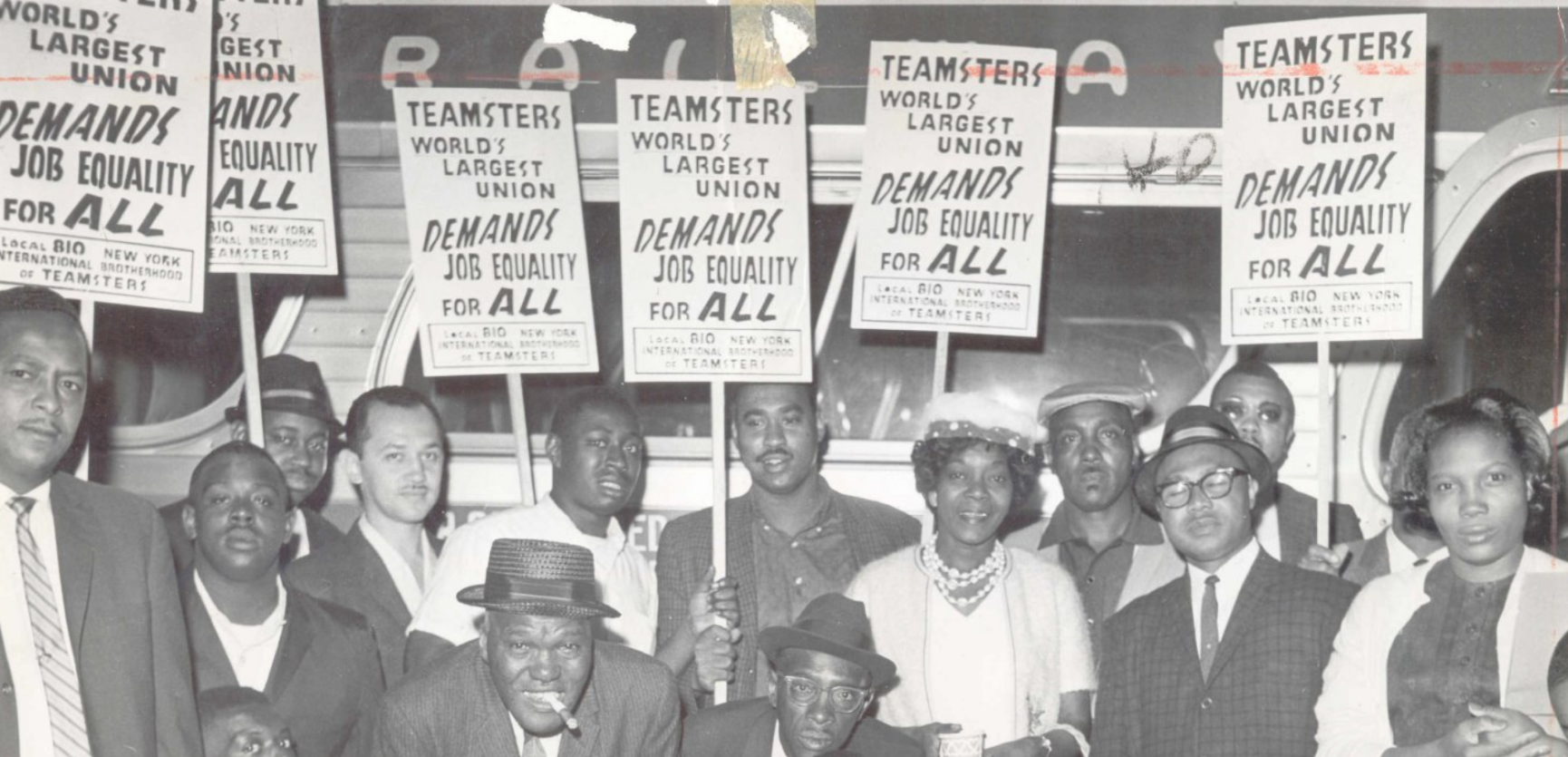 Union Calls on Congress to Create Federal Holiday
(WASHINGTON) – Today, the Teamsters join in honoring the 155th anniversary of the first Juneteenth and call on Congress to create a federal holiday marking the end of slavery. The Teamsters Human Rights & Diversity Commission will be celebrating along with Teamsters from across the country. Juneteenth, a portmanteau of June and nineteenth, is also called Freedom Day, Emancipation Day or Jubilee Day.
There has been an inaction by the Leadership of the Senate to approach the Multiemployer Pension Crisis and now we have entered a deep danger zone. A bipartisan solution can be reached, but it takes the willingness of the Senate to roll up their sleeves and provide the path of retirement security for millions of Americans. As the Heroes Act addresses this Crisis as the House Leadership accepted the challenge to protect the full earned Pensions understanding that America's economic restart shall include all those from all walks of life on their journey.

The Local Union has invited Senator Johnson to meet about this critical topic and its overall impact. We await his response.
Wisconsin Teamsters Field Action Group
Teamster Local Unions in Wisconsin are building power and staying strong in the face of the COVID-19 pandemic. The best way for us to do that is to be united and stay connected. Enter your contact info in here so we can keep you up-to-date on latest developments at the Local, at our job sites and in the political arena. And let us know if you'd like to get more involved in Local Union political activity.
Watch "Teamsters Local 200 Pension With Agent Benvenuto" on YouTube
Your Central States Pension is in Crisis
Like many of our nation's multiemployer pension funds, the Central States Pension Fund has become severely underfunded and is in critical and declining status. Unless Congress takes action, Central States will run out of money to pay benefits and your pension will be severely reduced in 2025 or earlier.
The time to act is now!
MolsonCoors Beverage Company Hero Pay For Employees

For approximately 2 months MolsonCoors Beverage Company has been providing "Hero Pay" to its essential workers. These are the same employees that have been putting in large amounts of hours to ensure that the Company is successful in getting its product out to market. While all employees are grateful for this supplement (hourly or salaried), the Company recently announced that they would be discontinuing this program effective 5/31/2020.
Teamsters Local 200 Secures Arbitration Victory, Kroger to Immediately Rescind Unilateral Program
Union Retains Past Practice Related to Case Audit Program
(MILWAUKEE) – Teamsters Local 200 announced today that the union prevailed in an arbitration with Roundy's Supermarkets. In the opinion, issued on May 14, the arbitrator found that the company, owned and operated by The Kroger Co., violated the collective bargaining agreement by unilaterally implementing a new case audit system.
On November 11, 2015, the Kroger Company and Roundy's announced a merger agreement in which Kroger acquired Roundy's in a deal valued at $800 million that also included the assumption of debt. Along with this acquisition by Kroger, a seven-decade-old collective bargaining agreement with Teamsters Local 200 and Roundy's was maintained in full force. Local 200 currently represents approximately 800 members at the Oconomowoc, Wisc. distribution center.
Teamsters Say Final Stimulus Bill Must Retain Multiemployer Pension Partition Fix
As House Returns to D.C., Tackling Worker Safety, Paid Leave, Government Funding is Also Paramount
(WASHINGTON) – With the House returning at the end of the week, the Teamsters are urging lawmakers to take quick action and pass new broad stimulus legislation that would boost the broken multiemployer pension system, improve the health and safety of all essential workers and include increased funding for state and local governments.
Teamsters Local 200 proudly joins forces with United Food and Commercial Workers 1473 to protest the actions of Kroger which was recently directed at our Essential Services Workers to eliminate the recognition compensation for their frontline services for our daily needs. These workers, Customer Service, Store Employees, Drivers, Warehouse Workers and Maintenance Workers continue to face these challenging times knowing that the risk is very present. Please share this information.

Kroger responds to unions' call to extend 'hero pay'
Talks continue with seven UFCW locals as $2 hourly bonus is set to expire
The Kroger Co. said it will evaluate changing conditions and employee needs after eight union locals called for the supermarket giant to further extend "hero bonuses" for frontline hourly workers amid the coronavirus crisis.
United Food and Commercial Workers (UFCW) Locals 7, 21, 324, 367, 555, 770, 1439 and Teamsters Local 38 said late yesterday that Kroger Co. grocery stores across the West notified associates that the company plans to stop paying the $2-per-hour bonus on May 17. They have now appealed to the public through the social media hashtag #EssentialHeroes to urge Kroger to maintain the COVID-19 bonus pay as well as improve store safety practices and provide testing for the virus to all employees.
This week Kroger announced that it will no longer provide hazard pay ('Hero Bonus') to employees starting May 16. The unexpected announcement comes as more states are loosening restrictions and more cases of COVID-19 are being reported in locations across the country.

Sign the petition below to send a message to the company and let them know it is too soon to discontinue "Hero Pay" for essential Teamster workers risking their health on the front lines.
Sign here:

https://

teamsters.salsalabs.org/

krogerheropayaction
This information presented by the Board of Trustees, Central States, Southeast and Southwest Area Health and Welfare Fund, is directed towards its participants as the current situation between YRCW and the Fund. As for our Local 200 Teamster YRCW participants and their families that utilize Wisconsin Health Fund, there is not an official statement from Wisconsin Health Fund at this moment. When information becomes available, it will be immediately shared.
EVERYONE DESERVES A SAFE WORKPLACE
www.SolidarityIsEssential.org is a new International Brotherhood of Teamsters website
From the entire Team and Wisconsin Health Fund and Teamsters Local Union No. 200, THANK YOU to the essential service workers that serve our families and communities.
The Safety, Health and Well-being of our Members are cruical during the COVID-19 Coronavirus Pandemic. The Emergency Order #12 "Safer at Home" order is designed to prevent the spread of the virus and to assist in "flattening the curve". The Local Union has forwarded this information request to our Local 200 Teamster Employers in relation to the OSHA Occupational Safety and Health Standards. Our Brothers and Sisters are the frontline of this Pandemic and as ESSENTIAL SERVICE WORKERS , their health and safety, their co-workers health and safety and their families health and safety are the priority.
Thomas J. Bennett
Secretary Treasurer
General Teamsters Local Union No. 200
LAYOFF BENEFITS EXTENSION
The Department of Labor has issued guidance on OSHA's Whistleblower Protection and COVID-19. Please review the information at
www.dol.gov/newsroom/releases/osha/osha20200408
From two tours on the frontline's in Afghanistan, Waste Management driver Ronald Sexton Jr. fines himself on the frontline's again fighting the Coronavirus-19. Sanitation workers are deemed essential to preserving life, health, public safety, and basic societal functioning.
Brothers and Sisters of YRCW please review the Letter of Agreement between the parties related to Modified Work Program. If you have any questions, please contact Business Representative Jim Seelow at 414-771-6363 or jseelow@teamsterslocal200.com .
ðŸÂÂÂÂÂÂÂÂÂÂÂÂÂÂÂÂÂÂÂÂÂÂÂÂÂÂÂÂÂÂÂÂÂÂÂÂÂÂÂÂÂÂÂÂÂÂÂÂÂÂÂÂÂÂÂÂÂÂÂÂÂÂÂÂÂÂÂÂÂÂÂÂÂÂÂÂÂÂÂÂÂÂÂÂÂÂÂÂÂÂÂÂÂÂ'ª Teamster Fire Medics on the COVID-19 frontlines! These heroes are employed at Village of Salem Lakes Fire & Rescue in Wisconsin and are members of Teamsters Local 200.
Kroger Family of Companies and Teamsters Announce Hero Bonus for All Hourly Frontline Associates
Announcement follows company's previous appreciation bonus for hourly grocery, supply chain, manufacturing, pharmacy and call center associates
The Kroger Family of Companies and the International Brotherhood of Teamsters today announced that Kroger and its affiliates will provide all hourly frontline grocery, supply chain, manufacturing, pharmacy and call center associates with a Hero Bonus – a $2 premium above their standard base rate of pay, applied to hours worked March 29 through April 18. The premium will be disbursed weekly to ensure associates have access to additional cash.
These Brothers and Sisters are working around the clock to serve our Communities.
Thank you to the Members of Local 200.
Our communities depend on essential needs, and mass transit is crucial to many families. Our Teamster Brothers and Sisters at the City of Racine RYDE Transit System are essential service workers during this Emergency Order of "Safer at Home". Thank you for your dedication to your Community.
Local 200 Sister Erma King at City of Racine. THANK YOU to our ESSENTIAL SERVICE TEAMSTERS!
The Executive Board of General Teamsters Local Union No. 200 has passed a Resolution in reference to Article XII - Contract Ratification, Wage Scales, Disputes over Jurisdiction.
With the demand on the Food Supply Chain to service our communities during these unprecedented times based on a declared National Emergency by the President, the Emergency Order #12 "Safer at Home Order" by Governor Evers, the CDC Guidelines, Teamsters join together to meet the needs. Our Members at US Foods have seen volume decrease due to the mandates related to restaurants restrictions, so they are temporarily at the Oconomowoc Roundy's Distribution Center assisting our Brothers and Sisters at that site. Our Teamster Organization and its Members have seen our efforts prevail during so many other historical events over the decades that Americans have faced. The COVID-19 Coronavirus pandemic has impacted our communities like never seen before and as a country are responding in heroic ways.
Please, take this pandemic seriously. Working together we can be part of "flattening the curve" by common sense activities. Practice Social Distancing, wash your hands, but most of all, support each other, respect each other and acknowledge each other's values.
In our time of need, America moves by truck with an essential Teamster behind the wheel.
America moves by Truck. A truck with an essential Teamster behind the wheel. We can never thank them enough.
A VERY IMPORTANT ANNOUNCEMENT FROM TEAMCARE
FOR OUR BROTHERS AND SISTERS THAT HAVE TEAMCARE, PLEASE REVIEW THE INFORMATION
Working to serve our communities in our time of need
COVID-19 OUTBREAK RESOURCES
The International Brotherhood of Teamsters is closely monitoring the global health crisis caused by the coronavirus pandemic. Working with other unions, public health officials and other experts in our Safety and Health Department, the Teamsters Union is focused on providing our affiliate locals, 1.4 million members, and staff with the most up-to-date information and resources to help everyone in this difficult time.
Many Teamster members across multiple industries are seeing the effects of the widespread transmission of the disease caused by the virus, known as COVID-19. These workers are at increased risk if they frequently interact with potentially infected or infected individuals.
Teamster Local 200 Brothers and Sisters at
Roundy's serving our communities
General Teamsters Local Union No. 200 supports the efforts of all governmental agencies and organizations that are working together to bring social awareness and preventable measures as to the COVID-19 Coronavirus. As our communities and business address the path moving forward, the impact may affect the business practices of Teamster Members and their Employers. To protect the health and well-being of individuals must be foremost under the circumstances facing us. If you become laid off due to the conditions facing us due to the change of business conditions or become ill due to the coronavirus and are out of work for at least 30 days, please contact your Local Union to request a withdrawal card.

Let's exercise caution, not fear. Following the guidelines set forth by trained professionals and medical professionals will prevail.
Teamster Local 200 member Demetrian McClain prepared a public service announcement on the importance of Get out the Vote in the upcoming elections. Please take a moment and listen to the message and share with others. Thank you to Polictial Talk Radio 101.7FM in Milwaukee for the opportunity.
Hoffa: House Approval of PRO Act Will Benefit Hardworking Americans
Lawmakers Pass Bill That Will Improve Rights of Those on the Job
(WASHINGTON) – The following is a statement from Teamsters General President Jim Hoffa about legislation approved by the House today that would comprehensively update the National Labor Relations Act (NLRA) to benefit workers.
"In approving the Protecting the Right to Organize (PRO) Act, the House agreed to restore fairness to the economy at a time when income inequality has stifled the ability of far too many hardworking Americans to earn a decent wage that allows them to support their families.
"The PRO Act will strengthen the NLRA so that workers seeking to organize a union and negotiate higher wages and better benefits will be protected. Workers deserve a safe workplace, the ability to stand together and negotiate better working conditions, and to live a middle-class lifestyle.
"Lawmakers have realized what happens when workers are abandoned by their elected officials. The misclassification of workers is on the rise and too many working Americans are falling through the cracks. The Teamsters have witnessed such behavior firsthand as XPO workers across the country try to organize with this union. I'm glad to see a majority of the House are standing with workers by allowing them to join together to negotiate on the job."
Founded in 1903, the International Brotherhood of Teamsters represents 1.4 million hardworking men and women throughout the United States, Canada and Puerto Rico. Visit www.teamster.org for more information. Follow us on Twitter @Teamsters and "like" us on Facebook at www.facebook.com/teamsters.
The International Brotherhood of Teamsters Freight Division represents hard working Brothers and Sisters that include Local and Over the Road Drivers, Dockworkers, Mechanics and Office Personnel across America. Our Freight membership of Teamsters Local Union No. 200 are the cornerstone of the saying, "America moves by Truck".
Wisconsin Teamsters Joint Council No. 39 "James Jesinski Scholarship" application process is underway for those that are eligible and attend the UW-Madison Campus. The current copy of the Wisconsin Teamster Newspaper is being delivered to your home and additional information for this Scholarship is within this edition.
.
IMPORTANT UPDATES
SOLDON LAW FIRM, LLC.
ATTORNEYS AT LAW
Presents
Right To Work
Discussion
---
| | |
| --- | --- |
| What's New at Teamsters 200 | |
MAKE SURE WE HAVE YOUR
CURRENT E-MAIL ADDRESS
Make sure that you do not get missed when the Local sends important information to it's members and retirees.
Keep your information updated with the Local. If you have moved or changed addresses within the past 6 months, please contact the Local to request that your contact information be brought up-to-date.
You can message the office staff through the Local 200 website (go to the "Contact Us" page listed above), Facebook or call at 414-771-6363.
This request is for all members active and retired.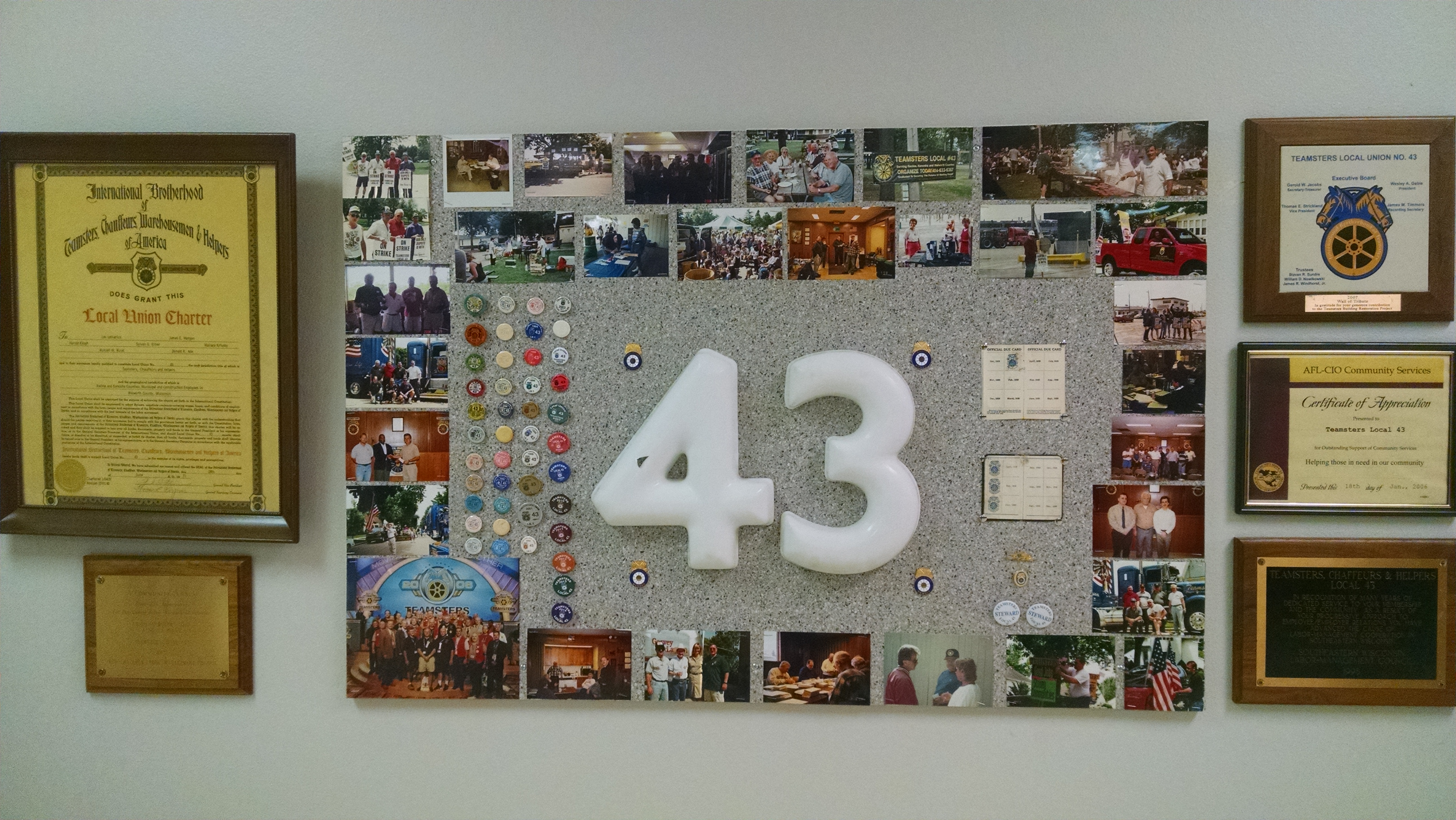 Teamsters Local 43 Remembered Post Merger
Dedicated to these members formerly from Local 43 is a shrine memorializing their Local in their Union hall in the Milwaukee location.
"Where we came from and how we got here helps move us forward," said Teamsters Local 200 Secretary Treasurer Tom Millonzi.
"We put together this shrine so when our new members from Racine and Kenosha come to their Union hall they will see and know that we remember. Remembering how we got here strengthens our solidarity," added Millonzi.
Teamster News Headlines

Connection Failure: This usually happens when the news feed URL is entered incorrectly.