LATEST NEWS
As part of Local 200 "Teamsters Vote Teamsters Win 2020" Member to Member outreach, please take a moment to watch and listen to this message by LU200 Recording Secretary and Union Steward Clayton Moesch. The importance of the upcoming General Election takes on many different aspects, but let's look at one recent ruling by the Trump appointed National Labor Relations Board. "The NLRB announced employers will no longer be restrained from disciplining or discharging stewards or officers who use profanity or engage in "abusive" actions in violation of an employer's enforcement code of conduct." For the last 7 decades, Union Stewards had protections only to be upended by a recent ruling by the NLRB General Counsel. These tested protections prevailed for 70 years, only to be discarded by the action of those determined to weaken Unions.
#TEAMSTERS2020: REGISTER TO VOTE!
American workers are facing the most essential election of our lifetimes. That's why today, on National Voter Registration Day, the Teamsters are urging all their members to register to vote.
It's easy! Just click here, fill out the form, and you'll be all set.
Not sure if you are registered? Check here.
Let's let the candidates know what Teamster Power is all about!
CLICK HERE TO WATCH THE VIDEO ( SECOND VIDEO ON PAGE)
On Tuesday, November 3, 2020 the General Election will be held across America. As part of our Member to Member outreach, the International Brotherhood of Teamsters and Local 200 are encouraging our Brothers and Siters to take an active role in this election cycle to strengthen the American Middle class and Workers Rights. Below is an offering from Local 200 Union Steward Darryl Sheffa.
"Hello, my name is Darryl Sheffa. I am an 18-year Teamster, Union Steward, and a proud father of 2 children. It is important to get out and vote to ensure our children have a safe future with great healthcare. Also, to have a choice for policies that represent all Americans, not just the rich. So, get out and vote on November 3!"
Healthcare needs for you and your family are crucial components in our daily lives. For our Teamster families that use Wisconsin Health Fund as their Healthcare provider, there are numerous services offered through your WHF Benefit and these benefits are available for your use during these troubling times. With the COVID-19 Pandemic, there have been uncertainties that many families are being confronted with that can be addressed through your Wisconsin Healthcare Benefit. Please contact WHF to see how they may be able to assist you and your family.
Our Teamster families of Local 200 have other Taft Hartley Healthcare Plans or Employer provided Healthcare Benefit Plans will have similar services for your personal needs. Please contact your Healthcare provider and inquire about these services.
Brothers and Sisters,
Recently, the State of Wisconsin has mailed to your home's relevant information about the upcoming election/voting process here in Wisconsin. As part of our Member to Member information outlet, please take a moment to review the information in the link provided below.
In Solidarity,
Thomas J. Bennett
Secretary Treasurer
AN OPEN REQUEST TO OUR TEAMSTER FAMILIES
On May 12, 2020, the 116th Congress introduced the Health and Economic Recovery Omnibus Emergency Solutions Act (H.R.6800), more commonly known as the HEROES ACT. This Bill responds to the challenges we face as Americans during this COVID-19 Pandemic, including the design of the Bill's provisions addressing our economy, public heath, state and local governments, individuals, and businesses. H.R. 6800 also includes the path to expand or modify numerous other programs and policies such as Veteran benefits, Medicare and Medicaid, the U.S. Postal Service and Pension and Retirement Plans.
The HEROES ACT (H.R. 6800) has been in the Senate lying dormant since July 2020 with no advancement to assist the families. The HEROES ACT was never intended to be disregarded. To overlook the value of the HEROES ACT places working families and their livelihoods in jeopardy.
General Teamsters Local Union No. 200 has thousands of Active and Retired Families that await a bipartisanship action by the Senate that establishes a strong, meaningful and comprehensive Bill, such as the HEROES Act, to create a strong and vibrant economy, that also addresses the Multiemployer Pension Crisis. Our organization has Brothers and Sisters that have served and defended their country here and abroad, we have Brothers and Sisters that have gone to work, done what was asked of them, having done all the right things. There are tens of thousands of stories to be shared by our Active and Retired Teamsters and these stories should be all told leaving no one behind.
The failure to act by the Senate to pass the HEROES ACT is not acceptable. As each day passes the opportunity to find viable solutions to the Multiemployer Pension Crisis becomes more challenging. Since the inception of the Teamsters in 1903, our Brothers and Sisters have accepted challenges in times of adversity and today is no different. Please call your Wisconsin U.S. Senator and voice your concerns.
Senator Tammy Baldwin 202-224-5653
Senator Ron Johnson 202-224-5323
In Solidarity,
Thomas J. Bennett
Secretary Treasurer
National Truck Driver Appreciation Week is from September 13th - 19th, 2020. The role of our Brothers and Sisters of Teamsters Local 200 that provide crucial services during this COVID-19 Pandemic are of the highest standards. As essential service workers, thank you for your commitment.
Local 200 is proud to announce Sophia, daughter of USF Holland Retiree Joe Mioduszewski and wife Jennifer, also a Teamster Retiree from Bayside as a Police Officer. Sophia is the recipient of a $10,000 James R. Hoffa Memorial Scholarship Fund.
Sophia will be attending IUPUI.
Social Distancing and the wearing of a Mask is a common sense approach that can help you and others stay safe.
There has been an increased count in confirmed positive cases at several work sites throughout our Local Union. Let's work together to combat this pandemic.
Your Central States Pension is in Crisis
Like many of our nation's multiemployer pension funds, the Central States Pension Fund has become severely underfunded and is in critical and declining status. Unless Congress takes action, Central States will run out of money to pay benefits and your pension will be severely reduced in 2025 or earlier.
The time to act is now!
From the entire Team and Wisconsin Health Fund and Teamsters Local Union No. 200, THANK YOU to the essential service workers that serve our families and communities.
.
IMPORTANT UPDATES
SOLDON LAW FIRM, LLC.
ATTORNEYS AT LAW
Presents
Right To Work
Discussion
---
| | |
| --- | --- |
| What's New at Teamsters 200 | |
MAKE SURE WE HAVE YOUR
CURRENT E-MAIL ADDRESS
Make sure that you do not get missed when the Local sends important information to it's members and retirees.
Keep your information updated with the Local. If you have moved or changed addresses within the past 6 months, please contact the Local to request that your contact information be brought up-to-date.
You can message the office staff through the Local 200 website (go to the "Contact Us" page listed above), Facebook or call at 414-771-6363.
This request is for all members active and retired.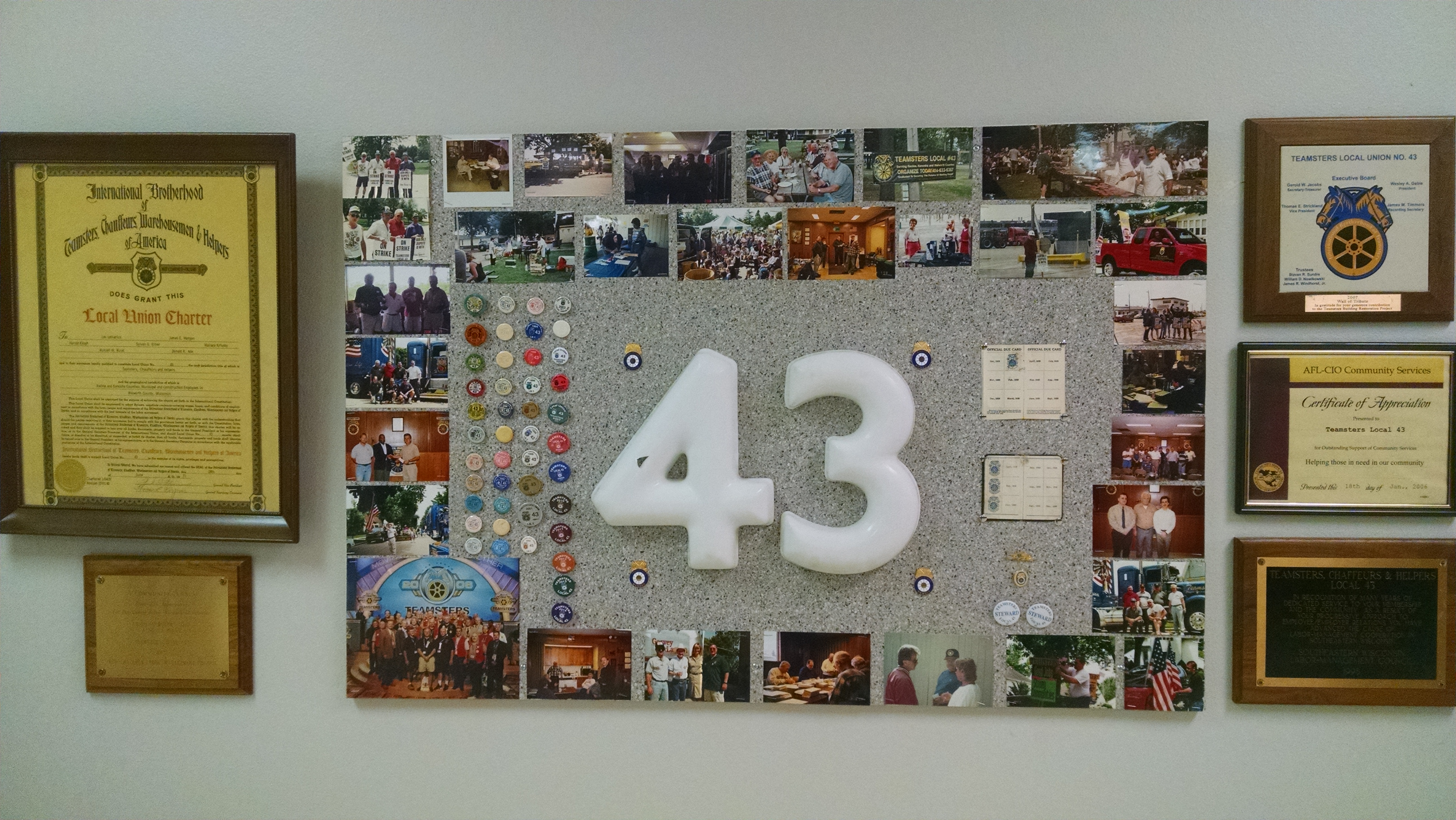 Teamsters Local 43 Remembered Post Merger
Dedicated to these members formerly from Local 43 is a shrine memorializing their Local in their Union hall in the Milwaukee location.
"Where we came from and how we got here helps move us forward," said Teamsters Local 200 Secretary Treasurer Tom Millonzi.
"We put together this shrine so when our new members from Racine and Kenosha come to their Union hall they will see and know that we remember. Remembering how we got here strengthens our solidarity," added Millonzi.
Teamster News Headlines

Connection Failure: This usually happens when the news feed URL is entered incorrectly.