LATEST NEWS
Teamsters Local 200 would like to recognize Graciela Ledezma of Cargill Cocoa & Chocolate on what was her last week of work. As a 4 decade plus Member of Local 200, Graciela made the decision to step into the leisure lifestyle of retirement. Enjoy Graciela!
TEAMSTERS LOCAL 200 RETIREES
Road project work on Wednesday, October 14, 2020 on Bluemound Road in Milwaukee, Wisconsin with Teamsters Local 200 delivered concrete.
Traditionally during Presidential and Statewide Elections, Teamsters Local 200 alongside our Wisconsin Teamster Locals work in unison traveling the State providing information and the endorsements made by the International Brotherhood of Teamsters and Wisconsin Teamsters Joint Council No. 39. This year, we find ourselves utilizing other means than the personal interactions at worksites and plant gates due to the COVID-19 Pandemic. With the recent increase in cases in Wisconsin, our thoughts and concerns are with our members with their health and safety first.
The Local Union has been heavily engaged in the "TEAMSTERS VOTE WORKERS WIN 2020" efforts underway that demonstrates candidates that support Organized Labor, Collective Bargaining, Pension Protection, Affordable Health Care, Social Security and Workers Rights. Available from the Local are pocket sized guides that will help you recognize these candidates, no matter which part of State you reside as a member of Teamsters Local Union No. 200. Please email tbennett@teamsterslocal200.com to request the guide and the Local will mail to you the guide for your area. If you would like additional to hand out to your co-workers let us know in your request.
The shipment of hoodies, black or grey in color, just arrived and will be available for sale on Monday, October 12, 2020 at 8 am. The sizes range from Large to 4XL. The price for any size hoodie is $40.00 and only are available for pickup at the Local Union Hall.
Brothers and Sisters, my name is Mark Hanley. I am a proud 29-year Teamster and have been Union Steward for 9-years. I feel in order to make a positive change in favor for Organized Labor, we have to start at the top and work down. Therefore, the upcoming Presidential election on November 3, 2020 is of the utmost importance. People need to realize that who you place in power can impact you daily working environment, job security, workers' rights, pensions, and healthcare.
Get out and VOTE! Make a positive change for Organized Labor on November 3, 2020.
Teamsters Local 200 would like to recognize Brother James Smith from Waste Management on his 25th Year as a Teamster. Thank you for your service in an industry that has been determined as 1 of the top 10 most dangerous jobs in America.
On behalf of the Membership, Executive Board, Agents and Staff of Teamsters Local 200, we would like to congratulate Tim Robinson on his Retirement. Brother Robinson has been a Teamster member for 25 years and spent 11 of the 25 years as a Union Steward serving his Brothers and Sisters in the Freight Division. President Tim Pinter (left) and Secretary Treasurer Thomas J. Bennett are pictured with Tim as we extend our Best Wishes and Happy Retirement offeringon his 1st official day of Retirement.
TEAMSTERS LOCAL 695

A Message from Melissa Winker
Meet Teamster endorsed candidate for the 38th State Assembly District; Melissa Winker....
Available at the Local 200 Union Hall are Local 200 Neck Gaiters for $8.00 each. Understanding that we should continue to maintain physical/social distancing and take all necessary precautionary measures we can, these Neck Gaiters can be part of the overall effort that each individual takes during this Pandemic
Available at the Local 200 Union Hall are TEAMSTER YARD SIGNS. These come with a metal stand to place in your yard or display in your window at your home. The signs are $5.00 each.
As part of Local 200 "Teamsters Vote Teamsters Win 2020" Member to Member outreach, please take a moment to watch and listen to this message by LU200 Recording Secretary and Union Steward Clayton Moesch. The importance of the upcoming General Election takes on many different aspects, but let's look at one recent ruling by the Trump appointed National Labor Relations Board. "The NLRB announced employers will no longer be restrained from disciplining or discharging stewards or officers who use profanity or engage in "abusive" actions in violation of an employer's enforcement code of conduct." For the last 7 decades, Union Stewards had protections only to be upended by a recent ruling by the NLRB General Counsel. These tested protections prevailed for 70 years, only to be discarded by the action of those determined to weaken Unions.
#TEAMSTERS2020: REGISTER TO VOTE!
American workers are facing the most essential election of our lifetimes. That's why today, on National Voter Registration Day, the Teamsters are urging all their members to register to vote.
It's easy! Just click here, fill out the form, and you'll be all set.
Not sure if you are registered? Check here.
Let's let the candidates know what Teamster Power is all about!
CLICK HERE TO WATCH THE VIDEO ( SECOND VIDEO ON PAGE)
On Tuesday, November 3, 2020 the General Election will be held across America. As part of our Member to Member outreach, the International Brotherhood of Teamsters and Local 200 are encouraging our Brothers and Siters to take an active role in this election cycle to strengthen the American Middle class and Workers Rights. Below is an offering from Local 200 Union Steward Darryl Sheffa.
"Hello, my name is Darryl Sheffa. I am an 18-year Teamster, Union Steward, and a proud father of 2 children. It is important to get out and vote to ensure our children have a safe future with great healthcare. Also, to have a choice for policies that represent all Americans, not just the rich. So, get out and vote on November 3!"
Healthcare needs for you and your family are crucial components in our daily lives. For our Teamster families that use Wisconsin Health Fund as their Healthcare provider, there are numerous services offered through your WHF Benefit and these benefits are available for your use during these troubling times. With the COVID-19 Pandemic, there have been uncertainties that many families are being confronted with that can be addressed through your Wisconsin Healthcare Benefit. Please contact WHF to see how they may be able to assist you and your family.
Our Teamster families of Local 200 have other Taft Hartley Healthcare Plans or Employer provided Healthcare Benefit Plans will have similar services for your personal needs. Please contact your Healthcare provider and inquire about these services.
Brothers and Sisters,
Recently, the State of Wisconsin has mailed to your home's relevant information about the upcoming election/voting process here in Wisconsin. As part of our Member to Member information outlet, please take a moment to review the information in the link provided below.
In Solidarity,
Thomas J. Bennett
Secretary Treasurer
.
IMPORTANT UPDATES
SOLDON LAW FIRM, LLC.
ATTORNEYS AT LAW
Presents
Right To Work
Discussion
---
| | |
| --- | --- |
| What's New at Teamsters 200 | |
MAKE SURE WE HAVE YOUR
CURRENT E-MAIL ADDRESS
Make sure that you do not get missed when the Local sends important information to it's members and retirees.
Keep your information updated with the Local. If you have moved or changed addresses within the past 6 months, please contact the Local to request that your contact information be brought up-to-date.
You can message the office staff through the Local 200 website (go to the "Contact Us" page listed above), Facebook or call at 414-771-6363.
This request is for all members active and retired.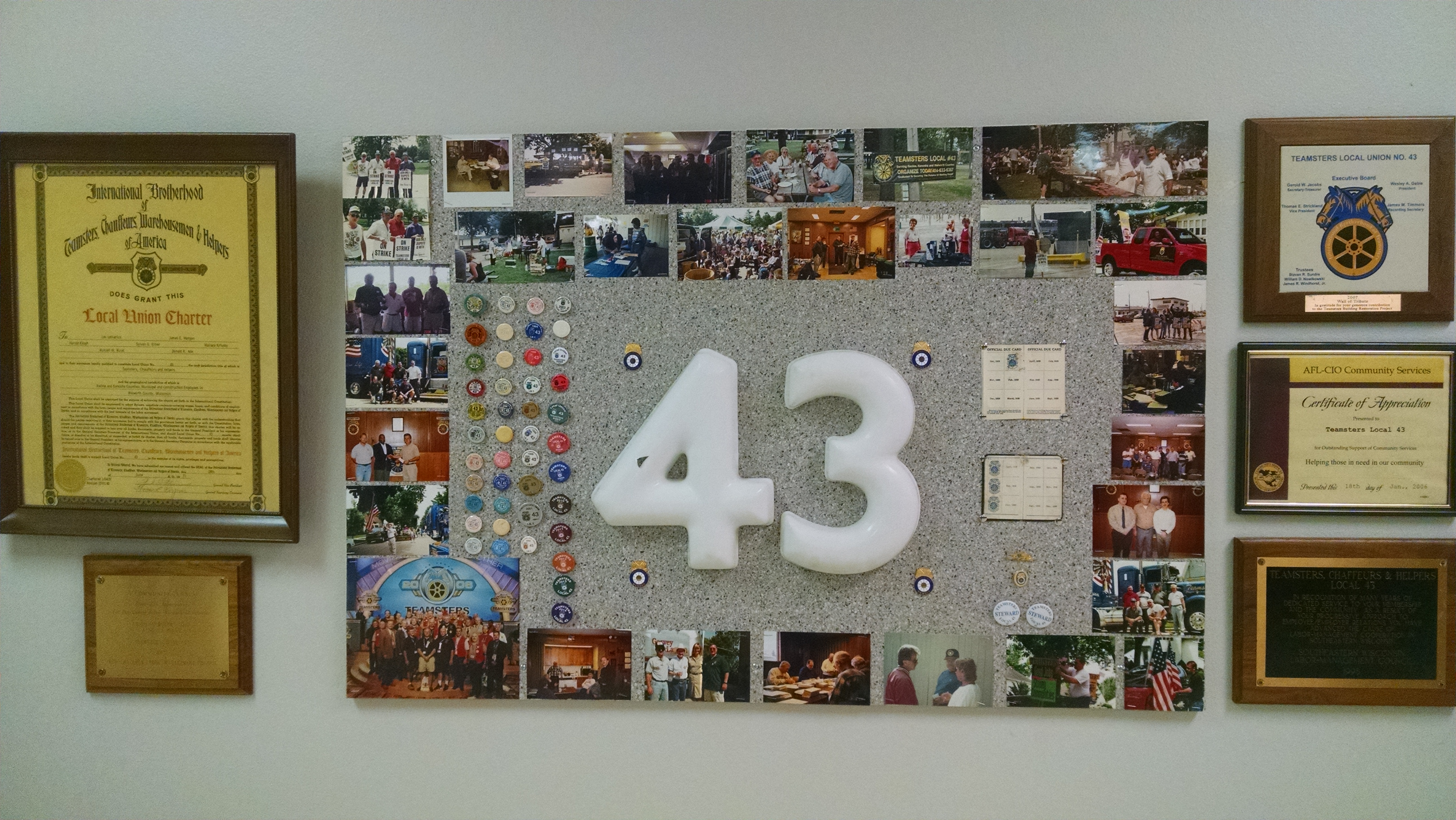 Teamsters Local 43 Remembered Post Merger
Dedicated to these members formerly from Local 43 is a shrine memorializing their Local in their Union hall in the Milwaukee location.
"Where we came from and how we got here helps move us forward," said Teamsters Local 200 Secretary Treasurer Tom Millonzi.
"We put together this shrine so when our new members from Racine and Kenosha come to their Union hall they will see and know that we remember. Remembering how we got here strengthens our solidarity," added Millonzi.