LATEST NEWS
On Saturday, April 13, 2019, the Wisconsin Endeavor/Madison/Janesville Committee to Protect Pensions welcomed several guest speakers to their event, to include IBT International Vice President at Large John Murphy, Bill Black of the Michigan Teamsters Joint Council 43 and Vice President Sherman Liimatainen of the NUCCP. Teamster Retiree Bob Brockway hosted the event working with Bernie Anderson and Ken Stribling of the Milwaukee Committee, providing an informative meeting to the 100 plus Brothers and Sisters in attendance. The Committee offered the floor to Local 200 Secretary Treasurer Tom Bennett with his words directed towards the continuing efforts that need to be maintained by all and the importance to reach out to the elected officials on all levels of government to understand the overall impact of the critical and declining multiemployer pension funds.
Summary information for the
YRCW Tentative Agreement
A Teamsters Local 200 Employer has several opportunities available positions for Drivers and direct your inquiry towards the Employer listed in the flyer
A recording of the YRCW Members Teleforum from April 10, 2019 has been uploaded to the Teamster website. Below is a direct link to the page where you may listen to the teleforum call from Wednesday, April 10 covering highlights of the tentative National Master Freight Agreement and the ratification process.


https://teamster.org/news/2019/04/listen-yrcw-members-teleforum-april-10

Thank you!

Amanda Ernest
National Freight Division
International Brotherhood of Teamsters
25 Louisiana Avenue, NW
Washington, DC 20001
Phone (202) 624-8761 Fax (202) 624-8722
Mobile (240) 508-8371 Email: Aernest@teamster.org
Leaders of all Teamster locals that represent workers at YRC Freight, Holland and New Penn met today, and with the exception of one local voted unanimously to endorse the tentative National Master Freight Agreement, paving the way for a vote by the membership. Ballot packages will be mailed to all members on or about April 19. Voting will be done online or by phone, and will close at noon (Eastern Time) on Friday, May 3. For details go to www.ibt.io/YRCW2019
STEWARDS WORKSHOP 2019
On Saturday, April 6, 2019, the Local Union held a Stewards Workshop conducted by the Shawn Ellis of the International Brotherhood of Teamsters Training and Development Department. Over 60 Union Stewards from various worksites attended with the focus of communication and education on the Grievance machinery Process and members Rights. Brother Tim Dunn from the Political and Legislative Department (DRIVE) discussed the current environment of the political scene and how the actions of elected officials impact our presence in the workplace.
The text was offered today as to Senate Bill 833. Another action in an attempt to resolve the Multiemployer Pension Crisis.
Celebrating Women's History Month with Local 200 Teamster Sister Chris Brockman, Driver at Roundy's Supermarket Inc.
LOCAL 200 CELEBRATES
WOMENS HISTORY MONTH
OUR ROUNDY'S LADIES
The latest effort to introduce legislative action regarding multiemployer pension plans is S.833. This Bill is sponsored by Senator Portman (R-OH) on 3/14/19 and has 2 Co-Sponsors, being Senator Brown (D-OH) and Senator Fisher (R-NE). Once the text of the Bill is available it will be presented for your review and comments towards your elected Wisconsin officials of Senator Baldwin (D-WI) and Senator Johnson (D-WI).
Please follow the Bill at CONGRESS.GOV
LOCAL 200 CELEBRATING
WOMEN'S HISTORY MONTH
LOCAL 200 OFFICE STAFF
LEFT TO RIGHT
LaRHONDA PAEZ
SANDRA CRUZ
BONNIE BOHL
HOLLAND OFFICE STAFF
LEFT TO RIGHT
KRISS LYNCH - SARAH ROHDE

JULIE BALTHAZOR - JO BYERLY
On Tuesday, March 12, 2019 Vice President Jeff Flayter, Recording Secretary Clayton Moesch, Trustees Randy Francois, Gary Shearier, Jim Hilgenberg and Business Representative Jared Wolski presented a donation from Local 200 to the leadership of the Milwaukee Police Assocation on behalf of Matthew Rittner to the Fallen Heroes Fund.
| | |
| --- | --- |
| | |
| JARED WOLSKI | TERRY SIMENSON |
| | |
| JAY COUTURIER | GARY SHEARIER |
UPS Freight Agreement Available Online
The 2018-2023 National Master UPS Freight Agreement is now available online and ready to print.
You may access the agreement here.
Workers at UPS Freight ratified the new five-year agreement in November 2018 that was the company's last, best and final offer. Members approved the contract by a 77 percent to 23 percent margin.
The agreement covers about 11,600 workers at the company.
Visit www.UPSrising.org for more info. Download and sign up for the UPS Rising mobile app here to find the current UPS contract, along with all the UPS contract updates and other news. Visit the UPS Rising Facebook page where members can see the latest updates.
Text "UPS" to 86466 to receive text message alerts (message and data rates may apply).
WE WILL NOTIFY YOU WHEN THE CONTRACTS ARE AVAILABLE. FOR NOW YOU CAN SEE THE DOCUMENT AT:
About James R. Hoffa Memorial Scholarship Fund
James R. Hoffa became a Teamster member in 1934 and served as General President for 14 years, and, in recognition of his tireless service to the union and its members, was honored as General President Emeritus for life. At the November 1999 General Executive Board meeting, then-General Secretary-Treasurer C. Thomas Keegel presented a resolution to establish the new scholarship fund. This site describes the James R. Hoffa Memorial Scholarship Fund (JRHMSF) and outlines eligibility requirements and application procedures. Please click here.
The James R. Hoffa Memorial Scholarship Fund is an independent organization established and registered as a tax-exempt entity under Section 501(c)(3) of the Internal Revenue Code. The Fund is established solely to provide scholarships to the child or dependent of a member of the International Brotherhood of Teamsters, and contributions to the Fund are deductible as charitable contributions to the extent permitted by law.
VOICES FOR PENSION SECURITY
2018 TEAMSTERS LOCAL 200
SCHOLARSHIP GOLF OUTING
LABOR DAY 2018
.
FOR YOUR INFORMATION
Local 200 Secretary Treasurer Tom Millonzi and Local 200 President Tom Bennett recently visited the Teamster International headquarters in Washington DC to meet and confer with IBT representatives Cindy Impala, director of Training and Development for the IBT, and Brian Tierney from the communications department.
"In an effort to bring continued education to the members of this local about right to work, President Tom Bennett and myself are reaching out to our International. Cindy and Brian were very knowledgeable and will be working with Local 200 in our effort," said Secretary Treasurer Millonzi.
Pictured are Secretary Treasurer Tom Millonzi and President Tom Bennett in the front lobby of the IBT headquarters in Washington DC
IMPORTANT UPDATES
SOLDON LAW FIRM, LLC.
ATTORNEYS AT LAW
Presents
Right To Work
Discussion
---
| | |
| --- | --- |
| What's New at Teamsters 200 | |
MAKE SURE WE HAVE YOUR
CURRENT E-MAIL ADDRESS
Make sure that you do not get missed when the Local sends important information to it's members and retirees.
Keep your information updated with the Local. If you have moved or changed addresses within the past 6 months, please contact the Local to request that your contact information be brought up-to-date.
You can message the office staff through the Local 200 website (go to the "Contact Us" page listed above), Facebook or call at 414-771-6363.
This request is for all members active and retired.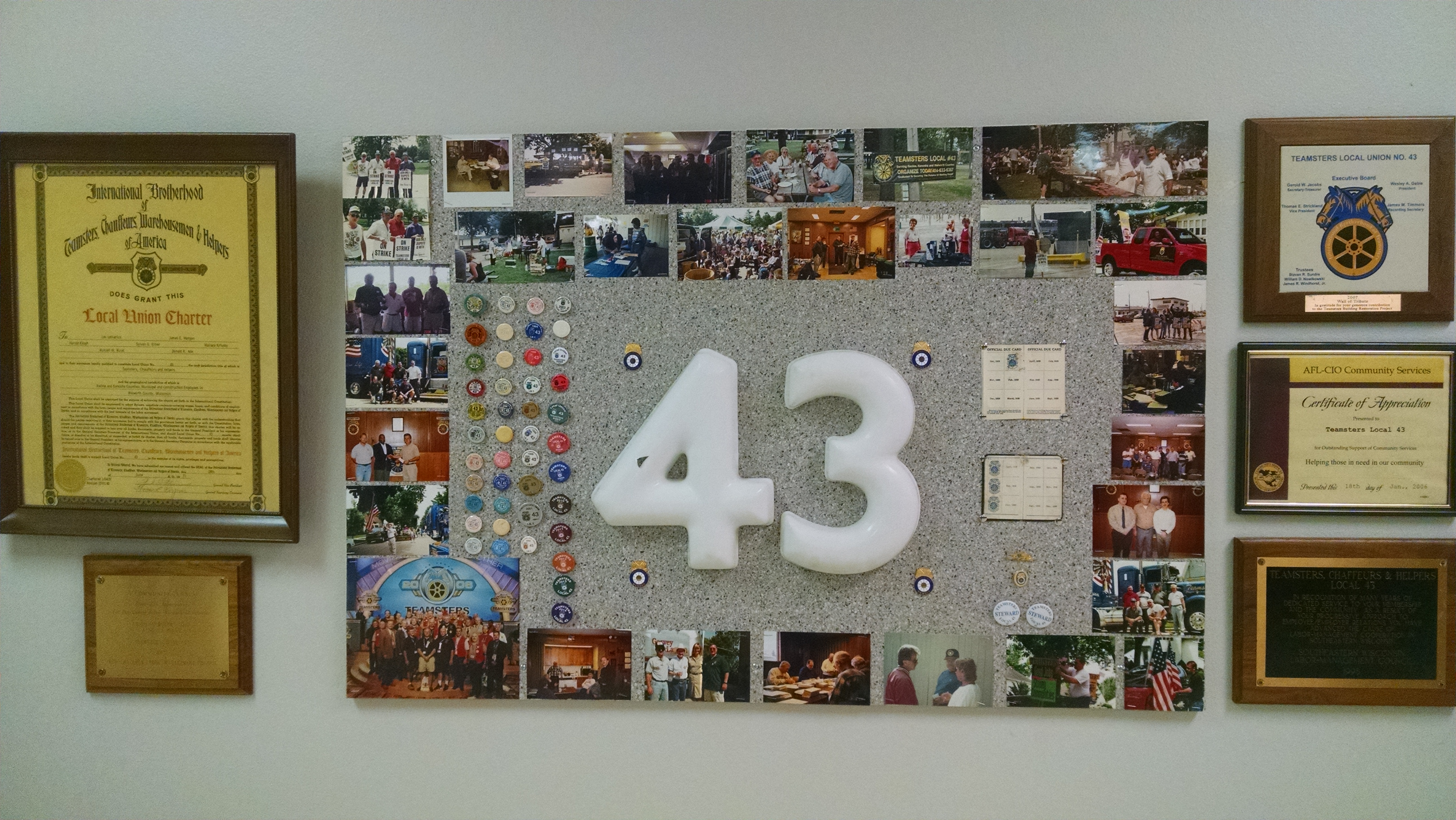 Teamsters Local 43 Remembered Post Merger
Dedicated to these members formerly from Local 43 is a shrine memorializing their Local in their Union hall in the Milwaukee location.
"Where we came from and how we got here helps move us forward," said Teamsters Local 200 Secretary Treasurer Tom Millonzi.
"We put together this shrine so when our new members from Racine and Kenosha come to their Union hall they will see and know that we remember. Remembering how we got here strengthens our solidarity," added Millonzi.