LATEST NEWS
On Thursday, December 5, 2019, Frank Ordonez was involved in a failed robbery and carjacking while performing his route as a Local 769 UPS Teamster in Miami, Florida. This tragic event has impacted the Family of the Brother Ordonez in so many ways, in ways this Family and Children may never recover from. General Teamsters Local Union No. 200 Membership, Executive Board, Agents and Staff express our deepest sympathies to the Ordonez Family. Please see the Statement from the LU769 Secretary Treasurer Josh Zivalich and if you can assist and any fashion, your help in this time of need shall be greatly appreciated.
On Friday, December 6, 2019 General Teamsters Local Union No. 200 participated in the annual Christmas Parade in Burlington, Wisconsin with the Wisconsin Teamsters Joint Council No. 39 Tractor/Trailer. As we have done in the past, we partnered with our Brothers and Sisters of Nestle USA and provided Nestle chocolate treats along the parade route to the attendees. The Christmas Spirit was so ever present, and we would like to thank everyone that was involved in making this event a success.
Brothers and Sisters,
General Teamsters Local Union No. 200 has partnered with a local Milwaukee business, Boot Connection, for your shoe and boot needs. Please visit them at 4275 West Layton Avenue in Greenfield and see their large selection of Safety Shoes and Boots for your daily needs. When there and you are ready to make your purchase, present them your Local Union Membership Card for a 15% UNION DISCOUNT. (UNION MEMBERSHIP CARD AVAILABLE BY CALLING THE LOCAL AND REQUEST ONE TO BE MAILED TO YOUR HOME.)
At the December 2019 General Meeting, two $100 Gift Certificates will be part of the Raffle at the end of the General Meeting for use at the Boot Connection.
Teamsters Host Presidential Forum, Learn Candidates' Vision
CEDAR RAPIDS, Iowa – Six leading U.S. presidential contenders shared their views with more than 700 Teamster members and retirees here on Saturday about pension reform, expanding collective bargaining rights and other top issues that matter most to hardworking Americans.
Former Vice President Joe Biden, Sen. Cory Booker of New Jersey, Mayor Pete Buttigieg of South Bend, Ind., Sen. Amy Klobuchar of Minnesota, investor and activist Tom Steyer and Sen. Bernie Sanders of Vermont all participated in the Teamsters Vote 2020 Presidential Forum, which was co-sponsored by The Guardian and the Storm Lake (Iowa) Times newspapers. There, they argued why they would be the best choice for workers to become the nation's next chief executive.
Teamsters General President Jim Hoffa said it is essential that candidates make it clear they are standing up for the middle class.
"We want to hear about the issues. We're Teamsters, and we vote," he said. "They've got to get our vote. That's what this is about."
This Saturday, December 7, 2019, beginning at 2pm, the Teamsters Presidential Candidates Forum on Workers Issues will be livestreamed from Cedar Rapids, Iowa. Please visit the Teamsters Facebook page, Twitter@Teamsters, the Teamsters You Tube channel, TeamstersVote.com and on Teamster.org to watch it live. Our own Milwaukee Resistance Radio, WRRD 1510, shall also be broadcasting live from the event.
2020 JRHMSF Scholarship
Application Process Open
College and Trade/Vocational Financial Support for Sons, Daughters and Dependents of Teamsters
The application process is now open for the James R. Hoffa Memorial Scholarship Fund's 2020 college and vocational scholarship programs for the sons, daughters and financial dependents of Teamsters.
In 2019, $1.2 million was awarded in $10k and $1k academic scholarships for the children of Teamster members to attend four-year college and universities throughout North America. Additionally, many scholarships to support the costs of vocational/trade school programs were awarded.
Please visit the scholarship fund's website at www.jrhmsf.org in order to find out information on who is eligible to apply, how to apply and the deadline.
InRememberance
General Teamsters Local Union No. 200 extend our deepest sympathies to the Families of Henry Ripple and Don Oakes. Both Henry and Don, recent Retirees, courageously fought a disease that took these men away too early in their lives. Henry was a Union Steward and Driver during his years at Barry Trucking and Don was also a Union Steward and OTR Driver at USF Holland.
Our condolences from Teamsters General Local Union No. 200.
As Thanksgiving Day traditionally is a day of food, festivities and family. Let us recognize the public servants that safeguard us and provide emergency services when required. Business Agent Jared Wolski was out with our Local 200 Brothers and Sisters at Bayside Police and Salem Lakes Fire and Rescue on Thanksgiving Day 2019.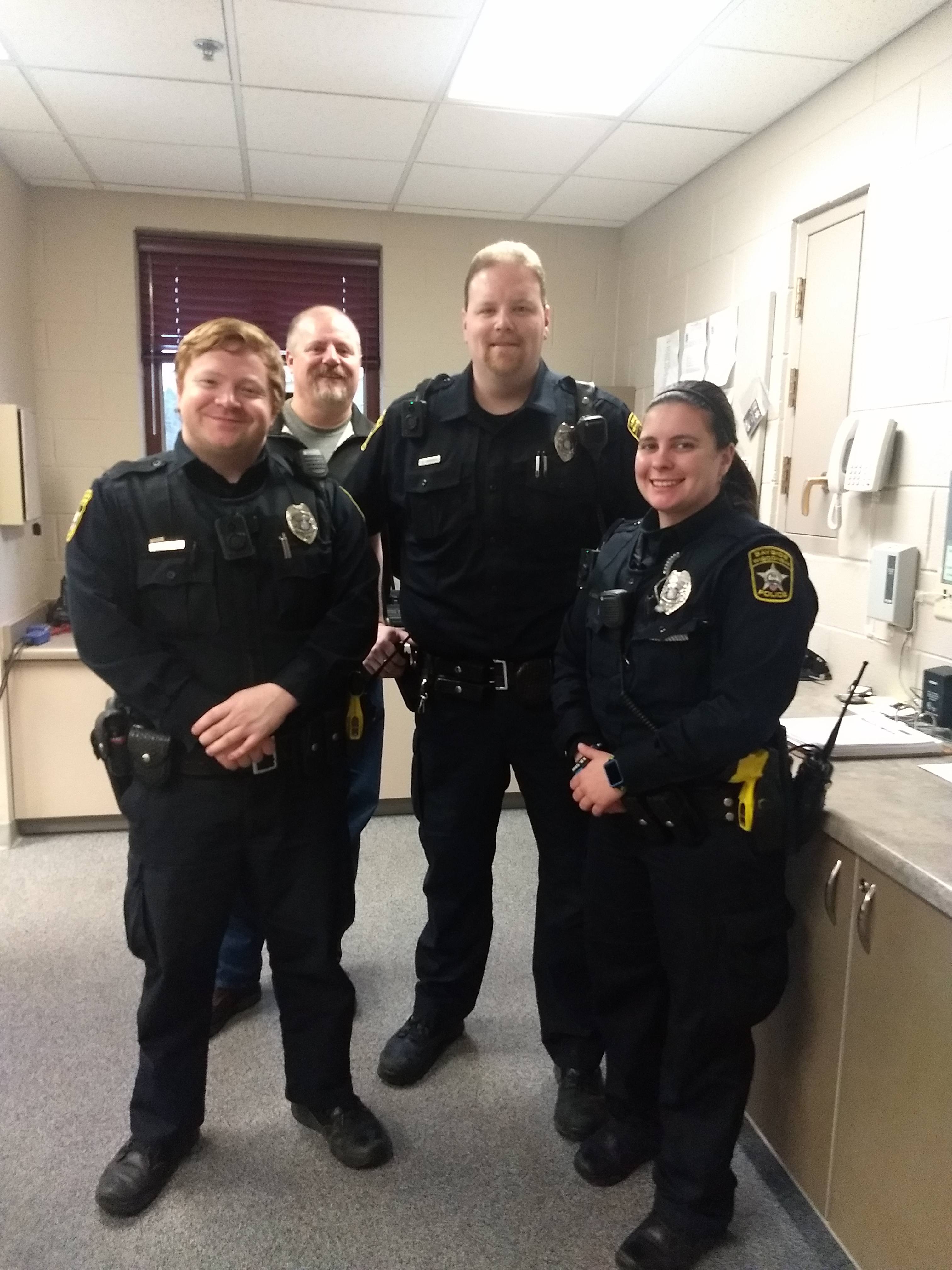 Wisconsin Teamsters Help Pass Law to Fight Human Trafficking
Teamsters Locals 200 and 344 have helped pass a new law to combat human trafficking by educating truck and bus drivers on how to identify and report cases of forced labor or sexual slavery.
The Teamsters partnered with the Human Trafficking Task Force of Greater Milwaukee, state Sen. LaTonya Johnson (D-Milwaukee) and a number of labor groups to bring attention to the human trafficking epidemic.
Milwaukee has been described as a "mecca for sex trafficking" and the passage of AB22 provides a path of awareness and education for individuals entering the trucking industry through trade programs. This bipartisan bill was signed into law by Gov. Tony Evers (D) on Wednesday, Nov. 20, 2019. Local 200 Business Agents Jared Wolski and Jim Seelow attended the bill signing.
Assembly Bill 22 will require the Technical College System Board to include instruction on the recognition and prevention of human trafficking in the curriculum for commercial motor vehicle driver certification. The requirement extends to all Wisconsin technical colleges that offer commercial motor vehicle driver education courses, as well as licensed private driver schools.
The law is a positive step forward to address this epidemic. Teamsters Local 200 and 344 supported this bill earlier this year for passage with written statements, including a petition of support by the membership.
Teamsters Working to Secure Bipartisan Pension Solution
Grassley Proposal Currently Being Reviewed; Butch Lewis Act is Still First Choice
(WASHINGTON) – The Teamsters are aware of a new multiemployer pension reform proposal just rolled out by Senate Finance Committee Chairman Chuck Grassley (R-Iowa) and are actively reviewing the proposal and its impact on Teamster funds. The Teamsters have been working with Congress to find a bipartisan solution that best protects the hard-earned pensions of its retirees and workers.
House passage of HR 397 this past July was the direct result of years of advocacy on the part of Teamster members both active and retired. The Teamsters Union has endorsed S. 2254, the Butch Lewis Act. We are glad to see that senators on both sides of the aisle have been compelled to act.
Founded in 1903, the International Brotherhood of Teamsters represents 1.4 million hardworking men and women throughout the United States, Canada and Puerto Rico. Visit www.teamster.org for more information. Follow us on Twitter @Teamsters and "like" us on Facebook at www.facebook.com/teamsters.
ATTENTION LOCAL 200 RETIREES
Teamster Retirees have established the groundwork for the growth for our Organization. Each day, our efforts as Active Teamsters are to build upon the path set by our Retirees.
The Local 200 and 344 Retiree Chapter encourages Retirees to join and participate in the actives to the Local Chapter. Gathering once month at the Union Hall of General Teamsters Local Union No. 200 retirees can interact, we each other discussing days of yesteryear or to network on current matters that impact our Teamster Families. For more information about the Chapter, please contact Cecil Koester, Secretary Treasurer, at 414-479-3653.
Bill Kaplan: Senator Baldwin fights for retirees
IBT Vice President at Large John Murphy and Michigan Teamsters Joint Council 43 Polictial Director Bill Black addressed the attendees of the Wisconsin Committee to Protect Pensions in Milwaukee this past Saturday, October 26, 2019. This presentation, to include updates by Local 200 Retirees Ken Stribling and Bernie Anderson, detailed the current status of the legistrative ongoings and the undertakings of coordinated efforts of Pension Committees, Labor Organizations and individuals in Washington DC.
The remaining balance of the time delegated to floor sessions in Washington DC is very limited this year and your outreach to your respective elected officials must continue. The IBT has hired an additional lobbiest to have a solid Teamster presence and message in Washington DC on this specific issue of the Multiemployer Pension Crisis knowing that any Bill moving forward shall require a bipartisan vote to achieve passage for the protection of earned pensions and your retirement security.
As the political environment displays the path of multiple agendas in Washington DC on many fronts, our Teamster members and their families have recently been part of a survey conducted by the IBT for the upcoming 2020 Presidential Election. One of the results indicated that Actives and Retirees overwhelming shared their perspective on their priorities, that being Pensions and Retirement Security. With 79% of the tens of thousands of members participating indicated this topic as the number one priority. This fact alone demonstrates the focus of the IBT members and their engagement to work for positive results.
On Thursday, October 17, 2019 the Milwaukee Building & Construction Trades Council held their L.A.B.O.R. Awards event recognizing area Labor Organizations, Brothers and Sisters of the Trades and supporting causes related to our Veterans. Earlier this year, the Milwaukee Building Trades Unions and their members gathered for their annual Labor Ride raising just over $15,000.00, which $7500.00 was presented to the USO of Wisconsin and $7500.00 to Dryhootch at this event . Both organizations do outstanding services assisting Veterans and their families.
The L.A.B.O.R. Awards event recognize several different categories such as Local Union, Business Manager, JAC/JATC, Business Agent, Organizer and a Lifetime Achievement. The nominations and voting for each category are completed our peers. Teamsters Local 200 was nominated for Local Union of the Year, Tom Benvenuto of Local 200 was nominated for Business Agent of the Year and Secretary Treasurer Thomas J. Bennett of Local 200 was nominated for Business Manager of the Year. On behalf of our Membership, Secretary Treasurer Thomas J, Bennett accepted the award for Local Union of the Year.
" It was an unexpected honor to be nominated within this process and then for our Local Union to be recognized by our Brothers and Sisters of the Building Trades was absolutely overwhelming. Our commitment to support each other in the Building Trades is foremost and our Local strives on the message of solidarity. Our Local Union has built strong relationships with our Brother and Sisters of the Building Trades and that effort continues, supporting each other for the betterment of our memberships, their families and our communities."
Thomas J. Bennett
Secretary Treasurer
General Teamsters Local Union No. 200
Candidates who claim to stand with workers need to stand up for our top priorities: retirement security, collective bargaining rights, and fair trade. Teamsters work in every state and are 1.4 million strong. Our voices will not be ignored - and our issues need to take center stage at tonight's debate.

Check out how we plan to hold candidates accountable here http://ibt.io/2020vid and here www.teamstersvote.com
#Teamsters2020
At the Tuesday, November 12, 2019 General Meeting of Teamsters Local 200, Dawn Vlach of Our Harmony Club has accepted an invitation to speak to our Brothers and Sisters about "social day programs for individuals with age related challenges ranging from social isolation to Alzheimer's and Parkinson's Disease." Our Harmony Club is a Volunteer based 501( c ) ( 3 ) nonprofit organization that provides opportunities that our membership should be aware of and with our conversation, bring our goals together in the betterment of their cause. Please attend the November 2019 General Meeting at Local 200.
The Federal Motor Carrier Safety Administration (FMCSA) is proposing to revise the Hours of Service Regulations for Commercial Drivers. The Teamsters Safety and Health Department is seeking your input as to how these proposed changes may affect your job.
DISCUSSION OF THE PROPOSED RULE MAKING

PROPOSED RULE MAKING - HOURS OF SERVICE: DRIVER SURVEY
CLICK ON THE FOLLOWING LINK FOR THE SURVEY:
The Local is getting prepared for the October 1st, 2019 Teamster Local 200 apparel sale that is being offered through-out the month of October. The sale, ½ off all items in stock, shall be at the Local Union Hall between the hours of 8am and until the close of business day at 4:30pm. Please, no call-in reserve orders. Visit the Union Hall at 62nd and Bluemound to purchase your Teamster Gear. There are limited sizes on some items. Cash, check, credit card and debit card are welcomed.
Today is National Voter Registration Day. Visit the below link to ensure you are registered or registration is needed.
Emily Krause, daughter of Local 200 Teamster Scott Krause, was recently selected as a $10,000.00 James R. Hoffa Memorial Scholarship Fund recipient. "On Wednesday, August 28, 2019, Local 200 Trustee Randy Francois and I met with Emily, Mr. and Mrs. Krause and they were so appreciative for this opportunity from the James R. Hoffa Memorial Scholarship Fund for Emily ," states Secretary Treasurer Tom Bennett. Emily has enrolled at the University of Wisconsin - Madison, with expectations of 8 years of further education. General Teamsters Local Union No. 200 congratulates Emily on her selection and award from the James R. Hoffa Scholarship Fund. Pictured are Mr. and Mrs. Krause, Emily and Local 200 Trustee Randy Francois.
.
IMPORTANT UPDATES
SOLDON LAW FIRM, LLC.
ATTORNEYS AT LAW
Presents
Right To Work
Discussion
---
| | |
| --- | --- |
| What's New at Teamsters 200 | |
MAKE SURE WE HAVE YOUR
CURRENT E-MAIL ADDRESS
Make sure that you do not get missed when the Local sends important information to it's members and retirees.
Keep your information updated with the Local. If you have moved or changed addresses within the past 6 months, please contact the Local to request that your contact information be brought up-to-date.
You can message the office staff through the Local 200 website (go to the "Contact Us" page listed above), Facebook or call at 414-771-6363.
This request is for all members active and retired.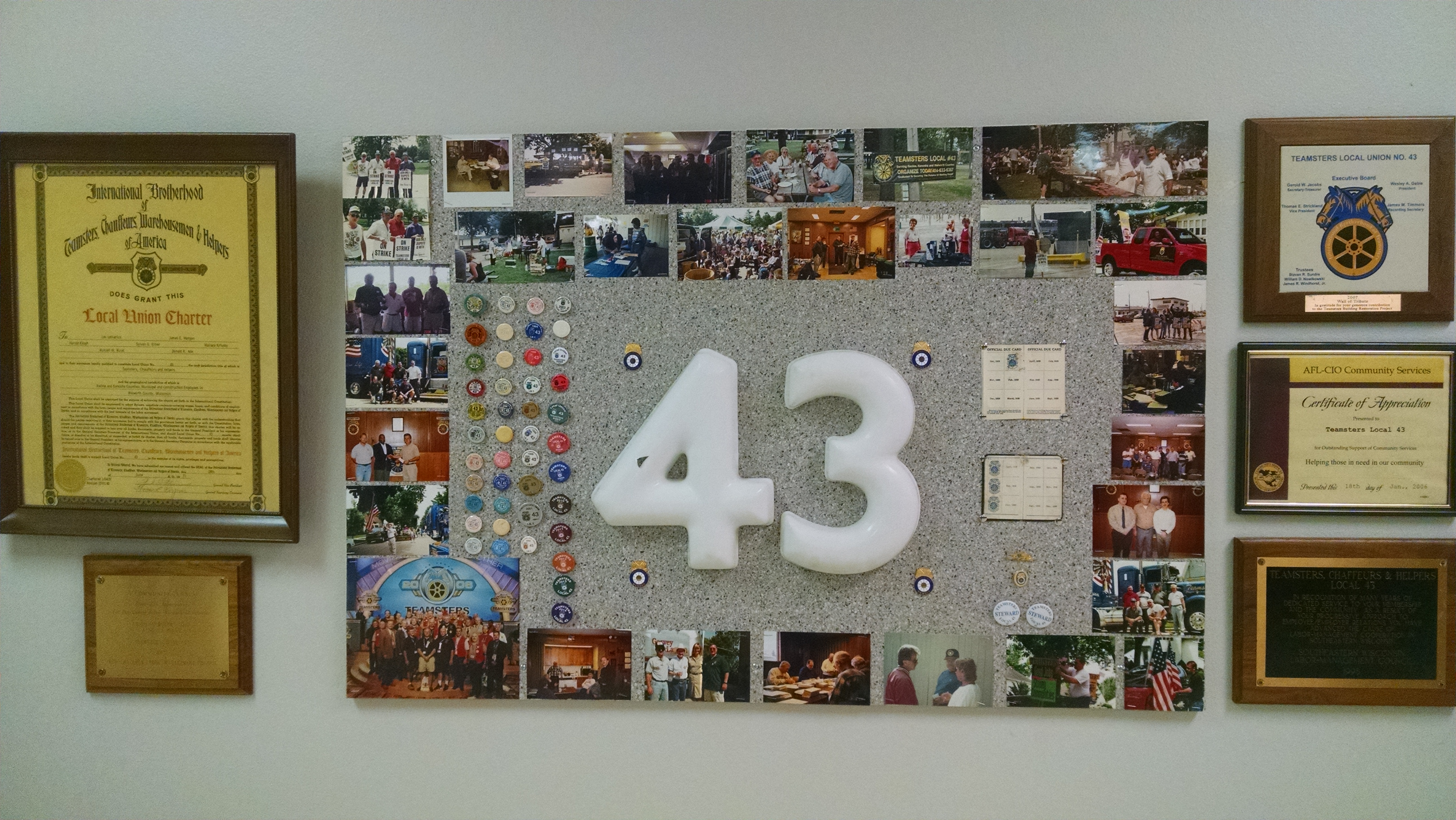 Teamsters Local 43 Remembered Post Merger
Dedicated to these members formerly from Local 43 is a shrine memorializing their Local in their Union hall in the Milwaukee location.
"Where we came from and how we got here helps move us forward," said Teamsters Local 200 Secretary Treasurer Tom Millonzi.
"We put together this shrine so when our new members from Racine and Kenosha come to their Union hall they will see and know that we remember. Remembering how we got here strengthens our solidarity," added Millonzi.