LATEST NEWS
Brothers and Sisters,

The Legislative Period remaining for 2019 in Washington DC is very narrow and an immediate call of action and participation is upon us. Do not let the inactions of politics showcased on the 6pm news each night detour you from taking an affirmative action regarding Multiemployer Pension Legislation with your elected Senators. The bottom line is, in order for the creation and passage of any Bill to address solutions for the Multiemployer Pension Crisis, it shall take majority bipartisan effort of strength and leadership to accomplish this task by those that have been elected to represent the principles of "We the People".

As Members of the International Brotherhood of Teamsters, our endurance to achieve recognition by producing solid results in crucial historical events have not gone unnoticed or unheard. The accomplishments of organized labor have created economic and social justice advancements, cornerstones of the American Middle Class. Continued engagement and straight forward messaging are the path we all must adhere to with the calls, emails, personal contacts with our elected officials regarding the protection of our earned retirement security. Please take a couple moments on Saturday, November 16, 2019 to attend the Wisconsin/Milwaukee/SE Committee to Protect Pensions Meeting at the American Legion Post in Brookfield, Wisconsin. Active Teamsters, Retired Teamsters, Teamster Families, Teamster Son's and Daughters can be the difference in somebody's life today for a better tomorrow.

Thomas J. Bennett
Secretary Treasurer
General Teamsters Local Union No. 200
Secretary Treasurer
Wisconsin Teamsters Joint Council 39
6200 W Bluemound Rd
Milwaukee, WI 53213
414-771-6363 (Local)
414-479-3645 (Direct)
414-771-5850 (Fax)
tbennett@teamsterslocal200.com
Stop at the Union Hall on Saturday, November 16, 2019 to learn about the Milwaukee Chapter of the TNBC beginning at 10am. Please enter the doors to the upper Union Hall Board Room on the 62nd Street side. Stop in and join!
IBT Vice President at Large John Murphy and Michigan Teamsters Joint Council 43 Polictial Director Bill Black addressed the attendees of the Wisconsin Committee to Protect Pensions in Milwaukee this past Saturday, October 26, 2019. This presentation, to include updates by Local 200 Retirees Ken Stribling and Bernie Anderson, detailed the current status of the legistrative ongoings and the undertakings of coordinated efforts of Pension Committees, Labor Organizations and individuals in Washington DC.
The remaining balance of the time delegated to floor sessions in Washington DC is very limited this year and your outreach to your respective elected officials must continue. The IBT has hired an additional lobbiest to have a solid Teamster presence and message in Washington DC on this specific issue of the Multiemployer Pension Crisis knowing that any Bill moving forward shall require a bipartisan vote to achieve passage for the protection of earned pensions and your retirement security.
As the political environment displays the path of multiple agendas in Washington DC on many fronts, our Teamster members and their families have recently been part of a survey conducted by the IBT for the upcoming 2020 Presidential Election. One of the results indicated that Actives and Retirees overwhelming shared their perspective on their priorities, that being Pensions and Retirement Security. With 79% of the tens of thousands of members participating indicated this topic as the number one priority. This fact alone demonstrates the focus of the IBT members and their engagement to work for positive results.
On Thursday, October 17, 2019 the Milwaukee Building & Construction Trades Council held their L.A.B.O.R. Awards event recognizing area Labor Organizations, Brothers and Sisters of the Trades and supporting causes related to our Veterans. Earlier this year, the Milwaukee Building Trades Unions and their members gathered for their annual Labor Ride raising just over $15,000.00, which $7500.00 was presented to the USO of Wisconsin and $7500.00 to Dryhootch at this event . Both organizations do outstanding services assisting Veterans and their families.
The L.A.B.O.R. Awards event recognize several different categories such as Local Union, Business Manager, JAC/JATC, Business Agent, Organizer and a Lifetime Achievement. The nominations and voting for each category are completed our peers. Teamsters Local 200 was nominated for Local Union of the Year, Tom Benvenuto of Local 200 was nominated for Business Agent of the Year and Secretary Treasurer Thomas J. Bennett of Local 200 was nominated for Business Manager of the Year. On behalf of our Membership, Secretary Treasurer Thomas J, Bennett accepted the award for Local Union of the Year.
" It was an unexpected honor to be nominated within this process and then for our Local Union to be recognized by our Brothers and Sisters of the Building Trades was absolutely overwhelming. Our commitment to support each other in the Building Trades is foremost and our Local strives on the message of solidarity. Our Local Union has built strong relationships with our Brother and Sisters of the Building Trades and that effort continues, supporting each other for the betterment of our memberships, their families and our communities."
Thomas J. Bennett
Secretary Treasurer
General Teamsters Local Union No. 200
Candidates who claim to stand with workers need to stand up for our top priorities: retirement security, collective bargaining rights, and fair trade. Teamsters work in every state and are 1.4 million strong. Our voices will not be ignored - and our issues need to take center stage at tonight's debate.

Check out how we plan to hold candidates accountable here http://ibt.io/2020vid and here www.teamstersvote.com
#Teamsters2020
On Saturday, October 12, 2019, Teamsters Local 200 held a Stewards Workshop with presenters discussing various topics. Mark Barlar, a CMV Inspector with the Wisconsin State Patrol (Southeast Region) discussed topics from interactions with motorists and Commercial Motor Vehicles to Hours of Service guidelines. Wisconsin Joint Council No. 39 Legal Team of SoldonMcCoy Law Firm reviewed with our Stewards NLRB decisions to exercises reviewing facts related to Arbitration Cases and their outcomes. Scott Soldon and Kyle McCoy worked with the Stewards to broaden our thoughts when investigating grievances to working with other Stewards at the worksite to best represent our membership's rights.
On behalf of the Local Union Executive Board, we appreciate the engagement of all involved at the workshop to make it a successful event.
At the Tuesday, November 12, 2019 General Meeting of Teamsters Local 200, Dawn Vlach of Our Harmony Club has accepted an invitation to speak to our Brothers and Sisters about "social day programs for individuals with age related challenges ranging from social isolation to Alzheimer's and Parkinson's Disease." Our Harmony Club is a Volunteer based 501( c ) ( 3 ) nonprofit organization that provides opportunities that our membership should be aware of and with our conversation, bring our goals together in the betterment of their cause. Please attend the November 2019 General Meeting at Local 200.
This past weekend, October 4-6, 2019, the 9th Annual Tradeswomen Build Nations Conference was held in Minneapolis, Minnesota that brought together nearly 3000 delegates from across the country. The Conference originated in 2002 with 250 delegates and it has developed to be the main event for women in the trades as a resource to network and build skills for careers in the construction industry. Teamsters Local 200 was asked by the International Brotherhood of Teamsters to assist in this event, along with Teamsters Local 120 of Blaine, Minnesota, to showcase the Teamsters National Pipeline/Labor Management Cooperation Trust (LMCT). Wendy Oberdorf of Local 200 (pictured with Business Agent Tom Benvenuto) attended the event during the 3 days and represented the International Brotherhood of Teamsters at the Teamsters Information Booth with her Teamster Sisters. Teamsters Local Union No. 200 thanks Wendy for her time and effort to represent the Teamster Sisterhood. A Special thank you goes out to the Building Material & Construction Trade Division Director Marion "Bubba" Davis, LMCT Richard Stern and IBT Southern Region Training Coordinator Iliana Flores.
Secretary Treasurer Tom Bennett and Business Agent visited the Conference on October 4, 2019 to see in attendance other Tradeswomen from Wisconsin in attendance, excited about the Conference and its offerings. Picture with Secretary Treasurer Tom Bennett and Business Agent Tom Benvenuto is Iliana Flores of the IBT.
Teamsters Local 200 joined a number of Brothers and Sisters of several Building and Construction Trade Unions from around the State at the UAW Hudson, Wisconsin Strike Line at the GM Facility. In support of the striking workers, a donated cook out has been organized for today, Friday, October 4, 2019, beginning at 11am.
The Executive Board of Wisconsin Teamsters Joint Council No.39 has made a monetary donation to assist the striking workers and their families.
Teamsters Local 200 has also made a monetary donation to assist the UAW picketers and their families today. The Business Agents from Local 200 have made a personal donation to the UAW Brothers and Sisters at the strike line.
The Federal Motor Carrier Safety Administration (FMCSA) is proposing to revise the Hours of Service Regulations for Commercial Drivers. The Teamsters Safety and Health Department is seeking your input as to how these proposed changes may affect your job.
DISCUSSION OF THE PROPOSED RULE MAKING

PROPOSED RULE MAKING - HOURS OF SERVICE: DRIVER SURVEY
CLICK ON THE FOLLOWING LINK FOR THE SURVEY:
The Local is getting prepared for the October 1st, 2019 Teamster Local 200 apparel sale that is being offered through-out the month of October. The sale, ½ off all items in stock, shall be at the Local Union Hall between the hours of 8am and until the close of business day at 4:30pm. Please, no call-in reserve orders. Visit the Union Hall at 62nd and Bluemound to purchase your Teamster Gear. There are limited sizes on some items. Cash, check, credit card and debit card are welcomed.
MORE FROM FARM AID 2019
| | |
| --- | --- |
| | |
| | |
| | |
| | |
| | |
| | |
Big news! Teamsters Locals 200 and 344 have endorsed Rebecca Kiefer!

"Our members are excited to endorse Rebecca Kiefer for Circuit Court Judge," said Tom Bennett, Secretary/Treasurer of Teamsters Local 200. "Rebecca understands the values of working people and the power of unions. She has the right experience and a great track record. We know she will be an outstanding judge and look forward to supporting her campaign in the months to come."

"Working men and women want fair, honest judges," said Bill Carroll, Secretary/Treasurer of Teamsters Local 344. "Our members know that Rebecca Kiefer has the right values, a clear understanding of the Constitution, and a deep commitment to the rule of law. We will do everything we can to ensure she is elected in April."

Rebecca is thrilled to have their support. Thank you, Teamsters!
FARM AID 2019
Farm Aid 2019 was held in East Troy at the Alpine Resort where thousands of people gathered to support the American Farmer. This event, filled with great music and intense dialogue about solutions to critical problems facing the farmers, has become the centerpiece of the industry with education and communication. Teamsters Local 200 was contacted to offer our services as volunteers to assist in the required transportation needs over the 4 days it took to hold this event. Our volunteers worked tiredlessly to ensure the needs of the Farm Aid staff were accomplished. On behalf of the Local Union Executive Board, we thank each individual for their professionalism and dedication to reach the goals as requested of us for a successful Farm Aid 2019.
Today is National Voter Registration Day. Visit the below link to ensure you are registered or registration is needed.
On Saturday, September 21, 2019, Teamsters General Local Union No.200 stood in solidarity with the Brothers and Sisters of the UAW on the Strike line in Hudson, Wisconsin at a GM Parts Distribution Center. The Center has approximately 74 UAW Union members employed at the location of 2200 Willis Miller Drive in Hudson and are operating several different shifts to man the line. Standing in solidarity with the UAW, were members of Teamsters Local 120 of Blaine, Minnesota with their semi-truck.
Emily Krause, daughter of Local 200 Teamster Scott Krause, was recently selected as a $10,000.00 James R. Hoffa Memorial Scholarship Fund recipient. "On Wednesday, August 28, 2019, Local 200 Trustee Randy Francois and I met with Emily, Mr. and Mrs. Krause and they were so appreciative for this opportunity from the James R. Hoffa Memorial Scholarship Fund for Emily ," states Secretary Treasurer Tom Bennett. Emily has enrolled at the University of Wisconsin - Madison, with expectations of 8 years of further education. General Teamsters Local Union No. 200 congratulates Emily on her selection and award from the James R. Hoffa Scholarship Fund. Pictured are Mr. and Mrs. Krause, Emily and Local 200 Trustee Randy Francois.
Held recently in Louisville, Kentucky was the 44th Annual Teamsters National Black Caucus Conference in which General Teamsters Local Union No.200 partnered with the Milwaukee TNBC Chapter for their attendance and participation at the event. Attending the event were Mike Leflore, Erv Martin, Jessica Gulledge, Demetrain McClain, Darryl Sheffa and Will Harris with hundreds of other Teamster Brothers and Sisters from across North America. The Local 200 Delegation has commented to the Local that the educational workshops, events, speakers and presentations were of highest quality with a focus of social justice for all. Teamsters Local 200 appreciates the commitment of the Milwaukee TNBC Chapter in making this event a success.
.
IMPORTANT UPDATES
SOLDON LAW FIRM, LLC.
ATTORNEYS AT LAW
Presents
Right To Work
Discussion
---
| | |
| --- | --- |
| What's New at Teamsters 200 | |
MAKE SURE WE HAVE YOUR
CURRENT E-MAIL ADDRESS
Make sure that you do not get missed when the Local sends important information to it's members and retirees.
Keep your information updated with the Local. If you have moved or changed addresses within the past 6 months, please contact the Local to request that your contact information be brought up-to-date.
You can message the office staff through the Local 200 website (go to the "Contact Us" page listed above), Facebook or call at 414-771-6363.
This request is for all members active and retired.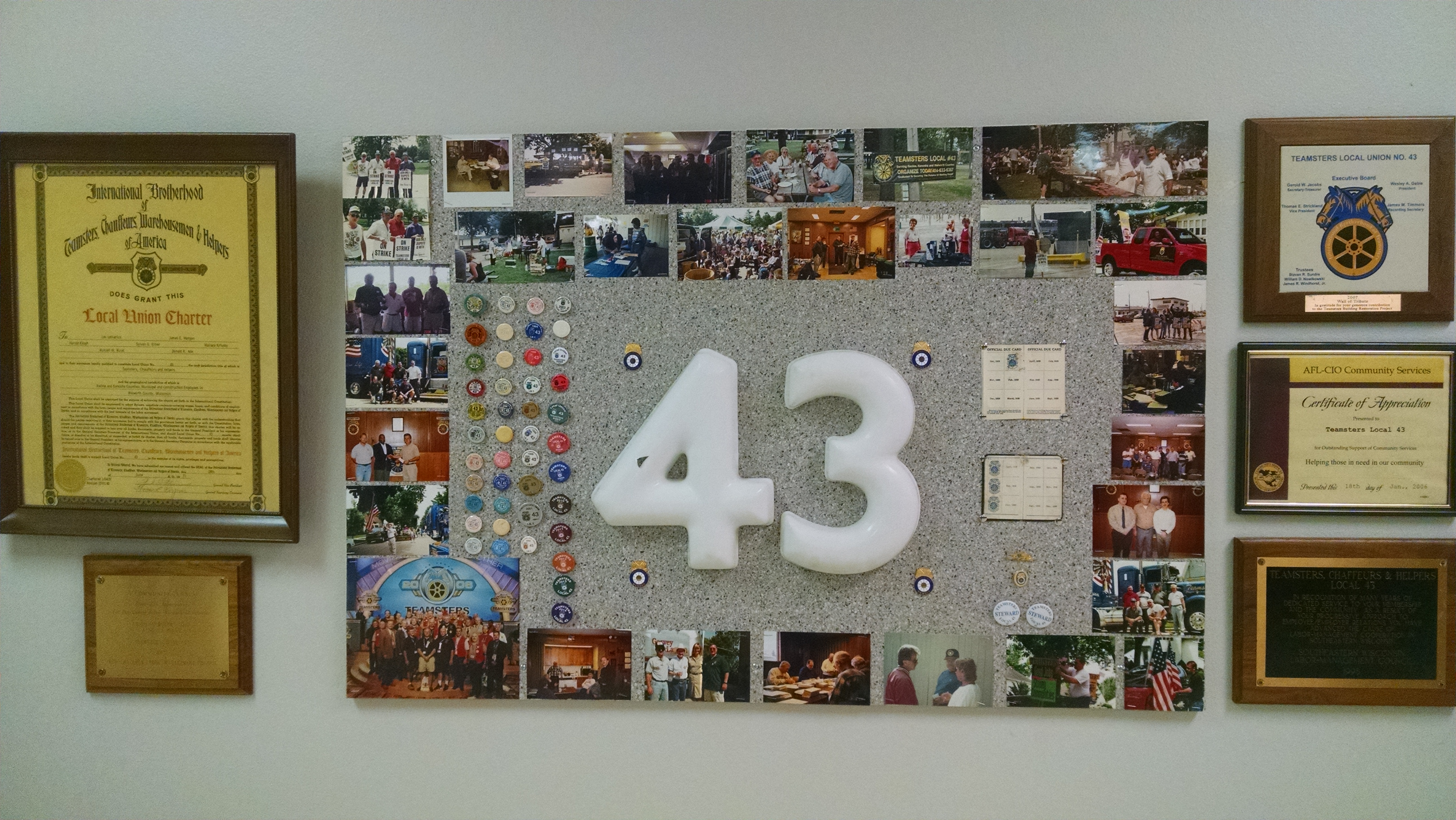 Teamsters Local 43 Remembered Post Merger
Dedicated to these members formerly from Local 43 is a shrine memorializing their Local in their Union hall in the Milwaukee location.
"Where we came from and how we got here helps move us forward," said Teamsters Local 200 Secretary Treasurer Tom Millonzi.
"We put together this shrine so when our new members from Racine and Kenosha come to their Union hall they will see and know that we remember. Remembering how we got here strengthens our solidarity," added Millonzi.