FOOD / TOY DRIVE
NON-PERISHABLE FOOD
AND
TOY DRIVE
"Teamsters "General" Local Union No. 200 will be conducting a Food and Toy Drive throughout the months of November and December, the recipient of any non-perishable food items and toys will be Love Inc. of Burlington Wisconsin for their food pantry and toy drive. Love Inc. assists disadvantaged individuals and families providing services and resources to help them build on their strengths and develop self-sufficiency.
Please drop off any non-perishable food item and or new toy to Teamsters "General" Local Union No. 200 located at 6200 W. Bluemound Road Milwaukee WI."
Respectfully,
Tom Millonzi Secretary Treasurer
Tom Bennett President
Teamsters "General" Local Union No. 200
STAY CURRENT WITH YOUR LOCAL
MAKE SURE WE HAVE YOUR
CURRENT E-MAILL ADDRESS
Make sure that you do not get missed when the Local sends important information to it's members and retirees.
Keep your information updated with the Local. If you have moved or changed addresses within the past 6 months, please contact the Local to request that your contact information be brought up-to-date.
You can message the office staff through the Local 200 website (go to the "Contact Us" page listed above), Facebook or call at 414-771-6363.
This request is for all members active and retired.
LIFE AFTER MID-TERM ELECTIONS
With the Country's Mid-Term elections behind us, we as an organization look to the future. The goals of the Local Union are to understand the needs of the working families within our own membership, our communities and within the State of Wisconsin. With that understanding, the determination to secure living wages, affordable healthcare and retirement security shall be on the forefront.
Organizing the un-organized employees shall be an effort we collectively share. The work to be done can only be accomplished as whole, with each member participating. Workers have endured decades of advancement within the workplace. With that advancement, we shall promote continuation and strengthen our presence.
As we proceed with determination, we do so cautiously. Listening can be crucial. As we listen, we undertake the role of leadership. Then our actions will reflect sound decisions for generations to come.
In Solidarity
| | |
| --- | --- |
| What's New at Teamsters 200 | |
Teamsters Local 200 is proud to announce that we have signed a new ready mix company to a long term Union contract. Ozinga Ready Mix Concrete, is a 4th generation family run ready mix business that has just opened its first location in Kenosha with the intent of expanding to several other locations in southeastern Wisconsin.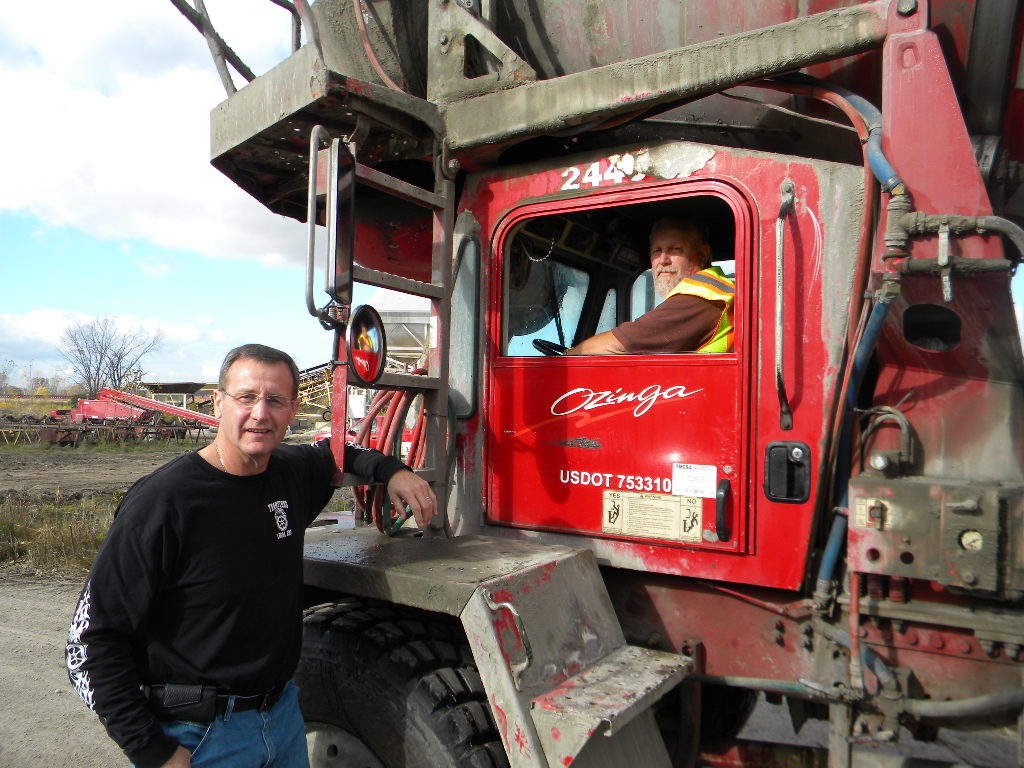 Business Agent Tom Benvenuto with Local 200 member Gale Oldenburg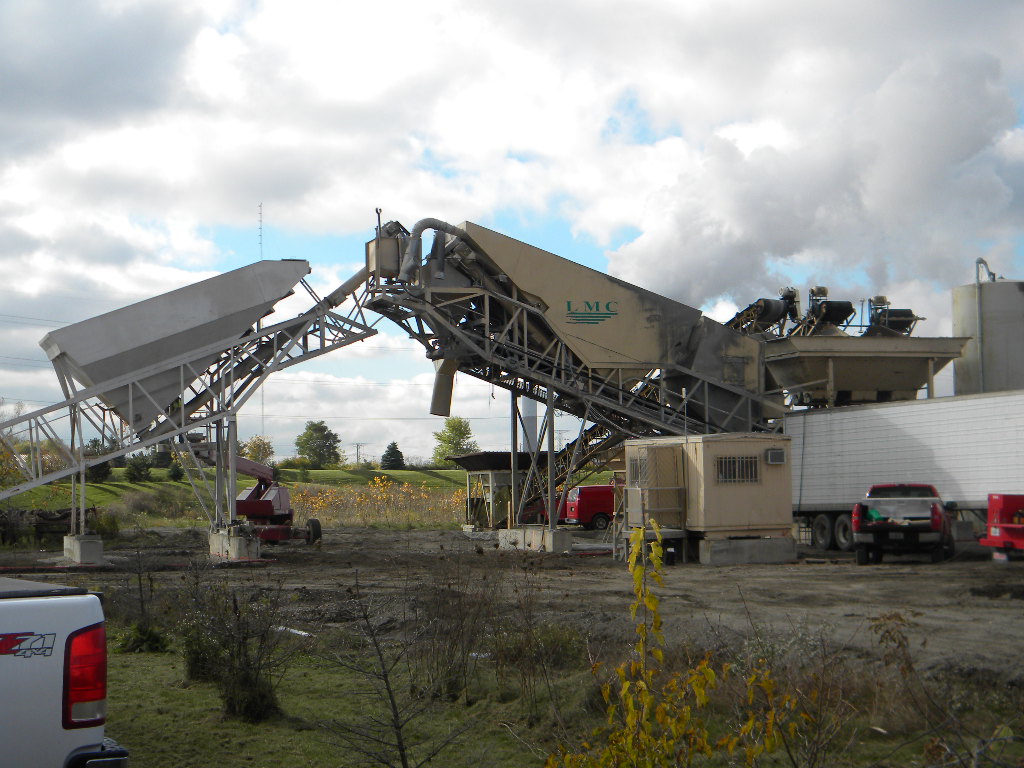 Ozinga Ready Mix temporary portable plant in Kenosha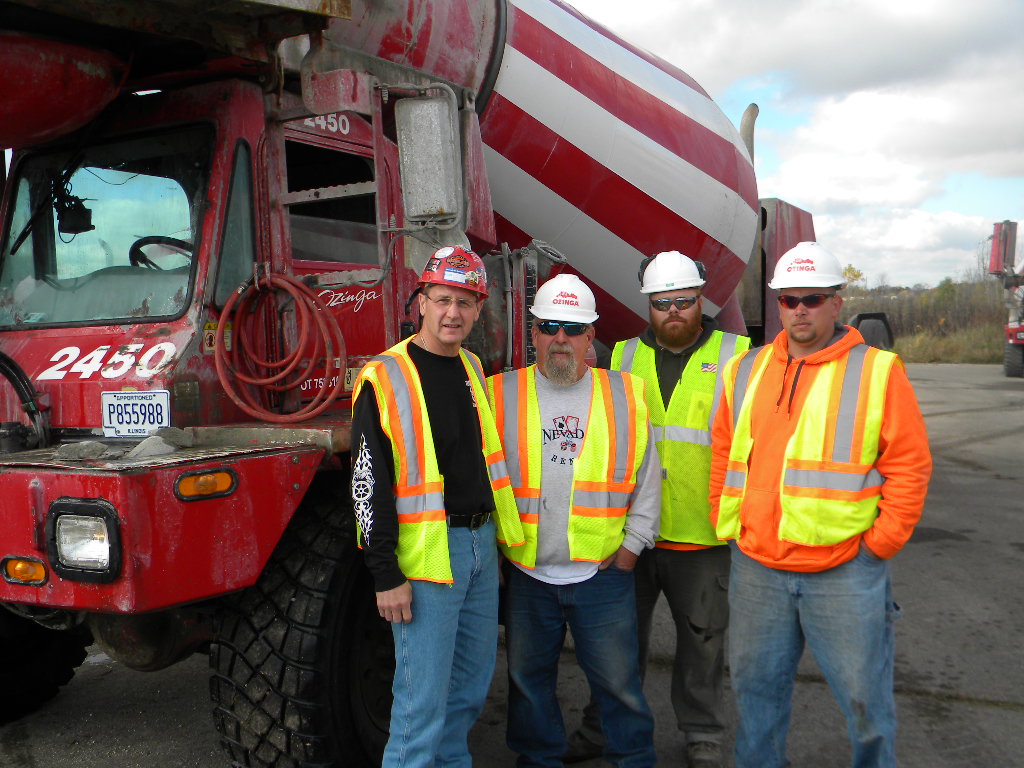 L to R Business Agent Tom Benvenuto with Local 200 members Rick Smithkey, Andrew Brommer, Mike Butterworth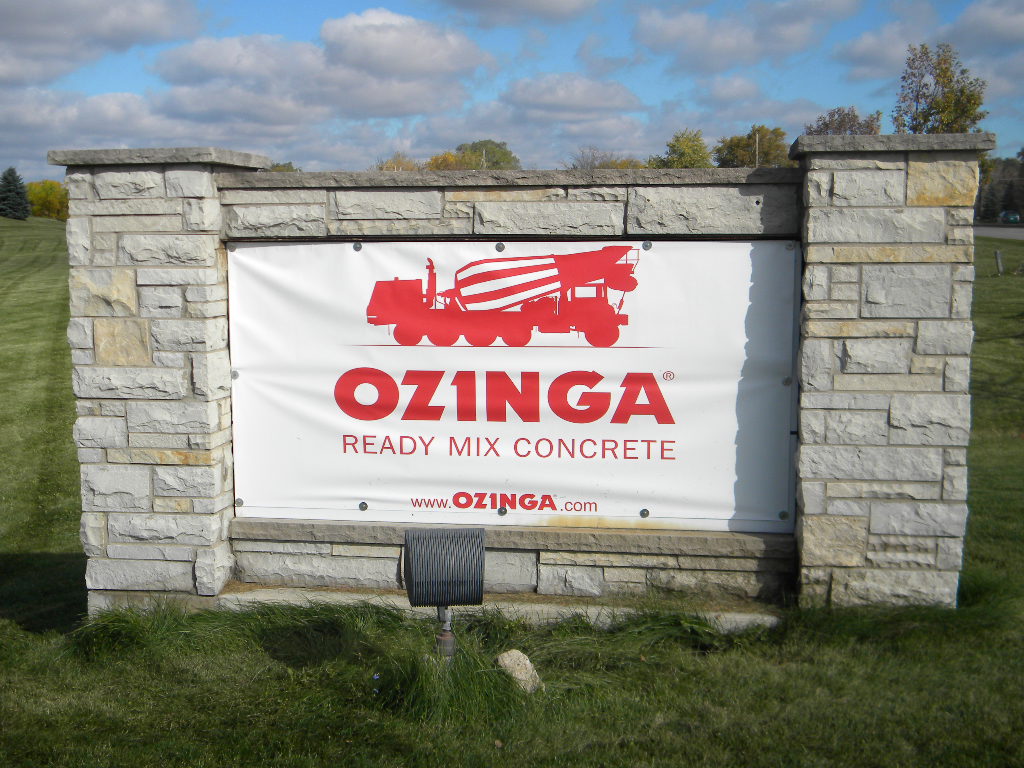 Ozinga sign outside their Kenosha Plant
Local 200 member Dan Poenitsch, his wife, Julie and their daughter Rachel are pictured with Local 200 Secretary Treasurer Tom Millonzi and Local 200 President Tom Bennett.
Rachel was selected as a $1,000.00 James R. Hoffa Memorial Scholarship recipient in the 2014-2015 scholarship for high school seniors.
Rachel will be attending Carroll College where she will pursue a degree in Biology and Pre- Physician Assistant.
Congratulations to Rachel from all of L200 for receiving this award and good luck with your future studies!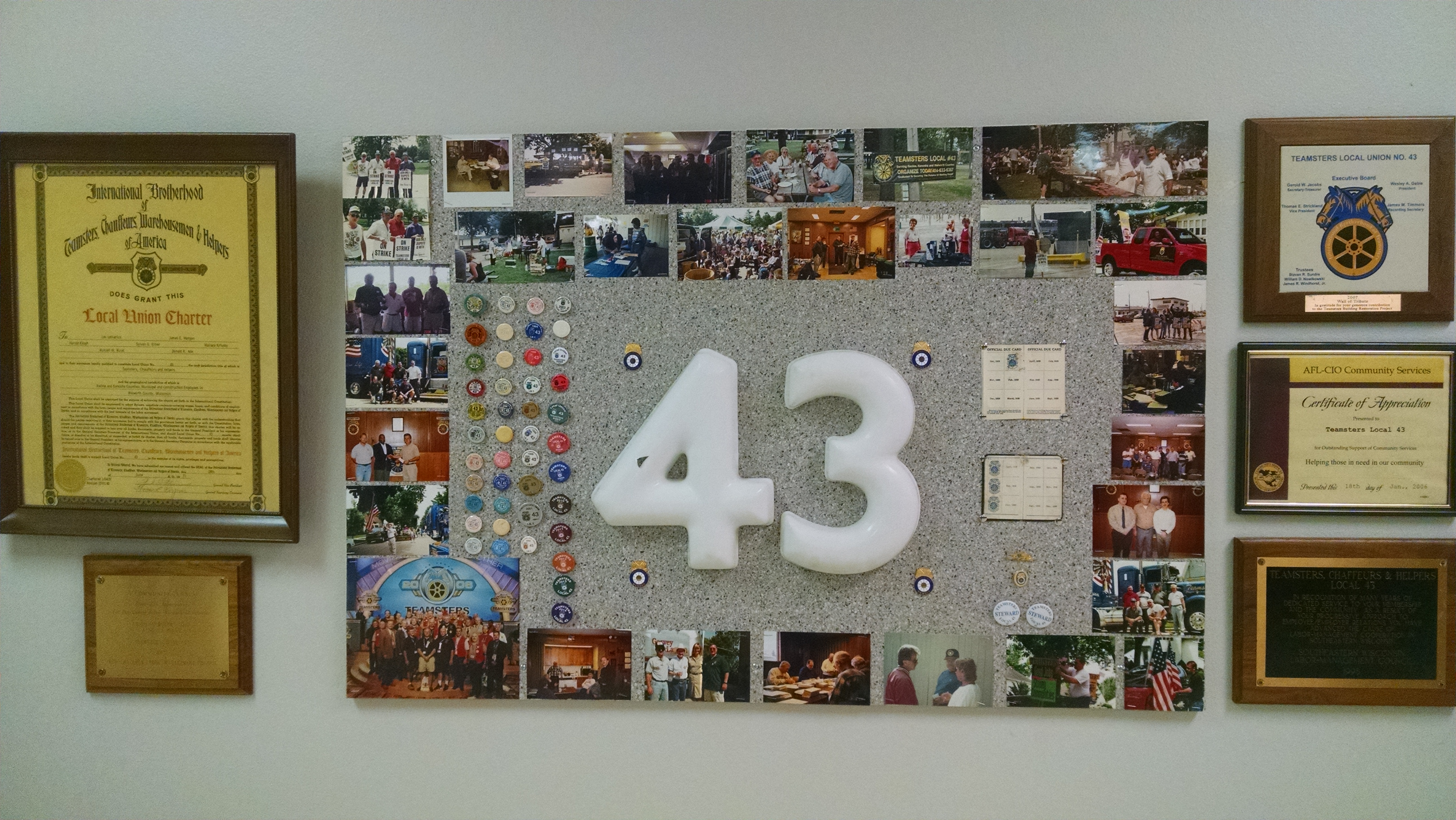 Teamsters Local 43 Remembered Post Merger
Dedicated to these members formerly from Local 43 is a shrine memorializing their Local in their Union hall in the Milwaukee location.
"Where we came from and how we got here helps move us forward," said Teamsters Local 200 Secretary Treasurer Tom Millonzi.
"We put together this shrine so when our new members from Racine and Kenosha come to their Union hall they will see and know that we remember. Remembering how we got here strengthens our solidarity," added Millonzi.
LOCAL 200 DRIVERS AT THE CONTROLS
Local 200 member Clyde Pipkorn
Local 200 member Mike Greenwood
Local 200 member Debbie Christensen
City Bus Driver and Local 200 member Jason Govednik
City Bus Driver and Local 200 member Tina Blackstone
Racine City Bus Driver and Local 200 member Brenda Harris
Racine City Transit Driver and Local 200 Member Jackie Salas
---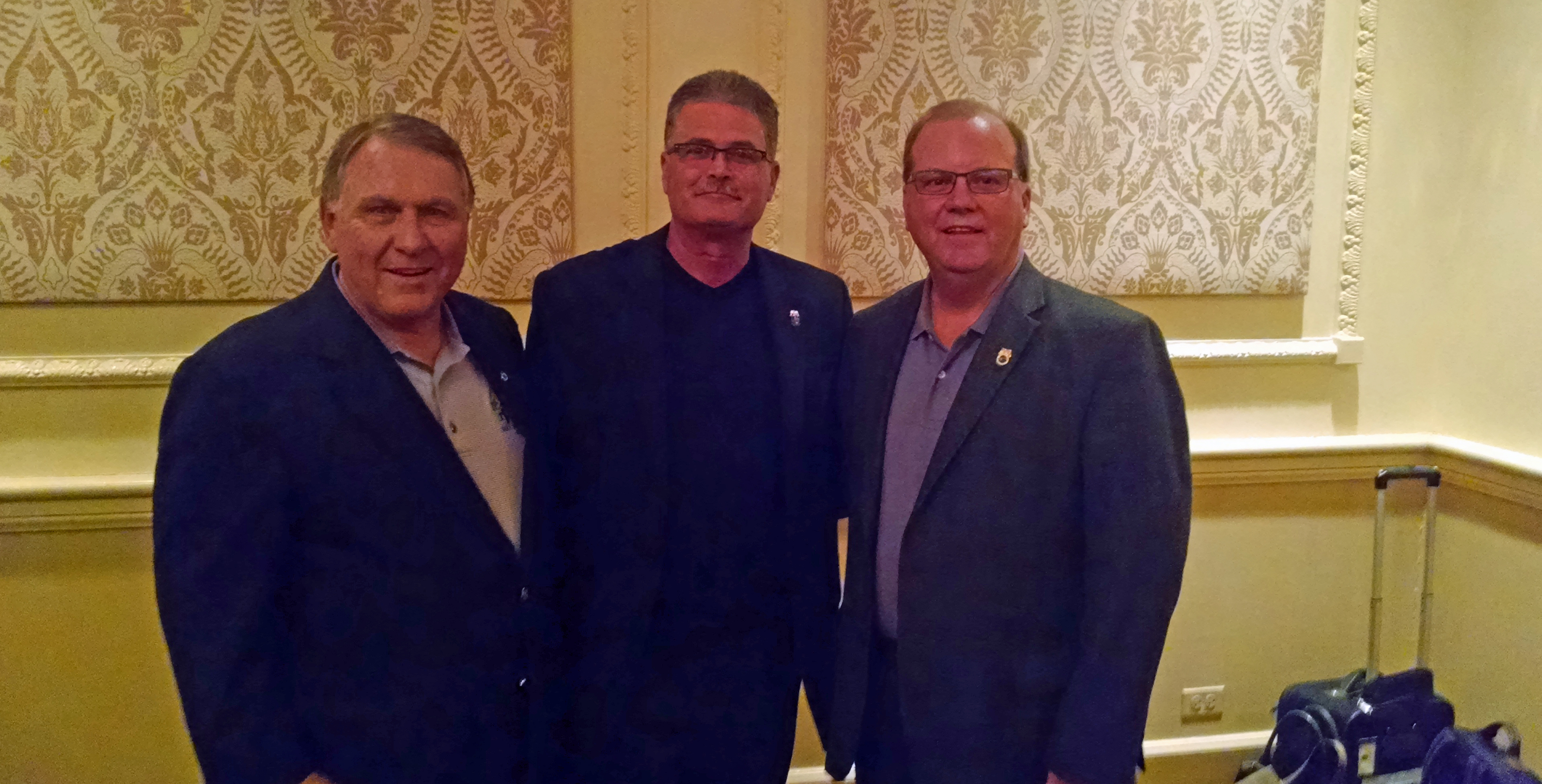 L200 Secretary Treasurer Tom Millonzi pictured with
General President James Hoffa
and
General Secretary Treasurer Ken Hall
recently in Chicago at the
International Brotherhood of Teamsters Woman's Conference.