LATEST NEWS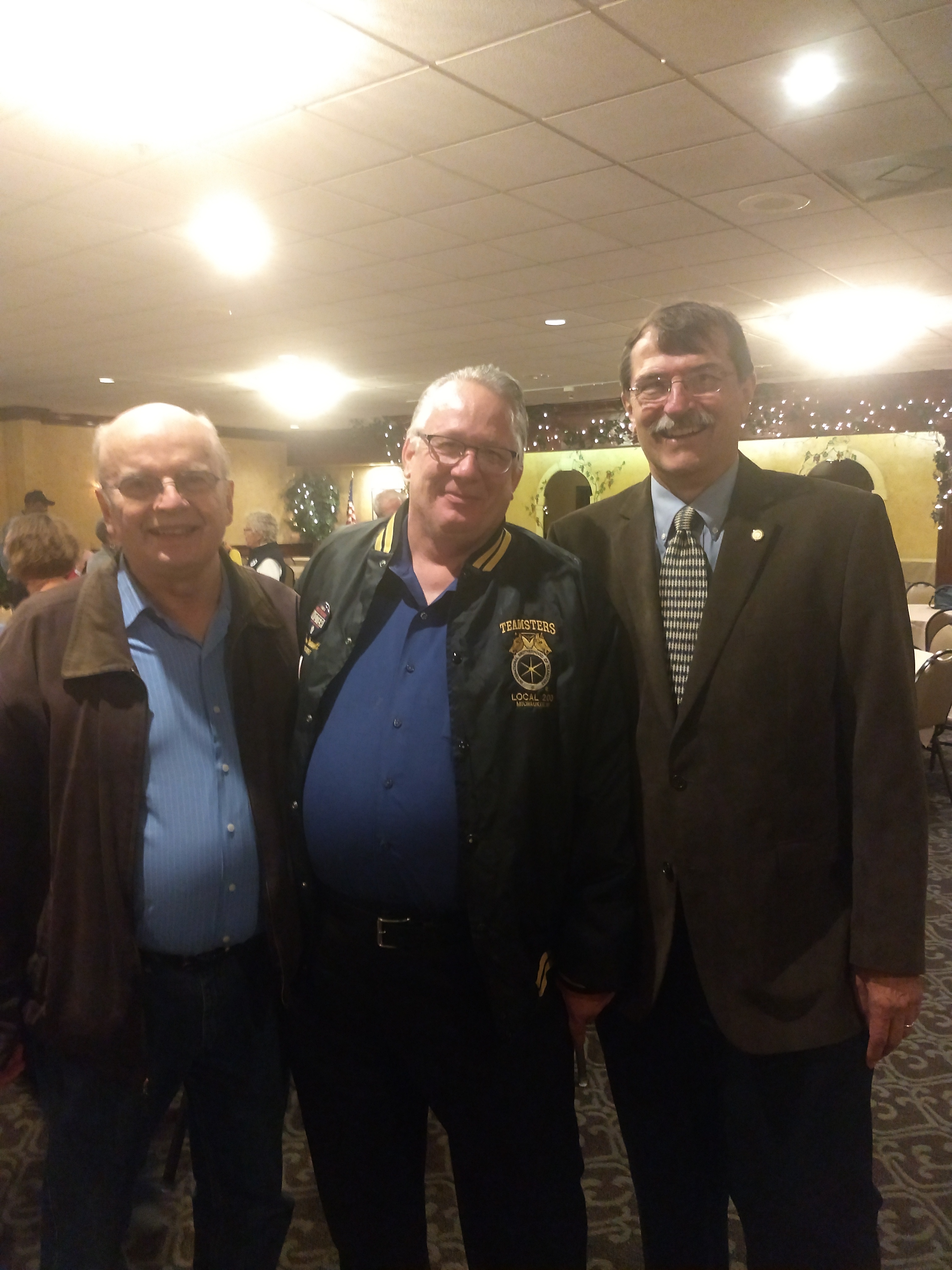 Wisconsin Teamsters Joint Council 39 proudly endorsed John Lehman for the open seat in the 62
nd
Assembly District in Southeastern Wisconsin on Thursday night, October 11, 2018 at an event held in Racine, Wisconsin. The 62
nd
Assembly District includes communities such as Caledonia, Raymond ,Norway, Wind Point, North Bay and portions of northern and western City of Racine and a small part of Mount Pleasant. John Lehman has been active in Local and State Politics as an elected official and brings a strong voice for working families of Southeastern Wisconsin. Also, Joint Council 39 presented Gina Walkington an endorsement pledge for her candidacy for the 61s Assembly District, which includes a great portion of Kenosha County. Also, present was Lori Hawkins, a Teamsters Local 200 and Wisconsin Teamsters Joint Council 39 endorsed candidate for the 21
st
Senate District that covers a portion of Southeastern Wisconsin and State Senator Bob Wirch of the 22
nd
Senate District. Senator Wirch has been a strong voice and a committed voice for working families of the State of Wisconsin.
Wisconsinites Stand Up To Say "It's Time To End The Republican War On Health Care"
Local Health Care Advocates Join Protect Our Care to Call for an End to GOP Attacks on Wisconsinites' Health Care
State Sen. LaTonya Johnson speaks in Milwaukee.
WISCONSIN – Today, Protect Our Care's nationwide bus tour arrived in Wisconsin to call attention to the ongoing Republican war on health care. Joined by State Senators Chris Larson and LaTonya Johnson, State Representative Amanda Stuck, Assistant District Attorney Beau Liegeois, and cancer survivor Laura Packard, events in Milwaukee and Green Bay highlighted the actions Republicans are trying to harm Wisconsinites' care and called on Attorney General Brad Schimel to work instead to protect our care.
UPS and UPS FREIGHT
CONTRACT RATIFICATION UPDATE
UPS National Master and Supplements
Since the announcement that a tentative agreement had been reached with UPS, the National Negotiating Committee (NNC) has provided members with an unprecedented number of leaflets and summaries explaining the terms of the proposed contract. We have conducted teleconferences to highlight the improvements in the new agreement and take questions from members, which were answered in writing and available on several electronic platforms. Members supporting and opposing the tentative agreement have freely and energetically exchanged their views through social media and in the workplace, examining every aspect of the proposal. The debate has been vigorous, and any member could easily obtain information necessary to determine whether to support or oppose the National Master Agreement as well as his/her applicable Supplement and Rider.
Once the ballot materials were printed and ready for mailing to the members, both the NNC and opponents to the agreement have repeatedly encouraged members to vote. The NNC contacted members through postcards, social media messages, text messages and robo-calls urging them to exercise their right to vote. Every Local Union reached out to its members with similar programs designed to encourage membership participation in the ratification.
UPS FREIGHT TENTATIVE AGREEMENT
REJECTED BY MEMBERSHIP
Local 200 will await further direction from the Chair of the Bargaining Committee.
Please watch your social media venues for further information.
In Solidarity,
Thomas L. Millonzi
Secretary Treasurer
General Teamsters Local Union No. 200
Karl Prasser (left), Local 200 Business Agent Jim Seelow and Jeff Ernst (right) gather with other Active and Retired Teamsters to celebrate their last day of service as active Teamsters for Holland Motor Express for both Karl and Jeff. Brother Prasser was initiated to the Teamsters in 1974 and Brother Ernst was initiated in 1979. On behalf of the Local Union Executive Board, Agents and Staff, we wish Karl and Jeff the best in their retirements. In Solidarity!
On Tuesday, October 2, Local 200 Representatives were at different corners of Southeastern Wisconsin supporting candidates that support working families. These candidates are endorsed by Wisconsin Teamsters Joint Council 39 and each support the Butch Lewis Act of 2018 for passage to protect active and retirees' pensions. In Dodge County, Teamsters Local 200 President and Joint Council 39 Trustee Tom Bennett is pictured with Elisha Barudin, a candidate for the State Assembly in the 39th District (left) and Michelle Zahn (right), a candidate for the 13th Senate District. In Milwaukee County on Tuesday night were Local 200 Political "Get out the Vote" Representatives, Recording Secretary Jeff Flayter, Jared Wolski and Demetrian McClain with Randy Bryce, a candidate for Wisconsin's 1st Congressional District. We encourage our membership to be active in the upcoming 2018 mid-term elections this November 6th, 2018.
"GET OUT THE VOTE"
Teamsters talking to Teamsters this morning at Nestle in Burlington Wisconsin reminding our members to get out and vote, to be sure their voice is heard in the upcoming midterm elections.
2018 TEAMSTERS LOCAL 200
SCHOLARSHIP GOLF OUTING
General Teamsters Local Union No. 200 would like to take this opportunity to introduce the Local Union and Wisconsin Teamsters Joint Council 39 Legal Counsel of SoldonMcCoy, LLC. Scott Soldon has added Kyle McCoy as a new partner to the firm recently and their continued success will bring our Teamster members and their family's success.
Visit their website at www.soldonmccoy.com
In Memory of
former Principal Officer of Teamsters Local 43
and City of Racine Alderman Ray DeHahn
Teamsters Local 200 President Tom Bennett, pictured with Jeff Gustin, Executive Director of the Veterans Outreach of Wisconsin, delivered a donation from L200 in the name of Ray DeHahn, Alderman for the city of Racine. " Ray will be missed by us all. He was heavily involved with the city and his wish, in lieu of flowers, was a donation to a good cause. Few causes, if any, are more worthy then our veterans," said Tom Bennett.
TEAMSTERS LOCAL 200 and 344 ON THE STREETS OF MILWAUKEE AT THE BAYVIEW BASH
On the 3rd Saturday of September each year, the community of Bayview, Wisconsin comes together for a festival that extends between the streets of Potter and Clement on Kinnickinnic Avenue. This event showcases the food, art, music, crafts, books, and community organizations within the area. Teamsters Local 200 partners with Teamsters Local 344 and we collectively work together to bring awareness to those in attendance during the daylong event what Organized Labor has accomplished and continues to do so with promoting the work that Unions have done to bring better wages, healthcare and retirement security to workers. This community is a growth area in the Milwaukee community and has a great organized labor heritage for many decades. Educating workers about Organized Labor and communicating to workers about the upcoming November 2018 Elections was a key focus at this event.
| | |
| --- | --- |
| | |
TRUCK CONVOY FOR SPECIAL OLYMPICS
On Saturday, September 15, 2018, Teamsters Local 200 participated in the 14th Annual Convoy supporting the Athletes of Special Olympics Wisconsin. The event began in Richfield, WI and ended with a gathering at the EEA Grounds in Oshkosh to recognize the Athletes.
Volunteering his time to pilot the Wisconsin Teamsters Joint Council 39 tractor trailer was Evan Anderson, a driver from Roundy's Supermarkets, Inc., as he joined other Teamsters Drivers from company's such as West Bend Transit.
This event is part of a national one-day celebration of the trucking industry and law enforcement all combing their efforts working together to raise funds for Special Olympics.
LABOR DAY 2018
DONATION FROM L200
IN THE NAME OF
MEMBER BRENDA WILLIAMS
L200 Secretary Treasurer Tom Millonzi and L200 President Tom Bennett visited Love Inc. in Burlington Wi. this morning and delivered a donation check to Barbara Howard, Executive Director of Love Inc. in the name of L200 Nestle member Brenda Williams who passed recently.
" Love Inc. was one of Brenda's donation requests in lieu of flowers at her recent funeral, said President Bennett. " "Brenda will be missed by us all"
On Saturday, September 8, 2018, Senator Tammy Baldwin was in Wauwatosa, WI and spoke to appropriately 100 attendee's about the strength of the women candidate's in so many races across this State and Country. With Senator Baldwin was Sara Godlewski, Democratic Candidate for the State Treasurer's Office and Stephanie Schriock, President of Emily's List.
While at the event, President Tom Bennett representing the Local, spent time with an attendee that had a number of questions related to the Pension Crisis. We discussed her 89 year old mother's Pension Benefit she is collecting from CSPF and how Senator Baldwin's efforts are in full motion to work towards the passing of the Butch Lewis Act.
General Teamsters Local 200, along with Wisconsin Teamsters Joint Council 39 fully endorse Senator Tammy Baldwin for the upcoming November 2018 election.
Towne and Country Lanes of Burlington, Wisconsin will host an event on October 28, 2018 for the Schmidt Family. Bonnie Schmidt became a Retired member of Teamsters Local 200 on September 4, 2018 with years of service to Nestles USA at the Burlington Plant. The event being held at Towne and Country Lanes is in the spirit to assist the efforts facing Bonnie and the Schmidt Family. Teamsters Local 200 has provided a contribution to assist in this event to Lorraine and Merrill Draper, owners of the Towne and Country Lanes, Coty Holbek (pictured) and Theresa Riemer. The Draper's are proudly hosting the event for The Schmidt Family as they explained this was in respect to what Bonnie Schmidt has done for so many others. For more information on this event, please call Towne and Country Lanes at 262-763 7333.
Organized Labor beats back Mother Nature on Labor Day
The Labor Day 2018 events in the State of Wisconsin dealt with two forces. One force was the demostration of a strong Organized Labor Movement marching in unison and the second force of Mother Nature adding the unpredictable rain showers to the festivities at many events.
The 2018 Milwaukee Labor Day event is one of the largest assembly of Union Brothers and Sisters representing Organized Labor in the State. As in past years, Local 200 displays a very impressive line up of equipment and a strong and united Teamster membership.
The trek to the Summer Fest grounds through the streets of Milwaukee continues to be a moment where Organized Labor can be recognized by each other and the members of our communities. This event showcases Unionism and the commitment of the Brothers and Sisters to work together empowering those within our communities.
Local 200 partnered with other Trade Union's to sponsor a live feed from our friends at Resistance Radio, 1510 AM Radio, from the Milwaukee Labor Day event. There was also an introduction of Senator Tammy Baldwin by Teamster Retiree Bob Amsden to the crowd at the Milwaukee Labor Day event.
On behalf of the entire Executive Board, Secretary Treasurer Tom Millonzi and President Tom Bennett, we proudly thank our dedicated membership for making the Labor Day Event a success.
.

On Wednesday, August 28, 2018 a good friend of Local 200, Laurie Onasch, stopped in to talk to Business Agent Jeff Bandur in further detail related to the needed awareness to the Human Trafficking problems facing America, specifically in the 72 counties of Wisconsin. Laurie has joined with Human Trafficking Task Force for Greater Milwaukee with a determination to enlighten those that can assist this organization and others about this increasing risk facing unsuspecting and vulnerable individuals. Our membership can be instrumental in this awareness program with education and communication, so we have asked Laurie to stop by our September 2018 General Meeting to address the membership on this concern.

Please visit the Facebook page of Human Trafficking Task Force for Greater Milwaukee for more information or attend the September 11, 2018 General Meeting of Teamsters Local 200 at 6200 West Bluemound Rd, Milwaukee, WI. starting at 7pm.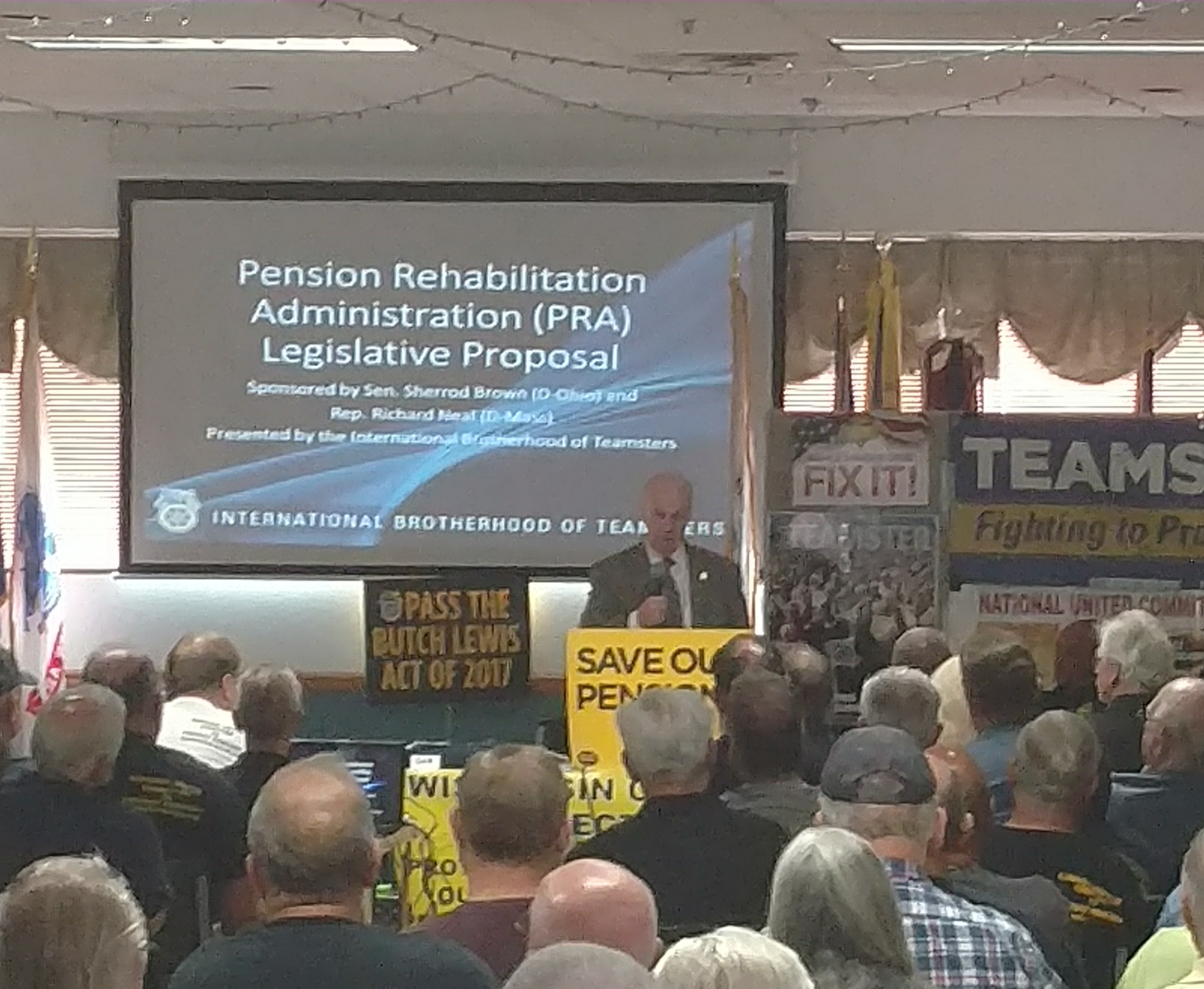 On Saturday, August 25, 2018 International Brotherhood of Teamsters Vice President John Murphy traveled to Milwaukee to speak to an attentive crowd of 200 Active and Retired Teamsters regarding the current status of the Butch Lewis Act. Brother Murphy went into great detail of the Butch Lewis Act for everyone in attendance with praising the involvement of the Retiree's, especially the Wisconsin Committee's, as to their efforts to bring the needed awareness to this crisis here at home and across this nation.
Secretary Treasurer Bill Carroll of Teamsters Local 344 and President Tom Bennett of Teamsters Local 200 addressed the crowd regarding the work underway to support candidates at all levels in Wisconsin and across this country that understand and support the Butch Lewis Act. The upcoming November Midterm Elections are critical in moving the Butch Lewis Act from a concept to a reality.
Bob Amsden, Bernie Anderson and Kenny Stribling discussed various recent events from the July 12, 2018 Pension Rally that was held in Columbus, Ohio to Brother Stribling's testimony at the Joint Select Committee in Washington DC.
ATTENTION TEAMSTER MEMBERS
With so much riding on the 2018 Mid Term Elections, the opportunities to be involved are crucial to our membership and our families. The Pension Crisis, the attack on workers rights by the introduction of negative legislation within the state and federal levels of government and the risk of continuing higher costs of Healthcare, the time is now to take action as a Teamster Activist. Member to Member interactions are absolutely required to network with other Teamsters to communicate and educate each other on the candidates that are standing along side of working families to support our mission. Retirees have fought to build this Union and their presence today is a strength as never seen before. The growth of their own internal networking on the Pension Crisis and their commitment to see the Butch Lewis Act passed shall not be discounted. Please connect with WITeamstersPower on Facebook or emailWITeamstersPower@outlook.com to be part of the solution.
Teamsters and Community
The recent loss of not one but two Milwaukee Police Officers brought Local 200 Teamsters and the Milwaukee Police Association together.
Pictured below are two donation checks from Teamsters Local 200 to the MPA Fallen Heros Fund which helps the families of fallen officer's cope with the loss of their loved one.
"I hope to not visit the MPA offices with donations of this sort in the future. The city and neighborhoods will surely miss these fine officers ,"said Teamsters Local 200 President Tom Bennett.
MPA President Michael Crivello was very thankful and gracious accepting the donations for his fellow officers.
Pictured below is Local 200 Vice-President Tim Pinter and Organizer Jared Wolski presenting one check and Local 200 President Tom Bennett, Vice-President Tim Pinter another.
TEAMSTERS LOCAL 200 GOLF SCHOLARSHIP WINNERS
This year Seven winners each receive $500 scholarship
"It was a great feeling handing out scholarships to these fine students" said Tony Ceretto.
Tony chairs the committee of three Local 200 retirees that review the applications and award the scholarships.
"The essay process is a great way to bring awareness to young people the value Unions bring to Americas workers" added Tony.
Applicants are asked to put in writing what role Unions have in the future of Americas workers and then the committee reviews the essays and pickers the winners.
Pictured left to right attending the award presentation
(scholarship winners are in bold)
Tony Ceretto, Patrick Passler, Eric Passler, Scot Passler,
Michelle Clark, Abigali Clark,
Morgan Franzen Gary Franzen,
Local 200 President Thomas Bennett,
Local 200 Vice-President Tim Pinter
Additional winners unable to attend the ceremony
Taylor Surprise, Jordyn Vetter,
Shelby Mallum, Hannah Kuehl
Congratulations to all the winners and good luck in your future studies!!
.
CLICK HERE To Listen to the latest episode of Teamster Nation News and learn how the Teamsters are spending their summer fighting for pension reform that will protect the retirement security of hundreds of thousands of workers and retirees.
RETIRED TEAMSTER ASKS CONGRESS TO SAVE TROUBLED PENSION FUNDS
A Milwaukee man who has been among leaders of a movement to secure government help for troubled pension plans urged members of Congress Wednesday to "think, pray and do what's right" for retirees threatened with loss of much of their pensions.

Kenneth Stribling, a retired Teamster covered by the Central States Pension Fund, a plan teetering on the brink of insolvency, testified in Washington, D.C., before a joint committee tasked with recommending steps to alleviate the mounting crisis in multi-employer pension plans.

Many of those plans, which cover union workers in fields such as trucking and construction and receive contributions from multiple employers, are on the verge of crashing financially.

And the Pension Benefit Guaranty Corp. projects its backstop program for multi-employer plans will itself be out of money by 2026.

In 2017, some 1 million Americans were covered by multi-employer plans that the PBGC said were on the road to insolvency and were deemed "critical and declining.

"Chief among those troubled plans is Central States, which covers nearly 400,000 people, including about 23,000 in Wisconsin.

Expected to be insolvent by 2025, Central States has suffered as the deregulation of trucking eroded union clout over the past few decades and the numbers of workers and companies contributing to the fund shrank drastically.

In 1980, with deregulation just beginning, Central States had four working Teamsters for every retiree. Today, the plan pays benefits to five retirees for every worker.

In 2015, Central States proposed to preserve the plan by slashing promised pensions. Many retirees, including Stribling, would have seen their pensions cut by more than 50 percent.

The Treasury Department rejected that proposal in May 2016. But the woes faced by Central States and other multi-employer plans have continued.

To address those problems, Stribling and others have called for passage of legislation introduced late last year and named for Butch Lewis, a former Ohio Teamster leader active in the pension fight. Under the legislation, a new Treasury Department agency would borrow money to finance loans to help distressed pension plans.

Wednesday, Stribling called the Butch Lewis Act "the right solution.

"He told members of the Joint Select Committee on Solvency of Multiemployer Pension Plans of how he was "devastated" when Central States proposed cutting his monthly benefits by 55 percent.

"You have no idea what it's like to be retired on a fixed income and suddenly be told your monthly check will be cut in half," Stribling said.

Then, he said, his wife, Beverly, a retired teacher, learned last November that she was terminally ill with pancreatic cancer. She continues to fight the disease.

Like everyone, Stribling said, the Teamster retirees "endure life's storms – death, illness, physical and mental health challenges. Now we also have the burden of traveling through our golden years with an uncertain financial future, a future that had been promised to us.

"He said the issue is "about fairness – keeping promises to working Americans who did everything right and are simply asking you to preserve what is due us now.

"The joint select committee is to make its recommendations by Nov. 30.

On Thursday, July 13, 2018, members of Organized Labor stood together on the grounds of the Ohio State House in support of the Butch Lewis Act of 2018.
" Our Wisconsin Retiree's have been at the forefront fighting to preserve our Pensions with no cuts. We know the Butch Lewis Act is a viable solution and the Joint Select Committee must act immediately, stated Secretary Treasurer Tom Millonzi to many in attendance yesterday at the Rally."
FROM THE DESK OF THE SECRETARY TREASURER
OPEN LETTER TO THE MEMBERS OF LOCAL 200
Brothers and Sisters of Teamsters Local 200,
As the current Secretary Treasurer and Principal officer of Teamsters Local 200, the Secretary Treasurer of the Wisconsin Teamsters Joint Council 39 and a member on the Wisconsin Health Fund Board of Trustees, I have had the distinct honor of serving the membership in these capacities.
These positions come with great responsibility and I carry their weight with pride and respect.
Now after serving for over 11 years as your Principal Officer and 41 years as a Teamster my time has come to an end. I will serve the remainder of my term and not seek re-election as other opportunities for myself have recently presented themselves, that for the betterment of myself and my family I simply cannot turn away from.
I would like to sincerely thank every member of this Local Union and every Teamster of this state for the opportunity I have had to serve them, and I wish nothing but the best for you and your families moving forward.
Respectfully and in solidarity,
Thomas L. Millonzi
Secretary Treasurer
General Teamsters Local Union No. 200
WATERFORD LIBRARIANS
JOIN LOCAL 200
The three fulltime librarians for the Village of Waterford have joined Teamsters Local 200.
"These three ladies saw the benefit of the available health insurance as well as knowing what being in a Union is all about," said
Local 200 organizer Jared Wolski.
"Public sector employees wages and benefits are under attack by the current representatives in Madison as well as Washington DC, so having a group of workers, even a small group being able to sift through the fog and see the value of joining a union is encouraging," said
Local 200 President Tom Bennett.
Pictured below left to right is Village of Waterford librarian Samantha Vogel, Local 200 organizer Jared Wolski, and librarian Patricia Cox.
WEEKEND WITH THE TEAMSTERS
The 8th Annual "A weekend with the Teamsters" event was held from Friday, June 8th to Sunday, June 10, 2018 here in Milwaukee, Wisconsin that brought Teamster leaders and Community leaders from all over North America to communicate and educate with the theme of "The Power of Hope". This event hosted by, Elder Ricky Price and Pastor Monica Parchia Price, was conducted at the M. Zion Assembly Church on the evenings of Friday and Sunday, with Recognitions, Workshops and Activities at the Early View Academy on Saturday Afternoon.
Teamster honorees that were recognized were Stan Hennessy (International President Teamsters Canada and President Teamsters Local 31), Gregory Floyd (IBT Trustee and President Teamsters Local 237), Roy Gillespie of Teamsters Local 600, James Curbeam (IBT), Larry Dupree (Local 79), Sequette Baldwin (Local 988) Joe Williams (Local 20), Mark Chapman (Local 20 and Gregory Foster (Local 705). In attendance were Teamsters Woody Wilson (Vice President Local 769), Ralph Stubbs (President Local 41), Teresa Smith and Ray Nixon (Local 41), Ben Hennessy Vice President Local 31), Duane Bryan Trustee Local 31), Anthony Kirk (Business Representative Local 31), Caley Fieldhouse (Business Representative Local 31), Pat Smith (Local 344) and Tim McCall (BMWED).
Teamsters Local 200 members attended the weekend events to include Tom Bennett (President Local 200), Tim Pinter (Vice President Local 200) Clayton Moesch (Trustee Local 200) and Darrick Jordan (Business Representative Local 200). Brother Jordan conducted a TNBC Central Region Meeting with Brothers and Sisters who were in attendance.
Not only does this event recognize the contributions Teamsters make to their Organization and Communities, this event recognizes leaders outside the Teamster Organization that provide dedication and commitment to those within their communities. Captain Timothy Heier, Detective Deneen McClintion, Lieutenant Charles Berard, Officer Gerald Winding and Valeria Zorich of the Milwaukee Police Department, Assistant Fire Chief Gerard Washington and Deputy Fire Chief Aaron Lipski of the Milwaukee Fire Department and Aretha Simons from Orlando, Florida were all honorees at this weekend's event.
Elder Ricky Price, a 38-year Teamster (recently retired) was also recognized by numerous elected leaders in the Community and from the State of Wisconsin for the commitment of his outreach. This powerful event and its growth is driven by Elder Price's vision and the work of those involved in this program. Teamster Locals from across North America provided additional support and offering to make this year's event a success. Teamsters Local 200, along with Teamster Local 237, Local 118, Local 174, Local 769, Local 31, Local 25 and Local 41 were recognized by Elder Price for their contributions.
Local 200 has offered our support for this event in 2019 and we look forward to the next "A weekend with the Teamsters".

CLICK HERE TO GO TO "2018 WEEKEND WITH THE TEAMSTERS" IN THE PHOTO GALLERY
On Saturday June 2nd, 90 plus Local 200 members from Ozinga Ready Mix supplied almost 7, 000 yards of concrete for the new BMO Tower across from the Milwaukee City Hall, starting just after midnight on Saturday. The pour was expected to last 25 hours, but was completed 6 hours ahead of schedule.
FOR YOUR INFORMATION
Local 200 Secretary Treasurer Tom Millonzi and Local 200 President Tom Bennett recently visited the Teamster International headquarters in Washington DC to meet and confer with IBT representatives Cindy Impala, director of Training and Development for the IBT, and Brian Tierney from the communications department.
"In an effort to bring continued education to the members of this local about right to work, President Tom Bennett and myself are reaching out to our International. Cindy and Brian were very knowledgeable and will be working with Local 200 in our effort," said Secretary Treasurer Millonzi.
Pictured are Secretary Treasurer Tom Millonzi and President Tom Bennett in the front lobby of the IBT headquarters in Washington DC
IMPORTANT UPDATES
SOLDON LAW FIRM, LLC.
ATTORNEYS AT LAW
Presents
Right To Work
Discussion
---
| | |
| --- | --- |
| What's New at Teamsters 200 | |
MAKE SURE WE HAVE YOUR
CURRENT E-MAIL ADDRESS
Make sure that you do not get missed when the Local sends important information to it's members and retirees.
Keep your information updated with the Local. If you have moved or changed addresses within the past 6 months, please contact the Local to request that your contact information be brought up-to-date.
You can message the office staff through the Local 200 website (go to the "Contact Us" page listed above), Facebook or call at 414-771-6363.
This request is for all members active and retired.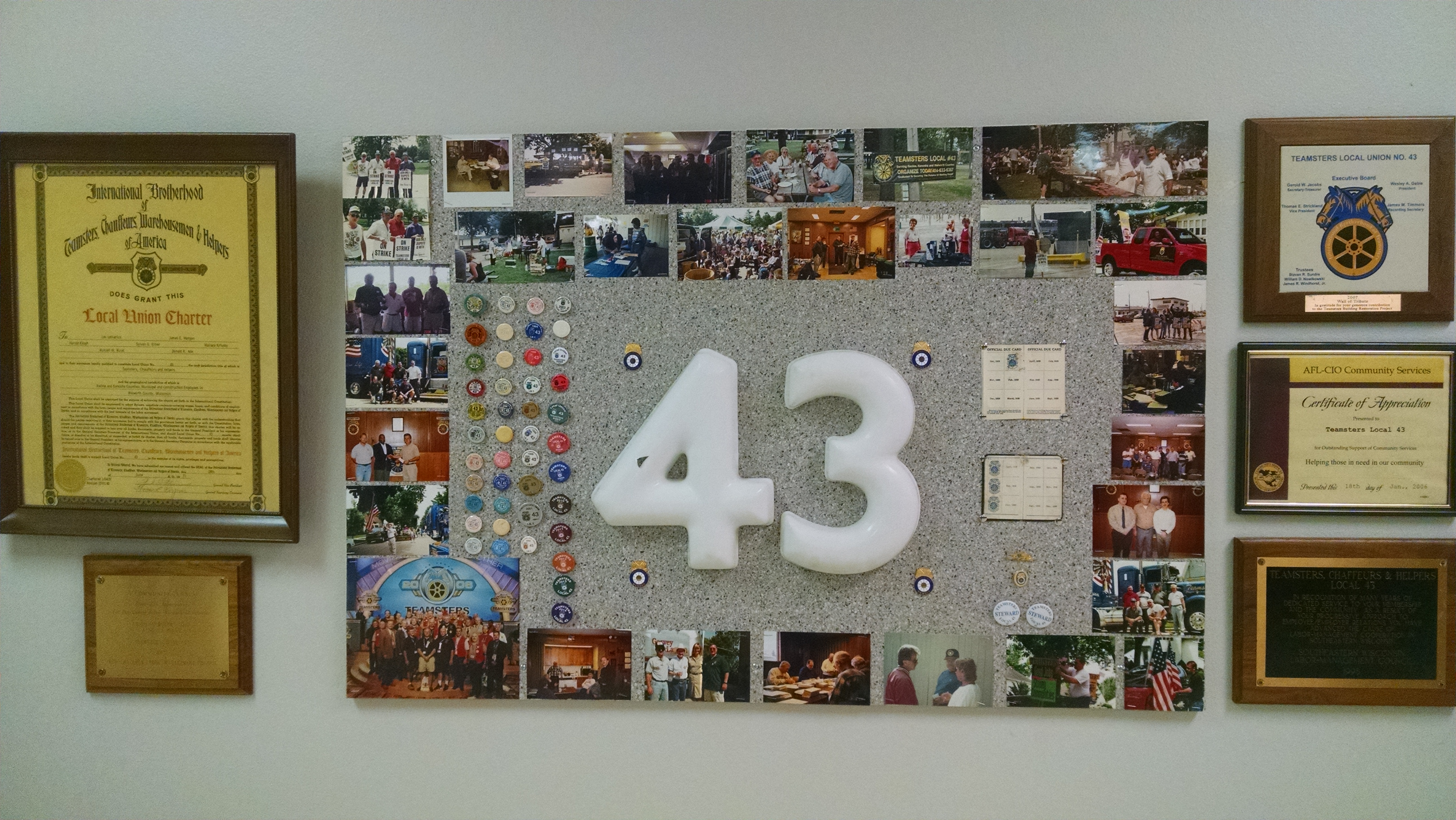 Teamsters Local 43 Remembered Post Merger
Dedicated to these members formerly from Local 43 is a shrine memorializing their Local in their Union hall in the Milwaukee location.
"Where we came from and how we got here helps move us forward," said Teamsters Local 200 Secretary Treasurer Tom Millonzi.
"We put together this shrine so when our new members from Racine and Kenosha come to their Union hall they will see and know that we remember. Remembering how we got here strengthens our solidarity," added Millonzi.