LATEST NEWS
Please save the date. This 3-day gathering of Brothers and Sisters from Local Union's across the country develops relationships that last forever. Awesome Family gathering!
Teamsters Local 200 encourages anyone that can attend or support this event to please do so. Willie Owens became a member of Teamsters Local 200 when the Nestle USA bargaining unit joined Local 200 almost a decade ago, but Willie's seniority date began in 1980.
Teamster Local 200 member Demetrian McClain prepared a public service announcement on the importance of Get out the Vote in the upcoming elections. Please take a moment and listen to the message and share with others. Thank you to Polictial Talk Radio 101.7FM in Milwaukee for the opportunity.
Mayor Tom Barrett provided the 2020 State of the City presentation, which included topics from healthcare, education and "good Union jobs". Mayor Barrett, a former Local 200 member, understands and promotes that a sound economic future depends upon "family supporting, union jobs with healthcare benefits" and he made that point perfectly clear when talking about creating job growth in the areas where available workers reside and available infrastructure is present for that opportunity.
The address by Mayor Barrett was very positive about Milwaukee and the future but had several underlining commentaries about key issues. One of these key issues commented on was directed at the nation's opioid crisis, directly framed to our backyard. The opioid crisis has created an everlasting impact on the Milwaukee community , as over the period of the last decade, opioid deaths "have climbed more than 250% in Milwaukee County". Our Teamster Healthcare Plans have excellent programs to tackle addictions, to include the opioid crisis.
Pictured from left to right is Business Agent Jared Wolski, Lube-Tech Member Alex Vickney and Local 200 President Tim Pinter. Alex is the Grandson of Teamsters Local 120 retired Business Agent Bob Vickney and comes from a strong Union family. Teamsters Local 200 is proud to welcome Alex to our great organization.
Hoffa: House Approval of PRO Act Will Benefit Hardworking Americans
Lawmakers Pass Bill That Will Improve Rights of Those on the Job
(WASHINGTON) – The following is a statement from Teamsters General President Jim Hoffa about legislation approved by the House today that would comprehensively update the National Labor Relations Act (NLRA) to benefit workers.
"In approving the Protecting the Right to Organize (PRO) Act, the House agreed to restore fairness to the economy at a time when income inequality has stifled the ability of far too many hardworking Americans to earn a decent wage that allows them to support their families.
"The PRO Act will strengthen the NLRA so that workers seeking to organize a union and negotiate higher wages and better benefits will be protected. Workers deserve a safe workplace, the ability to stand together and negotiate better working conditions, and to live a middle-class lifestyle.
"Lawmakers have realized what happens when workers are abandoned by their elected officials. The misclassification of workers is on the rise and too many working Americans are falling through the cracks. The Teamsters have witnessed such behavior firsthand as XPO workers across the country try to organize with this union. I'm glad to see a majority of the House are standing with workers by allowing them to join together to negotiate on the job."
Founded in 1903, the International Brotherhood of Teamsters represents 1.4 million hardworking men and women throughout the United States, Canada and Puerto Rico. Visit www.teamster.org for more information. Follow us on Twitter @Teamsters and "like" us on Facebook at www.facebook.com/teamsters.
The International Brotherhood of Teamsters Freight Division represents hard working Brothers and Sisters that include Local and Over the Road Drivers, Dockworkers, Mechanics and Office Personnel across America. Our Freight membership of Teamsters Local Union No. 200 are the cornerstone of the saying, "America moves by Truck".
Wisconsin Teamsters Joint Council No. 39 "James Jesinski Scholarship" application process is underway for those that are eligible and attend the UW-Madison Campus. The current copy of the Wisconsin Teamster Newspaper is being delivered to your home and additional information for this Scholarship is within this edition.
General Teamsters Local Union No.200 has endorsed the candidacy of Marina Dimitrijevic as the next Alderwoman for the 14th District of the City of Milwaukee.
Milwaukee is built by many neighboring communities and Marina has has demonstrated her commitment to serve the families of Milwaukee in an honorable fashion. Marina's voice and actions are straight forward, determined to reach results that create positive solutions.
Please visit Marina for Milwaukee at Facebook to learn more about Marina's campaign, important dates and events.
Senator Hansen retiring:
'It truly has been a privilege'
GREEN BAY, Wis. (WFRV) — Senator Dave Hansen (D-Green Bay) has announced he is retiring at the end of his current term.
"After much thought, reflection and discussion with my wife Jane and my family, I have decided not to seek re-election to the State Senate and retire at the conclusion of my current term."
Sen. Hansen has been in office since 2001.
"I have been blessed in so many ways: meeting Jane and her agreeing to marry me, the birth of our three daughters Kathy, Cari and Christy; the addition of our three sons-in-law who together with our daughters have further blessed Jane and me with eleven terrific grandkids and also being given the privilege to serve on the Brown County Board and in the Wisconsin State Senate."
"I am proud to have led a life of public service for more than forty years."
Sen. Hansen first served as a teacher and coach at Annunciation Catholic School in Green Bay. He was also a member of the Brown County Board.
Senate Democratic Leader Jennifer Shilling (D-La Crosse), in response to Sen. Hansen's announcement, released a statement, saying, "Dave has been a tireless voice for working families, students, and seniors not only in northeastern Wisconsin but all across the state. During his tenure in the legislature, he has been a passionate advocate for equal pay, affordable health care, and student loan debt relief. Dave is the true embodiment of our Democratic values and could always be relied on to deliver an enthusiastic and lively debate on the Senate floor."
Green Bay Mayor Eric Genrich says, "Senator Hansen is a great friend and mentor whose impact on my career can't be overstated. He has taught me so much about public service and political involvement, but, most importantly, he showed me that it is possible to lead a life of real decency in politics. He is a great Senator, but he is a better man. Personally, and on behalf of the City of Green Bay, I thank Senator Hansen for his decades of service and leadership, and I wish him and Jane all the very best in their well-earned retirement together."
"Being an elected official can be challenging and hectic at times and I know he is the strong leader he is today because of the love, support and guidance from his wife, Jane Hansen. A dedicated family man who is always eager to discuss UW-Green Bay's athletic programs as well as his beloved Green Bay Packers, Dave has served his community and state well and I wish him nothing but the best in his future endeavors."
He was elected to the Wisconsin State Senate in 2000 and has served in various leadership roles including Majority Leader, Assistant Majority Leader, Assistant Minority Leader and Joint Finance Vice Chair. During his time in the legislature he has had 51 bills signed into law. As a graduate from Green Bay West High School and UW-Green Bay, Sen. Hansen has been a dedicated public servant for his community. His previous roles include working as a teacher, truck driver for Green Bay Department of Public Works, Brown County Supervisor, and chair of the Brown County Human Services Board.
"I've always tried to do my best and I hope the people I have had the privilege to serve believe I have had their best interests at heart and that I have done well by them."
In December, Sen. Hansen turned 72.
"And as much as it has become a cliché in politics, I truly am retiring to spend more time with my family. I have no fears about my chances for reelection having survived an attempted recall in 2011 and winning handily in a district that Republicans told me they gerrymandered specifically to defeat me. I believe had I chosen to run again I would win."
Sen. Hansen says it is important to him to spend more time with Jane and his family "at this stage of our lives."
"I will miss the many friends I have made in the Legislature and state government just as I look forward to continuing the many friendships I have made back home as a state senator. It truly has been a privilege to represent what I consider to be the best place in the world, with the best people, to live and raise a family. It is an honor I will always carry with me."
The correct number for the Radisson Hotel in Green Bay is 920-494-7300 not the number containing 405. Please let your bowlers know the change and my apologies for the error.
The correct number for the Radisson Hotel in Green Bay is 920-494-7300 not the number containing 405. Please let your bowlers know the change and my apologies for the error.
On Saturday, December 14, 2019, General Teamsters Local Union No. 200 held the Annual Stewards Appreciation Event in Milwaukee, Wisconsin. The event was well attended and brought together the Union Stewards of Local 200 from around the State of Wisconsin. Several Union Stewards were recognized for their 5th year of continuous service as a Union Steward for their Brothers and Sisters in their Teamster workplace.
"On behalf of the Executive Board, we thank each Union Steward within Local 200. Our Union Stewards are the backbone of the Organization and with your dedication of representing the Membership, we stand united." From Secretary Treasurer Tom Bennett and President Tim Pinter, "We extend our appreciation to each Union Steward in their commitment of leadership and your efforts are forging a stronger Membership of Teamsters Local 200."
2020 JRHMSF Scholarship
Application Process Open
College and Trade/Vocational Financial Support for Sons, Daughters and Dependents of Teamsters
The application process is now open for the James R. Hoffa Memorial Scholarship Fund's 2020 college and vocational scholarship programs for the sons, daughters and financial dependents of Teamsters.
In 2019, $1.2 million was awarded in $10k and $1k academic scholarships for the children of Teamster members to attend four-year college and universities throughout North America. Additionally, many scholarships to support the costs of vocational/trade school programs were awarded.
Please visit the scholarship fund's website at www.jrhmsf.org in order to find out information on who is eligible to apply, how to apply and the deadline.
Today is National Voter Registration Day. Visit the below link to ensure you are registered or registration is needed.
Emily Krause, daughter of Local 200 Teamster Scott Krause, was recently selected as a $10,000.00 James R. Hoffa Memorial Scholarship Fund recipient. "On Wednesday, August 28, 2019, Local 200 Trustee Randy Francois and I met with Emily, Mr. and Mrs. Krause and they were so appreciative for this opportunity from the James R. Hoffa Memorial Scholarship Fund for Emily ," states Secretary Treasurer Tom Bennett. Emily has enrolled at the University of Wisconsin - Madison, with expectations of 8 years of further education. General Teamsters Local Union No. 200 congratulates Emily on her selection and award from the James R. Hoffa Scholarship Fund. Pictured are Mr. and Mrs. Krause, Emily and Local 200 Trustee Randy Francois.
.
IMPORTANT UPDATES
SOLDON LAW FIRM, LLC.
ATTORNEYS AT LAW
Presents
Right To Work
Discussion
---
| | |
| --- | --- |
| What's New at Teamsters 200 | |
MAKE SURE WE HAVE YOUR
CURRENT E-MAIL ADDRESS
Make sure that you do not get missed when the Local sends important information to it's members and retirees.
Keep your information updated with the Local. If you have moved or changed addresses within the past 6 months, please contact the Local to request that your contact information be brought up-to-date.
You can message the office staff through the Local 200 website (go to the "Contact Us" page listed above), Facebook or call at 414-771-6363.
This request is for all members active and retired.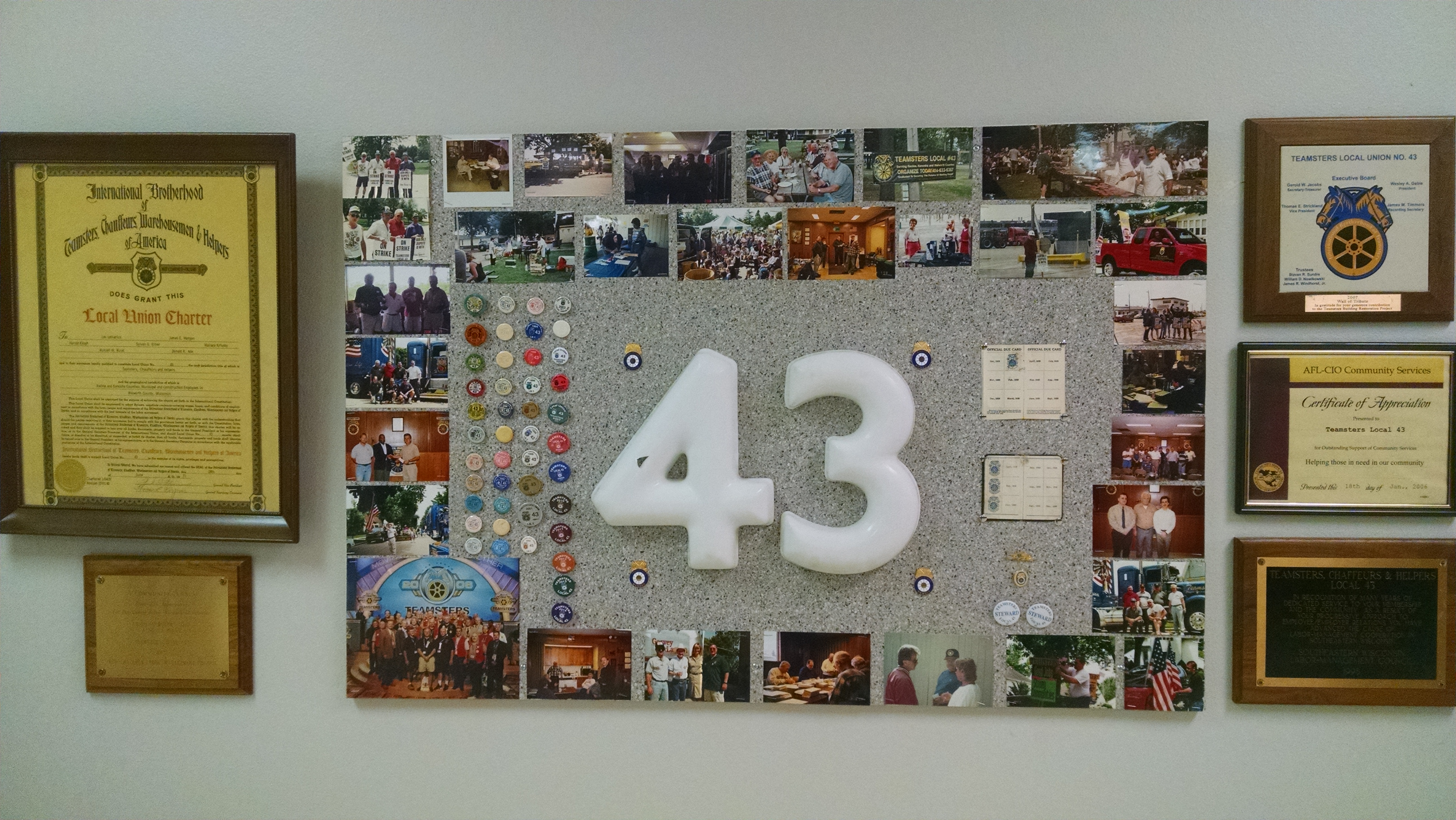 Teamsters Local 43 Remembered Post Merger
Dedicated to these members formerly from Local 43 is a shrine memorializing their Local in their Union hall in the Milwaukee location.
"Where we came from and how we got here helps move us forward," said Teamsters Local 200 Secretary Treasurer Tom Millonzi.
"We put together this shrine so when our new members from Racine and Kenosha come to their Union hall they will see and know that we remember. Remembering how we got here strengthens our solidarity," added Millonzi.