LATEST NEWS
Attention to Local 200
Brothers and Sisters of Racine
Tuesday, October 17, 2017 is a Special Election date for Mayor of Racine. Teamsters LU200 endorsed Cory Mason early in this race and has worked along side him on his campaign.
To our Local 43 and 200 Retirees, to our Active Local 200 Members that make Racine home, get to your voting location and cast your vote for Cory Mason.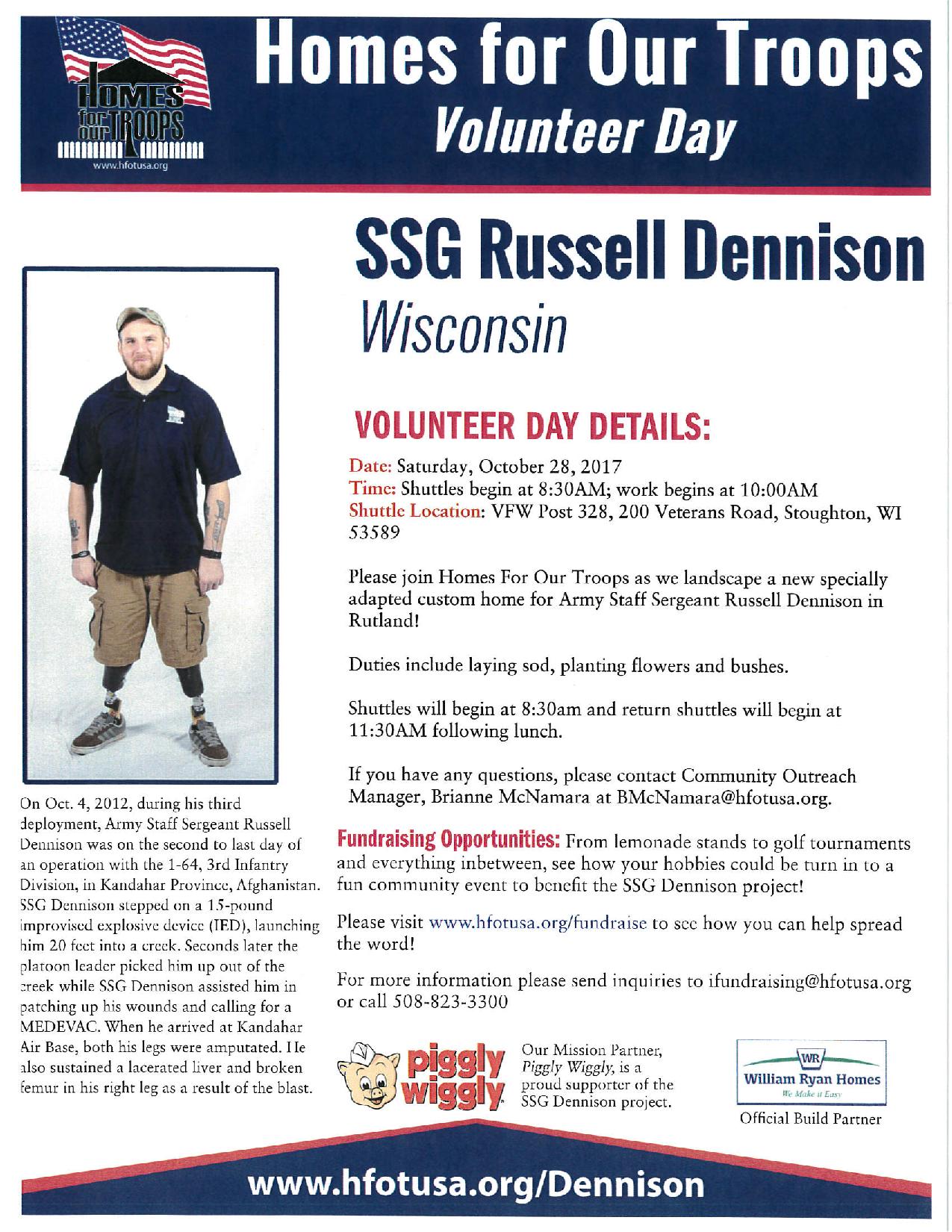 If you can volunteer some time for this event, please do so. Our Veterans should never be overlooked, as they gave all for our freedom.
RANDY BRYCE VISITS LOCAL 200
Randy is running against Paul Ryan in the 1st Congressional District.
Randy Bryce's bid to unseat Speaker Paul Ryan will need money and boots on the ground to get his message out.
Pictured with Randy are Local 200 Secretary Treasurer Tom Millonzi and Local 200 President Tom Bennett (at the podium) welcoming Randy to our Union hall at this past Tuesday General membership meeting.
"Randy is the real deal," Tom Bennett told the members in attendance. "Randy is for the working families of Wisconsin and will fight for their issues in Washington," added Tom.
Randy is a veteran of the US Army and longtime member of the Iron Workers Union.
If you are in the 1st Congressional district please consider helping Randy in his bid for Congress as well as voting for him on election day.
For more information on how to help Randy visit www.randybryceforcongress.com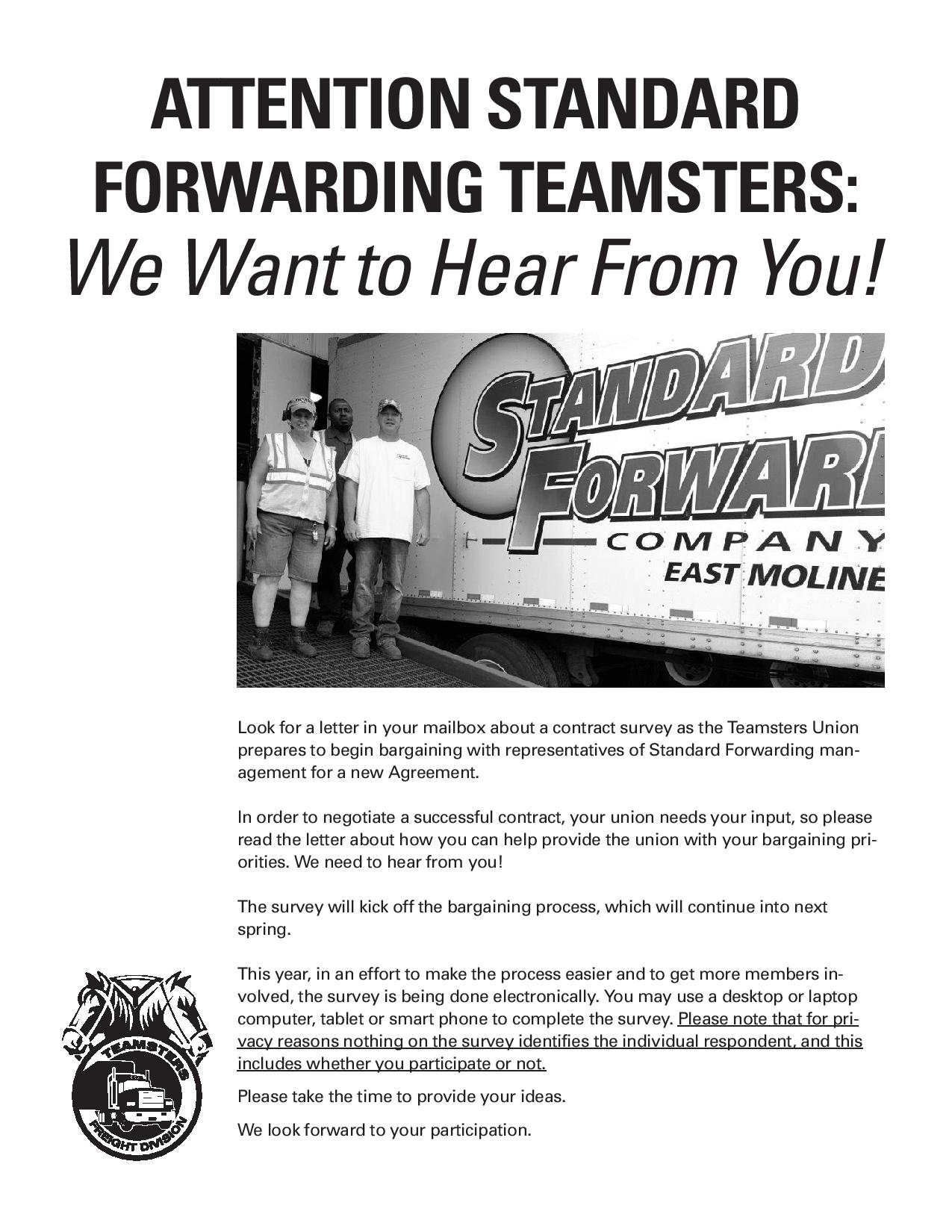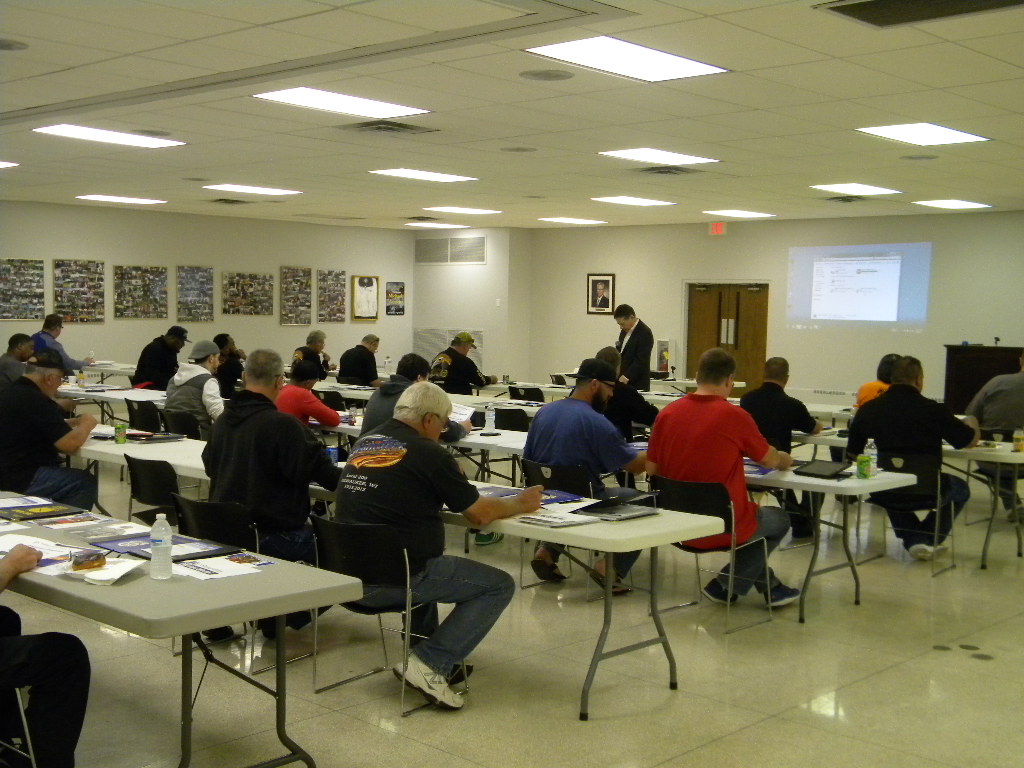 STEWARDS TRAINING 2017
On Saturday, September 9, 2017 the Local Union held a Stewards Training workshop that included presentations from Karen Jones and Kevin Curry of the International Brother of Teamsters, Scott Soldon of The Soldon Law Firm, LaRhonda Paez of the Local Union Staff, along with Secretary Treasurer Tom Millonzi and President Tom Bennett.
Karen Jones of the IBT is the Historian for the International and her hour and one-half presentation about our existence of the Brotherhood was absolutely empowering. Our rich history demonstrated the involvement of our Organization in America's growth at the workplace and within our working families. Brother Curry of the IBT D.R.I.V.E Department discussed our Unity and Strength as members and as an organization. We appreciate the partnership with the International to have these Representatives come to Milwaukee and spend time with our Stewards.
Secretary Treasurer Tom Millonzi discussed with the Stewards the business side of the Local Union with LaRhonda Paez, our Local Union TITAN Operator. ST Millonzi shared with the stewards the importance of communication on a regular basis with our Office Staff on matters that shall assist each member, each steward and the Local Union. President Tom Bennett discussed the importance of our current Teamsters being the educators and mentors for the new generation entering the workplace. President Bennett displayed a new communication offering for the new hires that will be utilized by the Stewards when a new member begins his career as a Teamster.
Thank you to everyone that attended.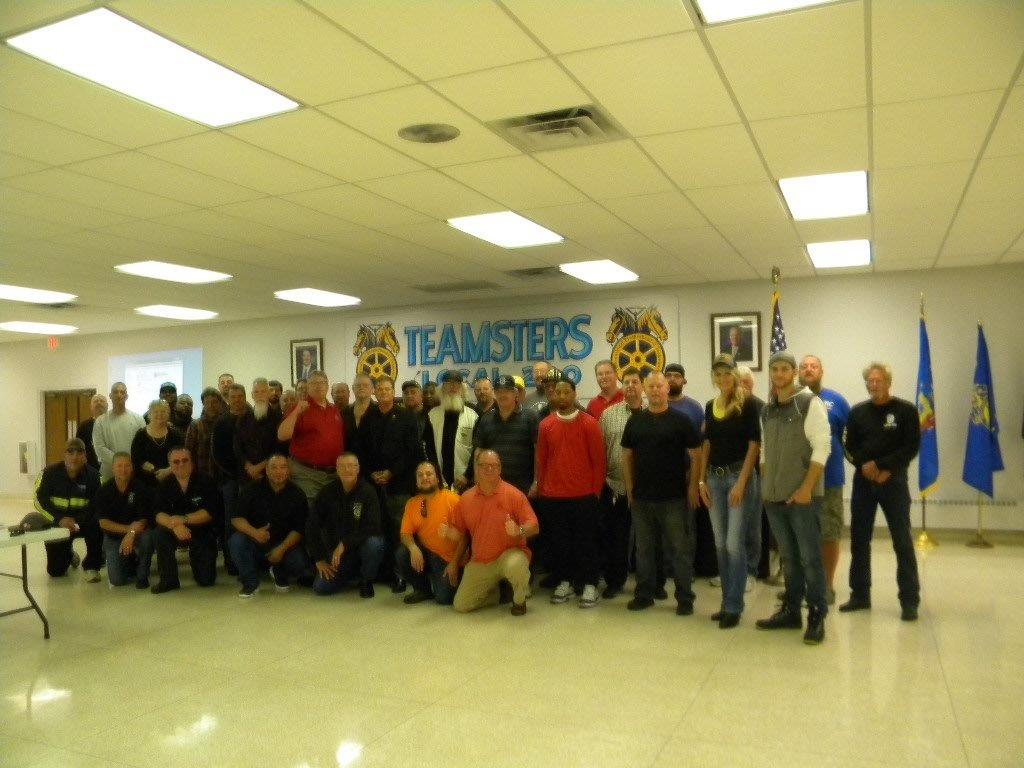 General Teamsters Local Union No.200 participated in the 2017 World's Largest Truck Convoy with the Wisconsin Teamsters Joint Council 39 Tractor Trailer. This is our 3rd year involved in this event that supports a great group of athletes and their organization of the Special Olympics. The event this year on a beautiful early fall day was the largest truck count ever that staged at the Pioneer Plaza Truck Stop in Richfield, Wisconsin and made its way to Oshkosh, Wisconsin. It appears also, that a record amount of donations was raised this year.
We would like to thank Teamster Brother Greg Kender, a 33-year member of the Local, from USF Holland for his service at this event to be our driver and representative for Local 200. (Greg is picture along with our YRC Brothers from Teamsters Local 662)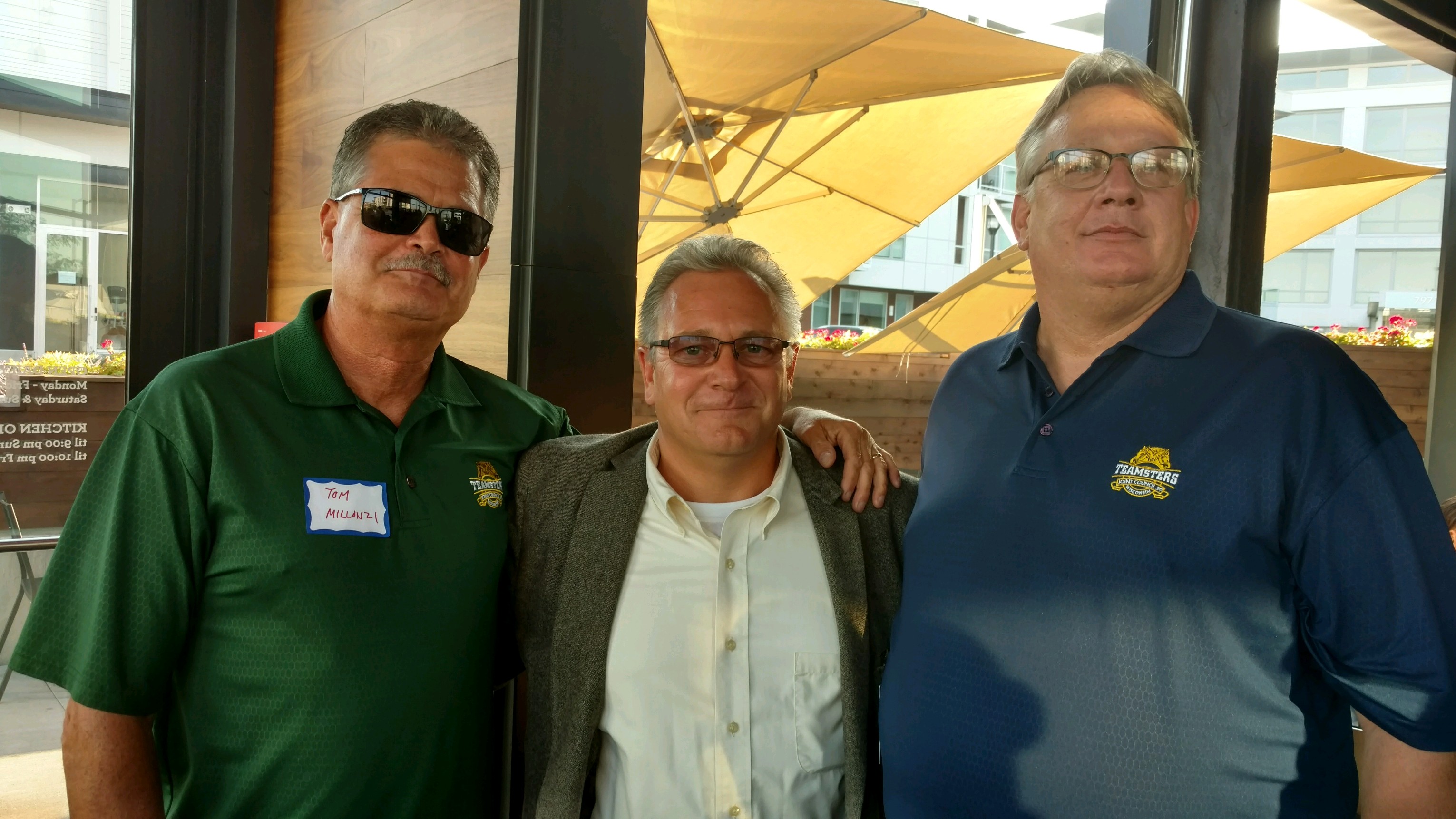 Secretary Treasurer Tom Millonzi and President Tom Bennett "standing with" Oak Creek Mayor Dan Bukiewicz in his bid for election as mayor.
"Teamsters Local 200 is supporting Dan for Mayor of Oak Creek," said President Tom Bennett.
"Dan knows worker issues as well as his constituents issues and will work hard for the citizens of Oak Creek."
IMPORTANT UPDATE FOR
ABF BROTHERS AND SISTERS
General Teamsters Local Union No. 200 would like to take this opportunity to express our appreciation to the Milwaukee Building & Construction Trades Council for recognizing Mike Gurich at this year's Labor Ride. Mike Gurich, a Business Agent at LU200 attempted to complete this ride last year, but his illness prevented him finishing what he had started.
Mike Gurich passed away late last year leaving a void. The Labor Ride was an event Mike enjoyed tremendously.
A number of Local 200 Retires and Active members particapated in this year's event, along with Mike's daughter Karen.
This Ride was important to Mike in many different ways, as he understood the message of Unity when the Organized Construction Tradesman gathered at this event.
URGENT CALL TO ALL TEAMSTERS
In the time of crisis, our collective effort should be focused on those who are in need. Hurricane Harvey has brought adverse conditions to many communities that have never faced a crisis of this level. The monetary loss will grow as time continues. For many, the personal loss will never be replaced.
HOW CAN WE BE UNITED TO ASSIST?
Donations can be made to those Brothers and Sisters of the Gulf Coast by taking action through the Teamsters Disaster Relief Fund. Your contribution to assist those that have been devastated by Hurricane Harvey can be an opportunity to bring hope to those that are in need.
TO BRING HOPE, WHERE DO I GO?
Please visit http://www.teamster.org or make a donation at the Teamsters Disaster Relief Fund at http://ibt.io/disaster-relief
In solidarity,
General Teamsters Local Union No. 200 Executive Board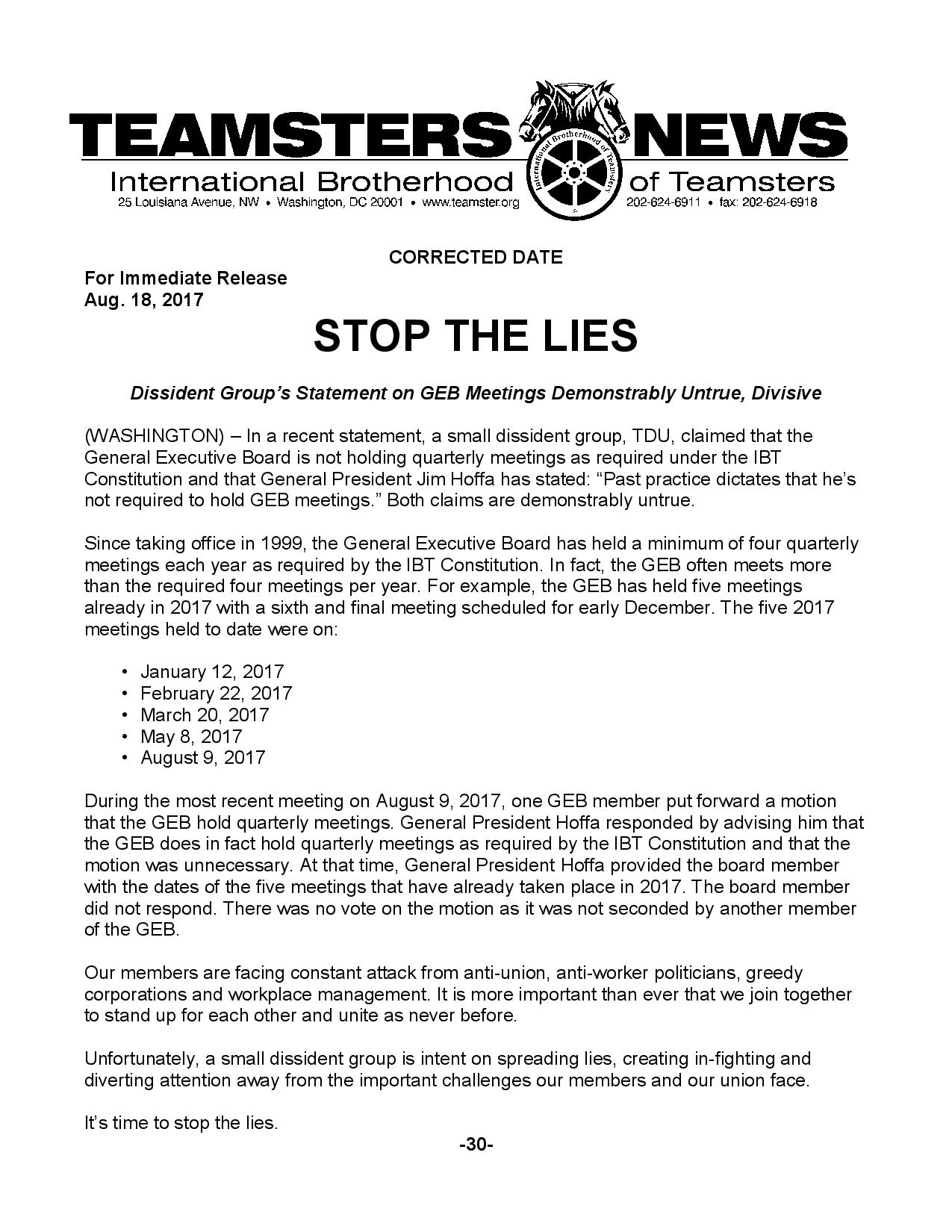 Teamsters Local 200 on WRRD 1510 AM Radio
To view the live on-air in studio conversation with Secretary Treasurer Tom Millonzi and President Tom Bennett from Local 200 and Crute and Dom from WRRD forward the stream to the 26-minute mark.
Topics of discussion in this segment with Tom and Tom was prevailing wage, Union organizing, and the proposed Foxcomm facility.
Wisconsin Teamsters Attend Badger State Truck Show
The Badger State Truck Show was recently held at the Dodge County Fairgrounds in Beaver Dam, Wisconsin.
Teamsters Local 200 member Scott Gouthro (pictured) drove the Teamsters Joint Council 39 Tractor Trailer to and from the event.
Local 200 President Tom Bennett was also in attendance.
"Thanks to Scott from Wisconsin State Joint Council 39 and Local 200 for his participation at this event representing Teamsters from all over Wisconsin," said Local 200 Secretary Treasurer Tom Millonzi.
Scott is a long time L200 member and presently a P&D driver for Standard Forwarding.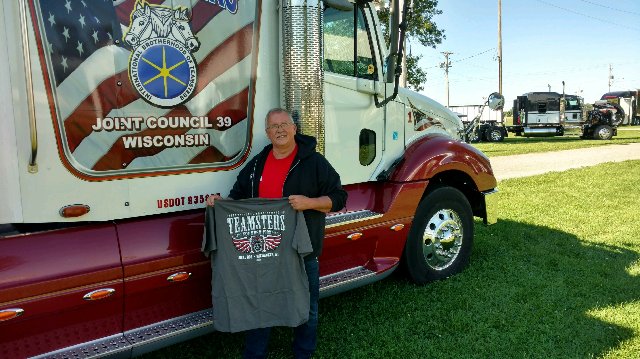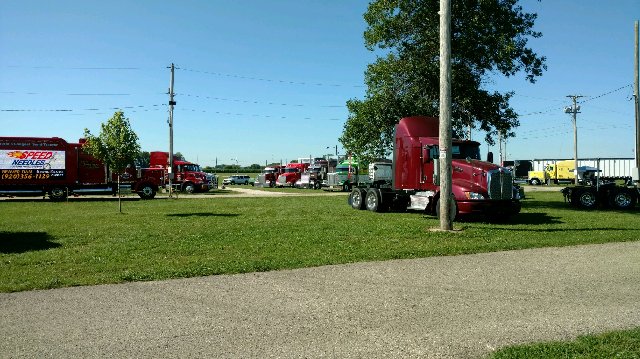 The son of Joe DeStafano, Ryan, placed his Late Model in the top ten at the Slinger Nationals this past Tuesday night. The Slinger Nationals is the most prestigious ashaplt short track event in this country. Joe DeStafano is a Local 200 Teamster at Holland in Milwaukee, WI. Congrats to Joe, Ryan and the race team of Joe Cool Racing.
The community of Burlington, WI encountered heavy flooding recently which impacted many families in a very negative fashion. Our Brothers and Sisters working at the Nestles location in Burlington we're displaced from work, along with members and there families displaced from their flooded homes.
Under the direction of Secretary Treasurer Tom Millonzi, the Executive Board of Local 200 worked with a community organization of Love Inc. to deliver a truckload of needed bottle water to those in need of supplies.
The Local would like to thank the Membership for their involvement in assisting with this cause. A special thanks to those members at Roundy's, especially Union Steward Mark Hanley, that made sure a crucial delivery of the needed supplies were prepared and then loaded at 4:30am on Monday.
Secretary Treasurer Tom Millonzi, President Tom Bennett and Vice President Tim Pinter provided their services for this donation to the families within the Burlington community.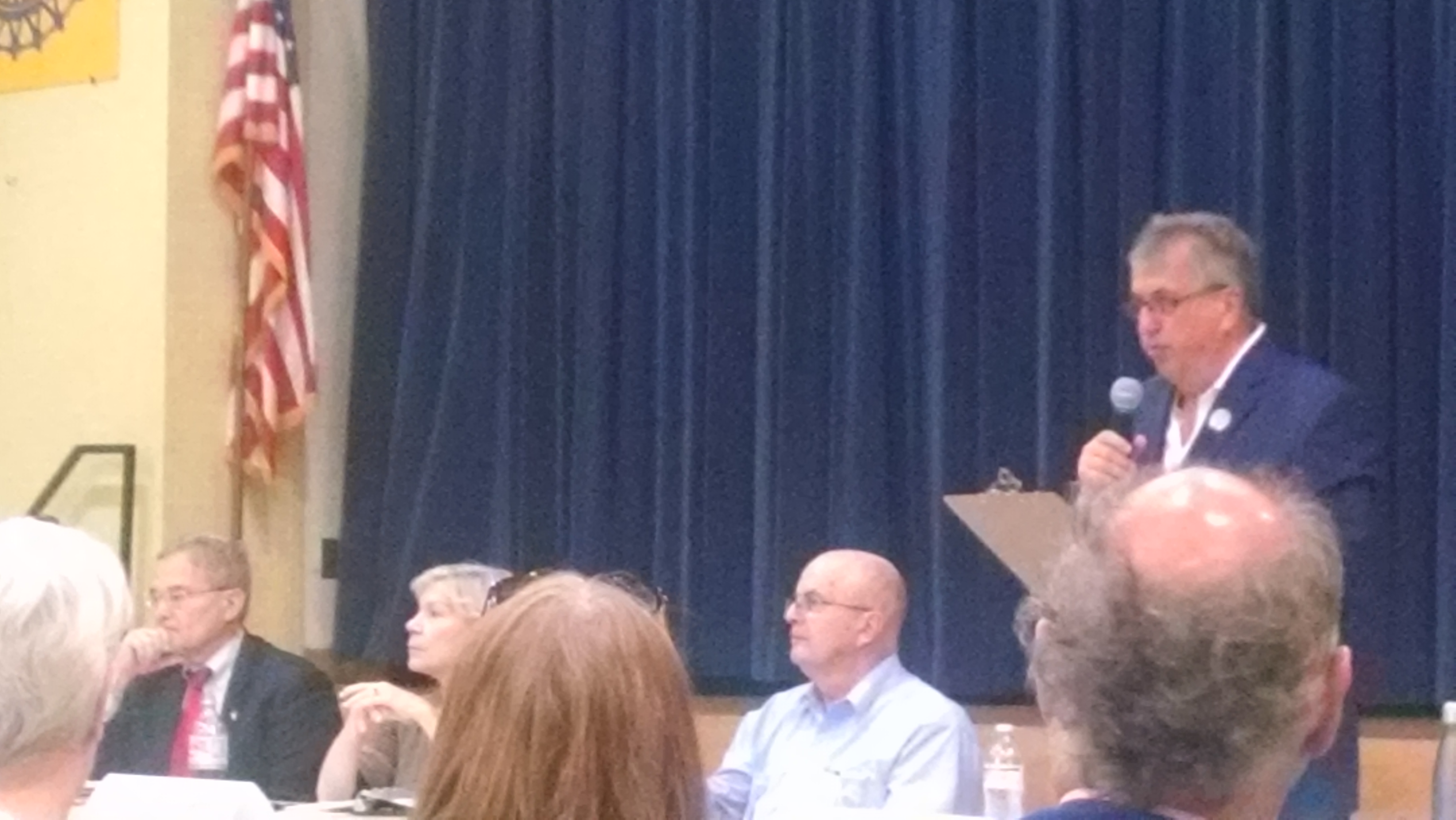 On Monday, June 5, 2017, Representative Tod Ohnstad (65th Assembly District) hosted a Town Hall Meeting/Legislative Listening Session at the UAW Local 72 Union Hall in Kenosha. The event, well attended by members of the local communities of Southeastern Wisconsin, voiced their concerns on a number of various topics related to the pending AHCA legislation and budget concerns for Wisconsinites. A panel composed of legislative colleagues of Representative Ohnstad were Representatives David Crowley ( 17th Assembly Milwaukee), Debra Kolste (44th Assembly Janesville), Lisa Subeck (78th Assembly Madison), Chris Taylor (76thAssembly Madison), Janet Bewley (74th Assembly Superior), Peter Barca (64th Assembly Kenosha), Daniel Riemer 7th Assembly Milwaukee), Jimmy Anderson (67th assembly Fitchburg) and State Senators Bob Wirch (22ndDistrict ) and Mark Miller (16th District), listened intensely, asked key questions, took notes and added additional comment to address those in attendance.
With the uncertainty of the current status of a sound Healthcare Plan for all Americans, these type of events are very important to be part of and voice your opinions and concerns. The families of our communities deserve affordable and accessible healthcare. General Teamsters Local Union No. 200 understands the importance of affordable healthcare for our working families. Our Taft Hartley Healthcare Plans are subject to uncertainty of the AHCA, as placing tens of millions of individuals without affordable or accessible healthcare can impact the costs for each user.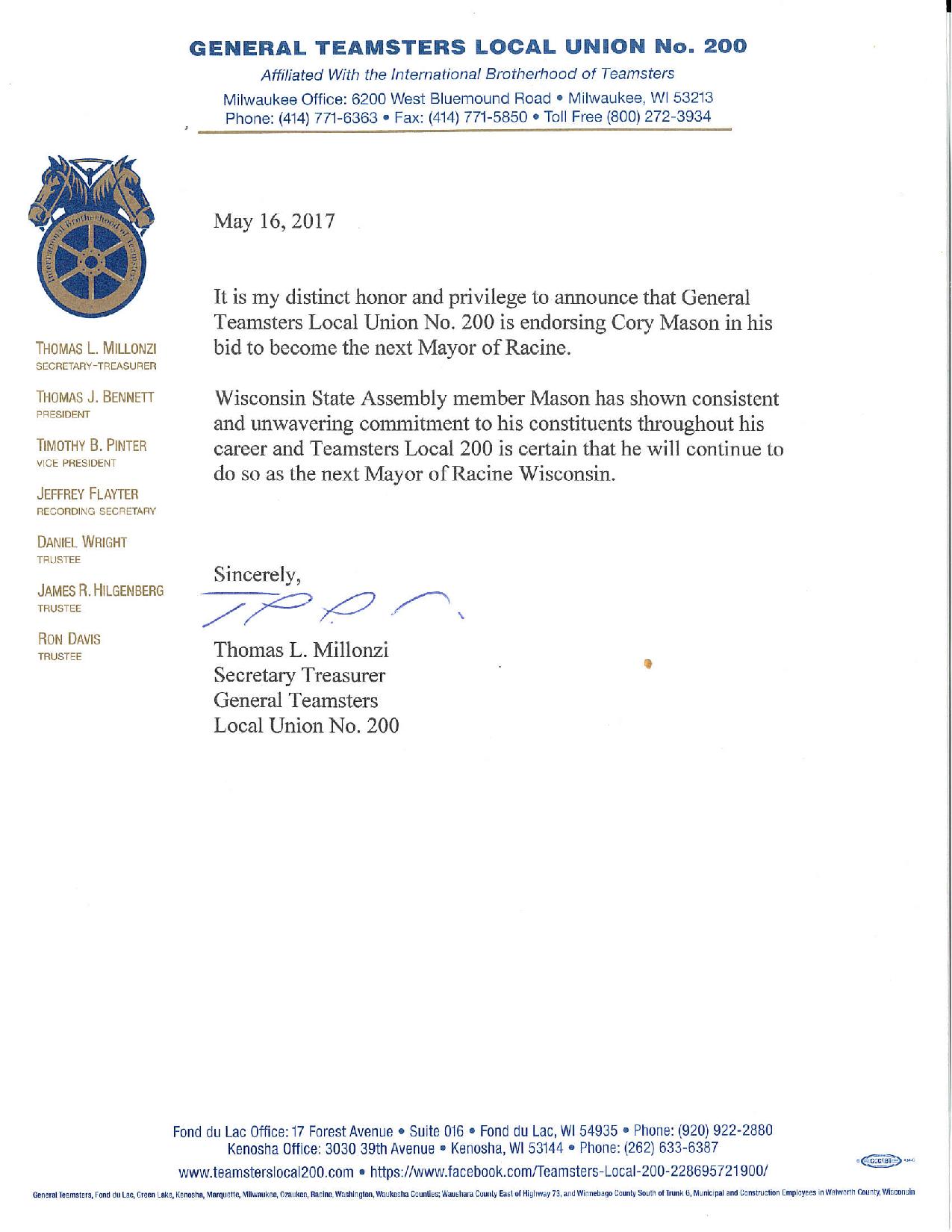 Teamsters Local 200 Secretary Treasurer Tom Millonzi and Local 200 President Tom Bennett join the new 1510 AM Devil's Advocate radio program to bring the voice of the Teamsters Union to the airways.
"Local 200 and Local 344 have teamed up to bring the Teamster message to the airways" said Tom Millonzi.
You can listen to the podcast of Tom and Tom by clicking on the link below.
The Devil's Advocate program airs from 3PM to 6PM Monday thru Friday.
Commercials featuring Teamsters Locals 200 and 344 air throughout the day.
Teamsters Local 200 is proud to support the race program of Luke " The Duke" Westenberg for the 2017 race season at the Jefferson Speedway near Cambridge, Wisconsin. Luke, the son of recently retired Local 200 member John Kinjerski, opened the 2017 season on a high note with winning his heat race and placing 7th in the Feature race.
This summer,every Saturday night, the number 16 Late Model will be in the hunt for a winning night at the Jefferson Speedway. John, Luke and the whole race team would like for everyone to come out to cheer them on. The pits are open after the races and stop by and say "hi" to the team.
Secretary Treasurer Tom Millonzi welcomes Local 200 member Jesse Combs on as a newly elected Union Steward for the Brothers and Sisters at Roundy's Supermarkets Inc. Brother Combs was presented his first Local 200 Stewards Pin at the April 2017 General Meeting and was whole heartily welcomed aboard by those in attendance.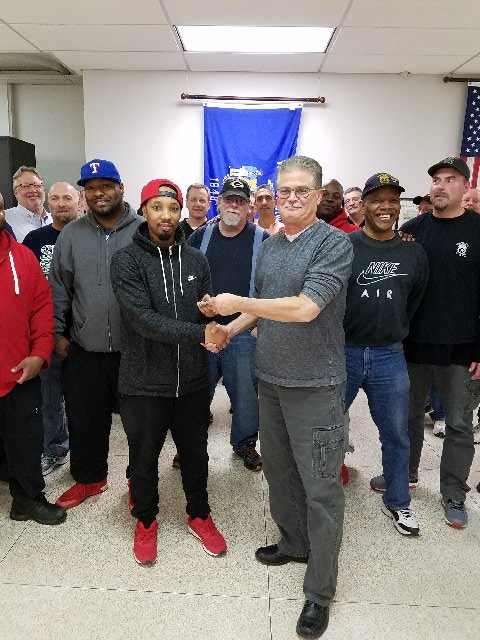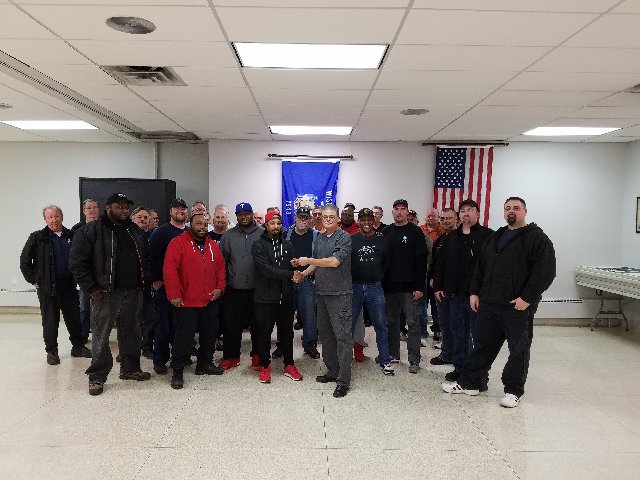 Our own Local 200 Brother Doug Bolander is showcased in a commercial for Ozinga. Please click the Career Opportunities below and view the video.
Local 200 Teamster Mark Ruid, driver at Price Erecting makes a delivery to the Bucks arena construction in downtown Milwaukee on Wednesday,March 1,2017.
LAKE TWP. FAMILY PLEDGES
$1 MILLION FOR TREATMENT CENTER
During the IBT Convention in late June of 2016, many topics were addressed form the podium, but one stood out more than any other. The story of a Teamster family, the Bornstein's, and their son's death impacted the attendees of the Convention in such a fashion, that Teamsters Locals, Joint Councils, Teamster Retiree Groups and individual Teamsters stood from the Convention Floor and pledged over $1 million dollars collectively to band together on a cause facing everyday families, including Teamster families.
Wisconsin Teamsters JC39 and each Local of the State of Wisconsin pledged donations, as long with the Wisconsin Committee to protect Pensions, donated to this cause to help those in need. Please take a moment to read the article attached
CLICK HERE FOR ENTIRE ARTICLE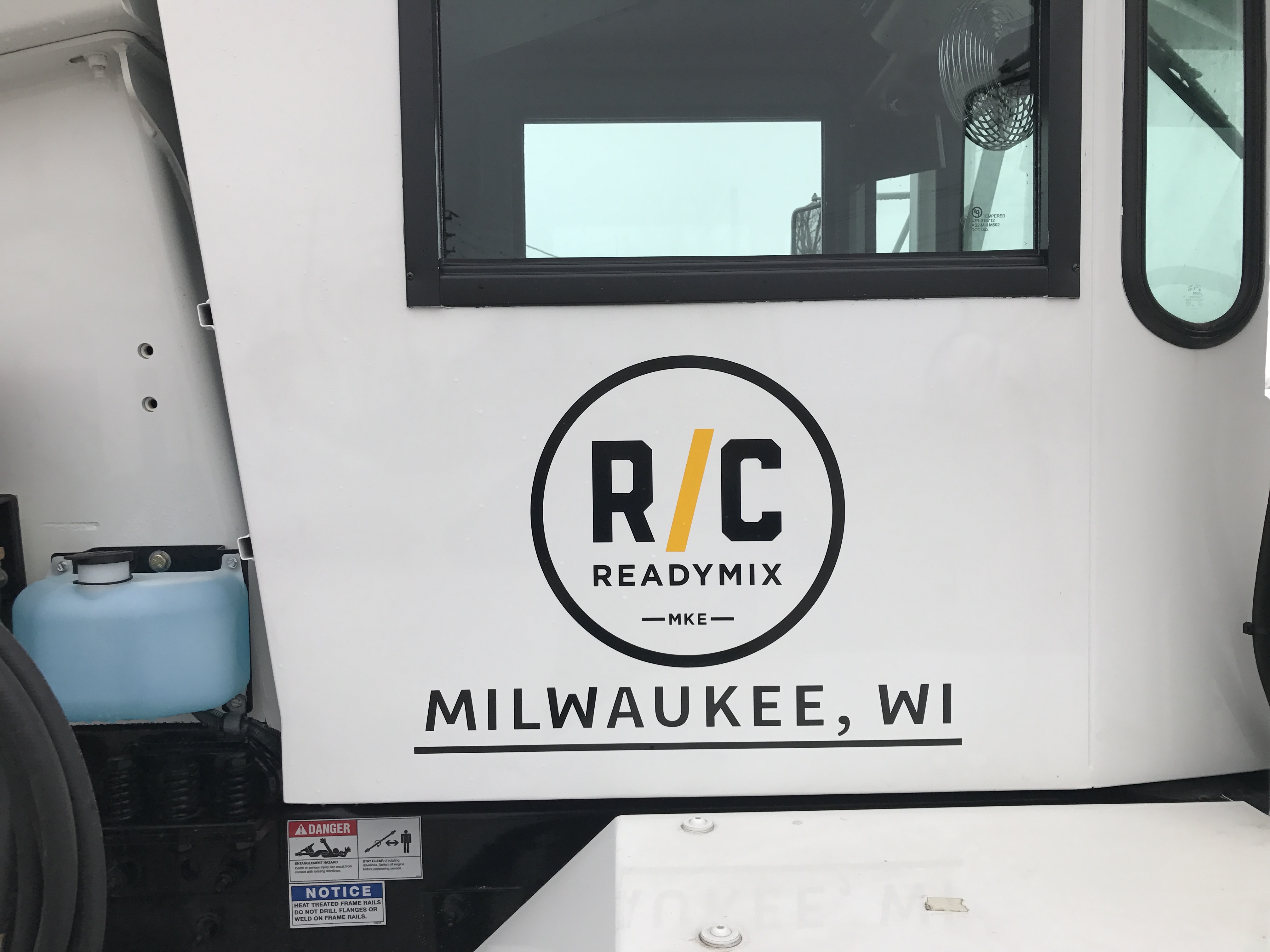 Teamsters Local 200 Welcomes Another Union Ready Mix Supplier to the Milwaukee Construction Market
On Monday January 23rd ,Teamsters Local 200 welcomes another Union ready mix supplier to the Milwaukee construction market. Their name is RivCrete Ready Mix and they will employ (31) Teamster Local 200 members from the start of operations. Their ready mix plant is located at 2751 South Chase Avenue in Milwaukee. The owners of RivCrete Ready Mix and their employees bring many years of construction experience to this new company and the Milwaukee market. Teamsters Local 200 looks forward to a long relationship with this new partnership with RivCrete Ready Mix and their employees.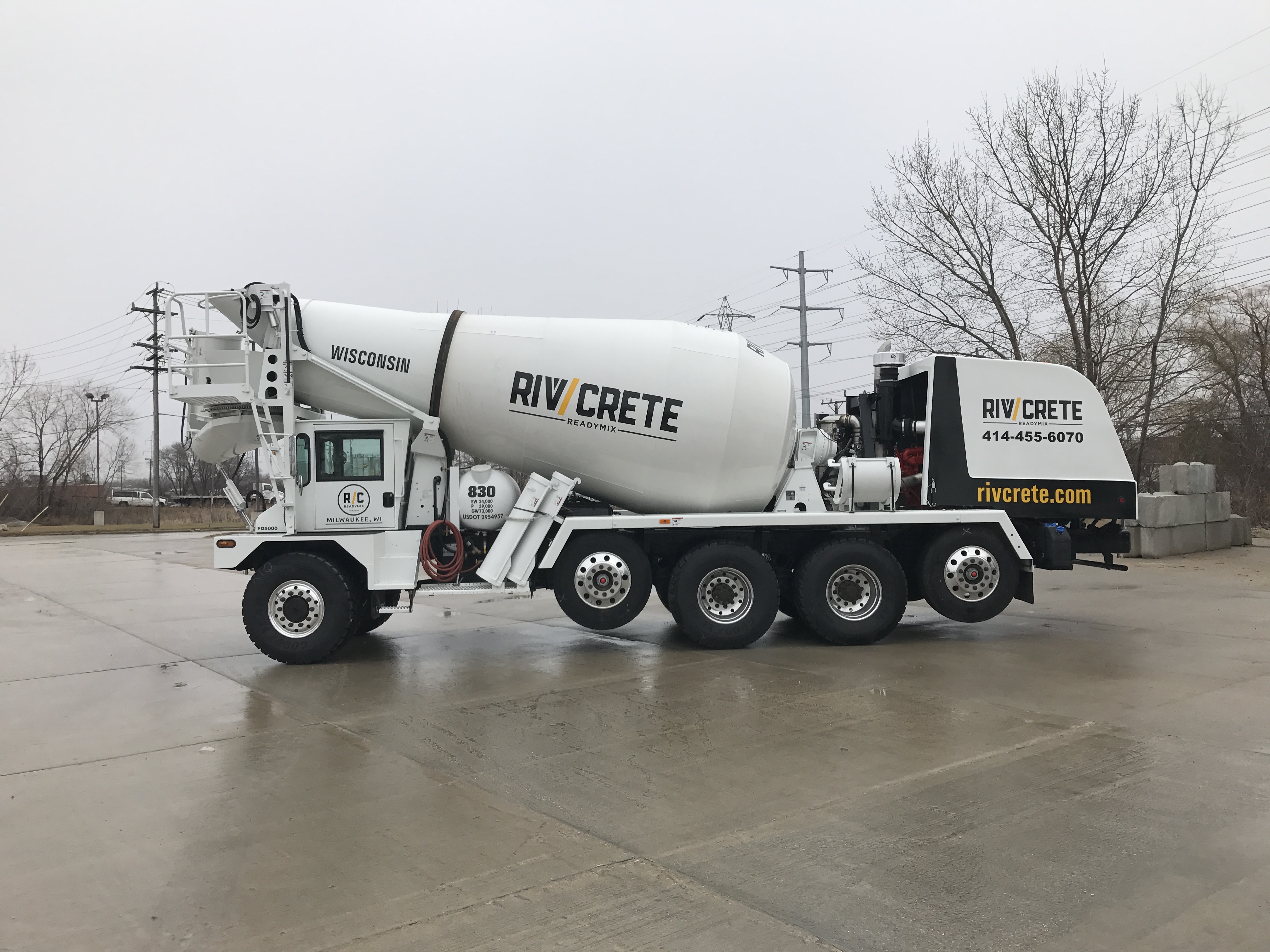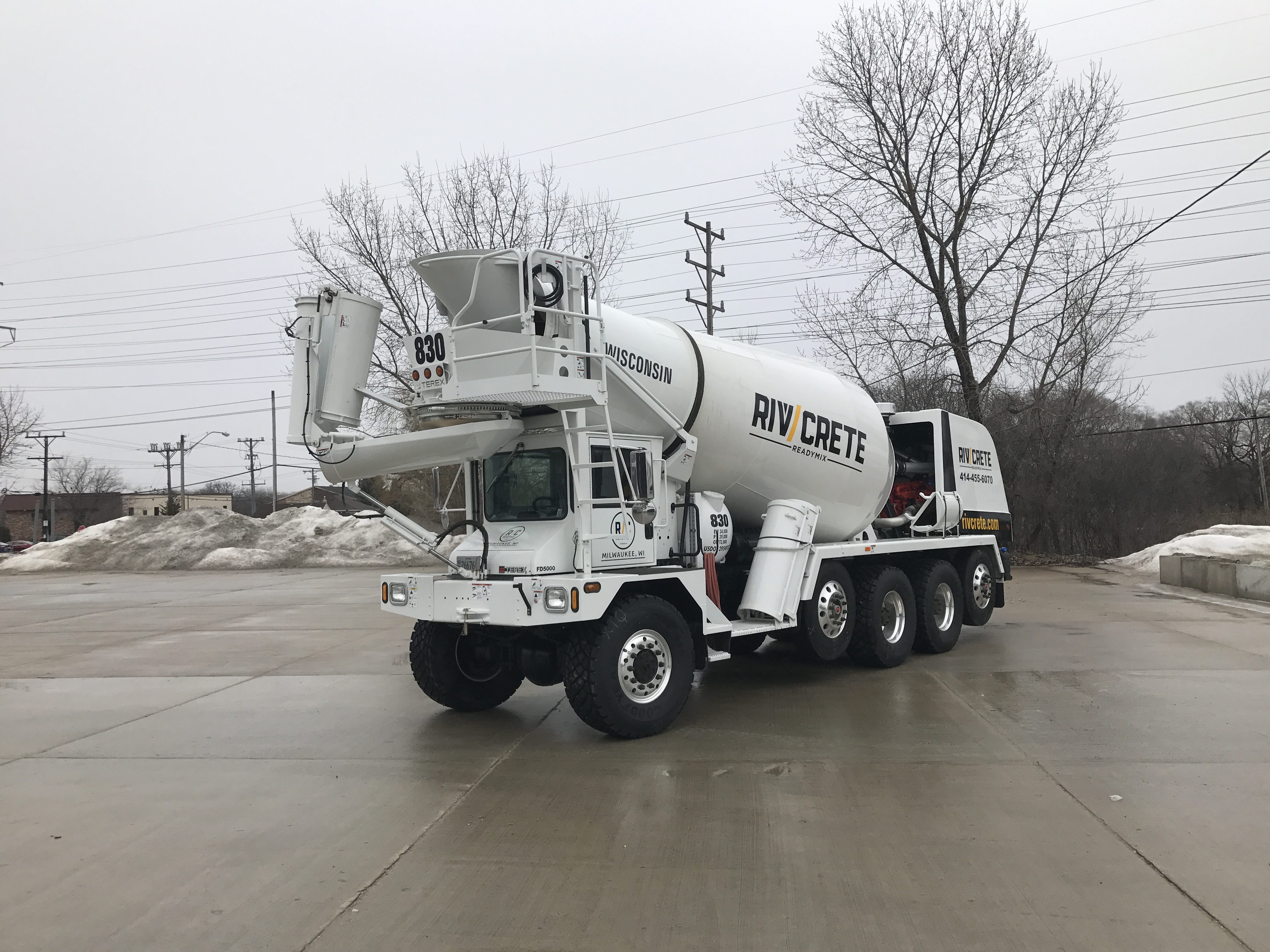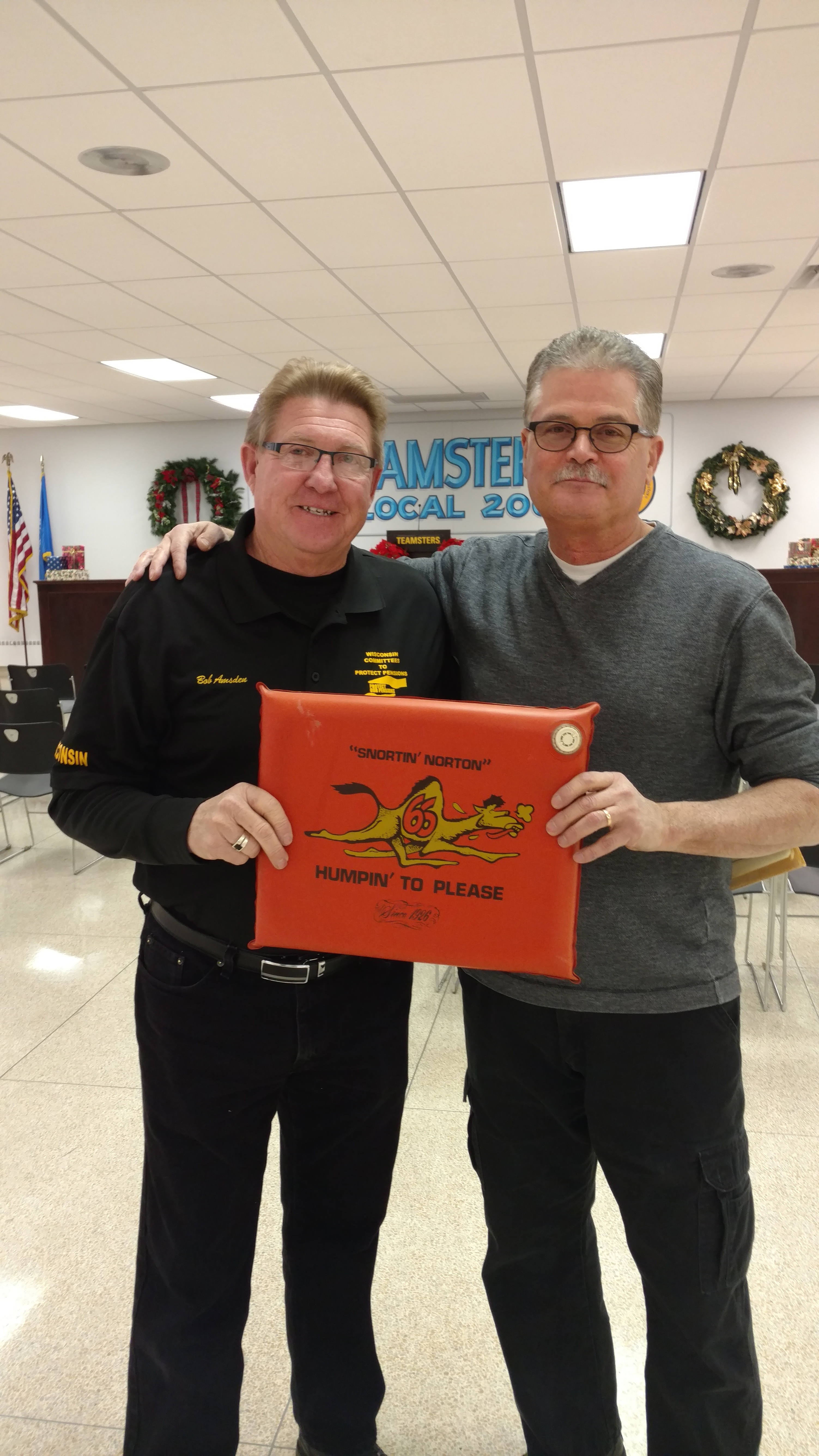 Retiree Bob Amsden of General Teamsters Local 200 presents Secretary Treasurer Tom Millonzi a historical item of transportation memorabilia that will be proudly displayed at the Local Union. Brother Amsden, who has been very committed through his efforts for the active and retired Teamster Brothers and Sisters related to protecting of Pension Benefits, is a 2nd generation Teamster within the Freight Industry.
The Local thanks Bob for the donation and for his continuing efforts with the Pension Committees
Attention sons and daughters of Teamsters (including the GCC, BMWED and BLET), the 2017 year applications for scholarships from the James R. Hoffa Memorial Scholarship Fund are now available. Please click here:
www.jrhmsf.org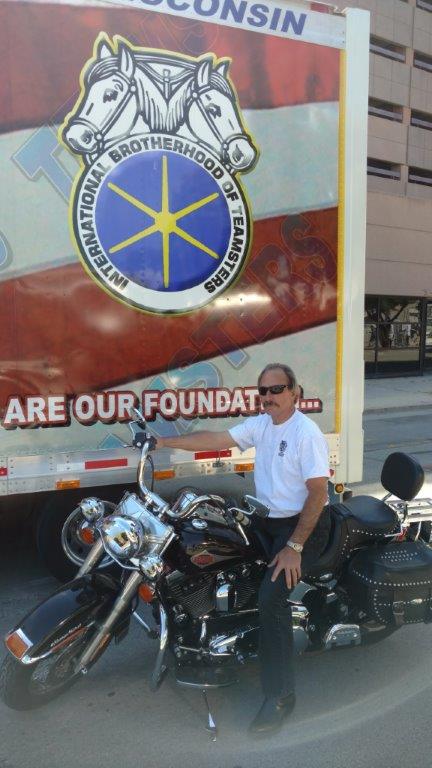 Teamsters in Mourning
"To all, it is with the heaviest of heart that I convey that Teamsters Local 200 Business Agent Mike Gurich has passed," said
Local 200 Secretary Treasurer Tom Millonzi.

Mike was with the Local as an agent representing Teamsters for over 10 years. Before that as a Steward at Central Redi-Mix.
He was a Teamster for over 32 years.
" Mike as well represented all Wisconsin Teamsters as the Construction Director for the State Teamsters Joint Council 39, along with his position at Local 200," added Millonzi.
"Mike was not only a colleague of everyone at the local but a very dear friend that we will all deeply miss. Please keep his family in your prayers.

As details become available they will be forwarded
MILWAUKEE BUILDING TRADES COUNCIL HONORS MIKE GURICH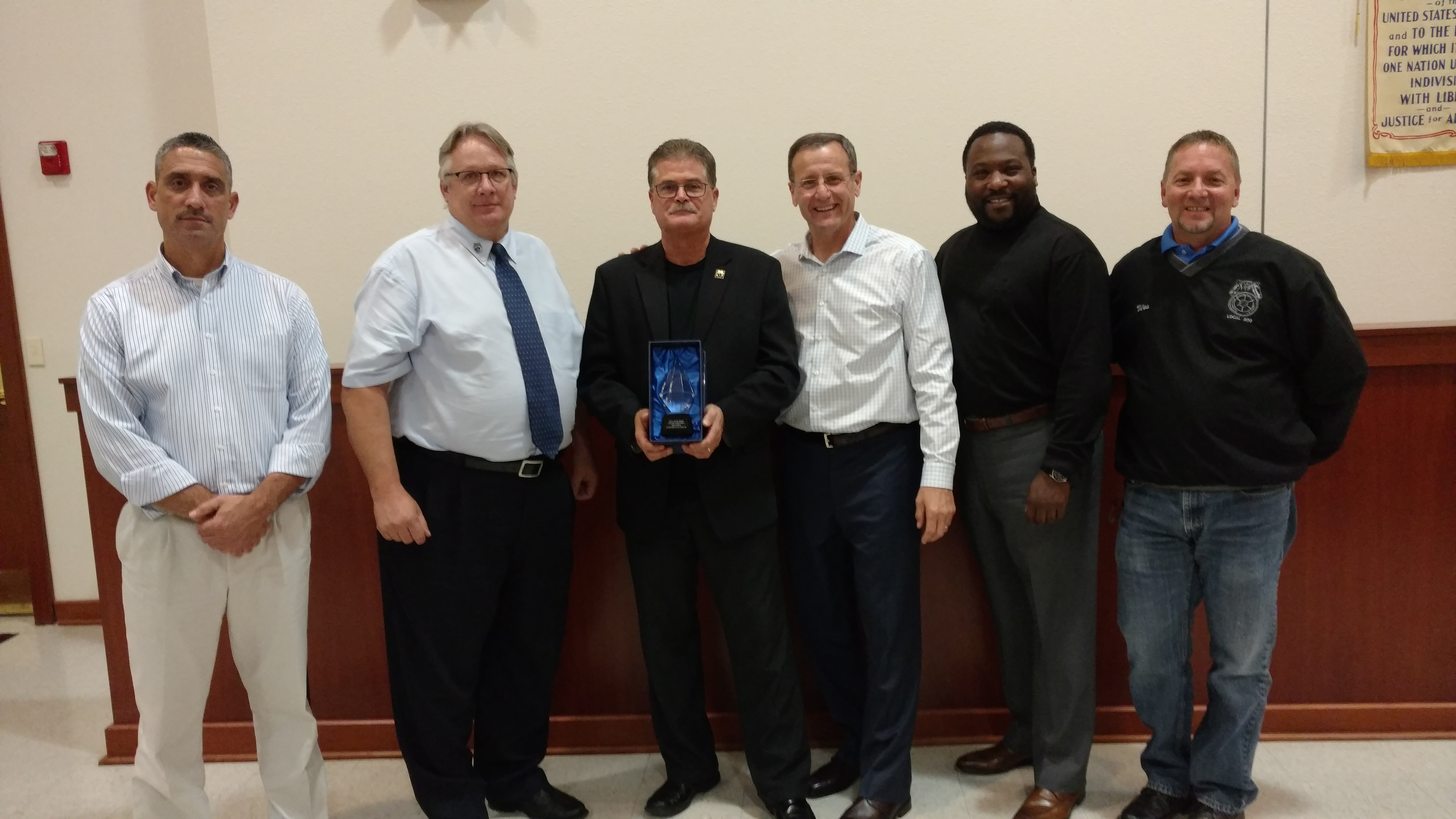 Thursday night at the Carpenters Union hall
the third annual
Lyle Balistreri Outstanding Recognition (L.A.B.O.R.) Awards event was held.
At the ceremony our own Local 200 Business Representative Mike Gurich
was honored with one of the
L.A.B.O.R. Lifetime Achievement Awards.
This award is given each year to someone who has truly dedicated his life to serving the working men of women of organized labor as well as all working men and women in the community.
Mike was unable to attend the event so accepting the award in his name were six of his fellow Teamsters.
Pictured left to right:
Local 200 Business Representative Jim Seelow, Local 200 President Tom Bennett, Local 200 Secretary Treasurer Tom Millonzi, Local 200 Business Rep Tom Benvenuto, Local 200 Business Rep Darrick Jordan and Local 200 Business Rep Wes Gable.
From all Teamsters to you Mike,
Congratulations!
Our Brothers and Sisters of the IBT Building Material and Construction Trade Division have been extremely busy the last couple of years within the jurisdiction of Local 200 and there seems to be no end in sight. From day work to night work, from road work to vertical building, from new single family homes to 30 plus story office towers and to a new sports complex that will be above the rest, our Local and its membership are proud to be part of Milwaukee's history.
FOR YOUR INFORMATION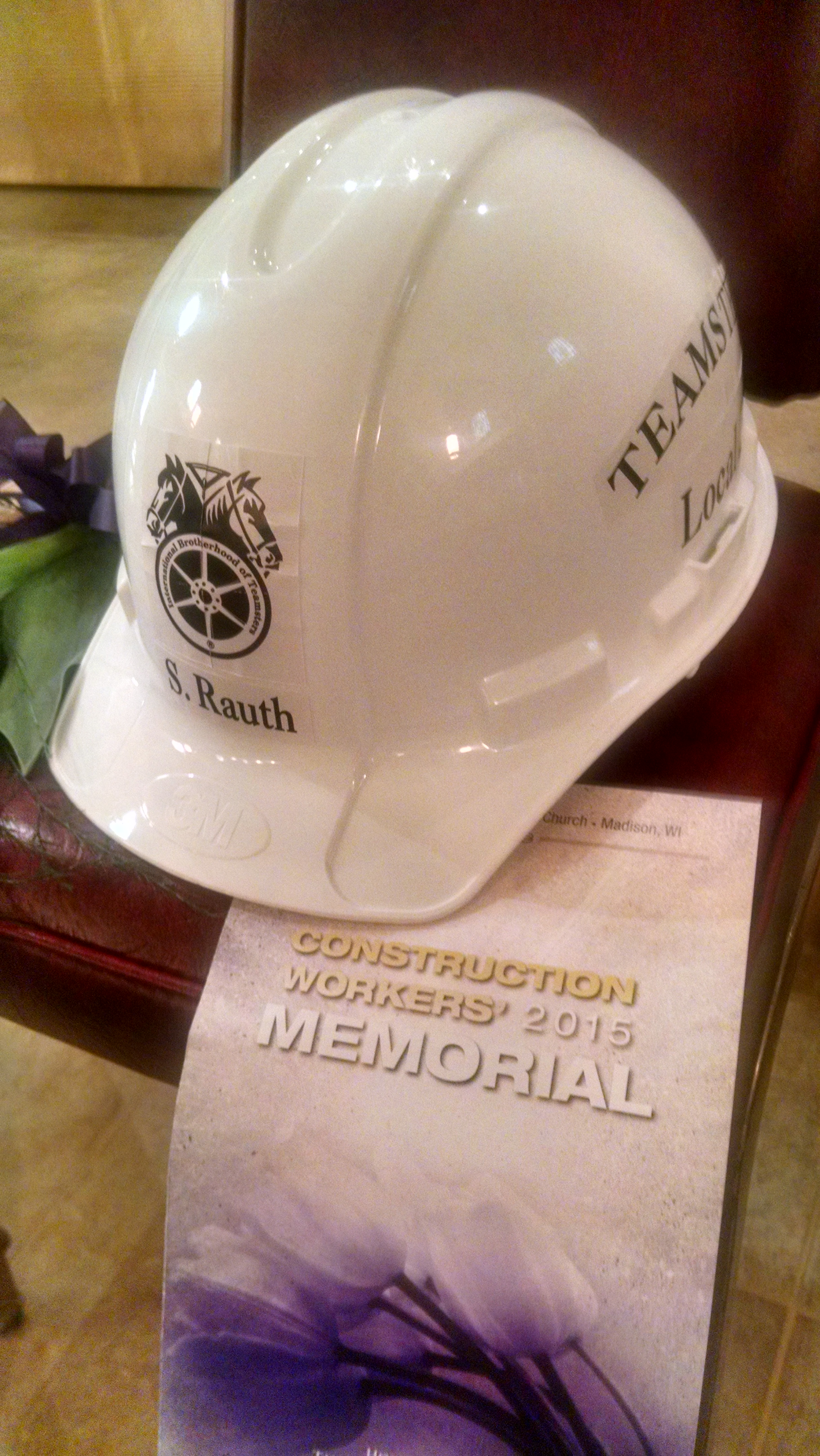 Worker's Memorial Day, Tuesday, April 28, 2015 was a day to reflect on those workers who lost their lives while in the performance of their job related duties. As we take our daily events for granted, we should always be aware that an unforeseen act can change the lives of many without notice and within a matter of seconds.
Such a tragic event did happen to a member of Teamsters Local 200. Stephen Rauth died during his workday in an industrial accident, leaving behind a wife and a young family. Yesterday, Tuesday April 28, 2015, Brother Rauth was honored along with 4 others who were recognized in a Hard Hat Procession through the streets of Madison, Wisconsin, which ended at St. Patrick's Church. The procession led by accompanying sounds of Bagpipes and the sounds of Trades members marching, ended with a beautiful presentation which included General Intercessions from members of the Trades at St. Patrick's.
Teamsters Local 200 President Tom Bennett offered a reading in the General Intercessions in respect to Brother Rauth and his Family.
Local 200 Secretary Treasurer Tom Millonzi and Local 200 President Tom Bennett recently visited the Teamster International headquarters in Washington DC to meet and confer with IBT representatives Cindy Impala, director of Training and Development for the IBT, and Brian Tierney from the communications department.
"In an effort to bring continued education to the members of this local about right to work, President Tom Bennett and myself are reaching out to our International. Cindy and Brian were very knowledgeable and will be working with Local 200 in our effort," said Secretary Treasurer Millonzi.
Pictured are Secretary Treasurer Tom Millonzi and President Tom Bennett in the front lobby of the IBT headquarters in Washington DC
IMPORTANT UPDATES
SOLDON LAW FIRM, LLC.
ATTORNEYS AT LAW
Presents
Right To Work
Discussion
---
| | |
| --- | --- |
| What's New at Teamsters 200 | |
MAKE SURE WE HAVE YOUR
CURRENT E-MAIL ADDRESS
Make sure that you do not get missed when the Local sends important information to it's members and retirees.
Keep your information updated with the Local. If you have moved or changed addresses within the past 6 months, please contact the Local to request that your contact information be brought up-to-date.
You can message the office staff through the Local 200 website (go to the "Contact Us" page listed above), Facebook or call at 414-771-6363.
This request is for all members active and retired.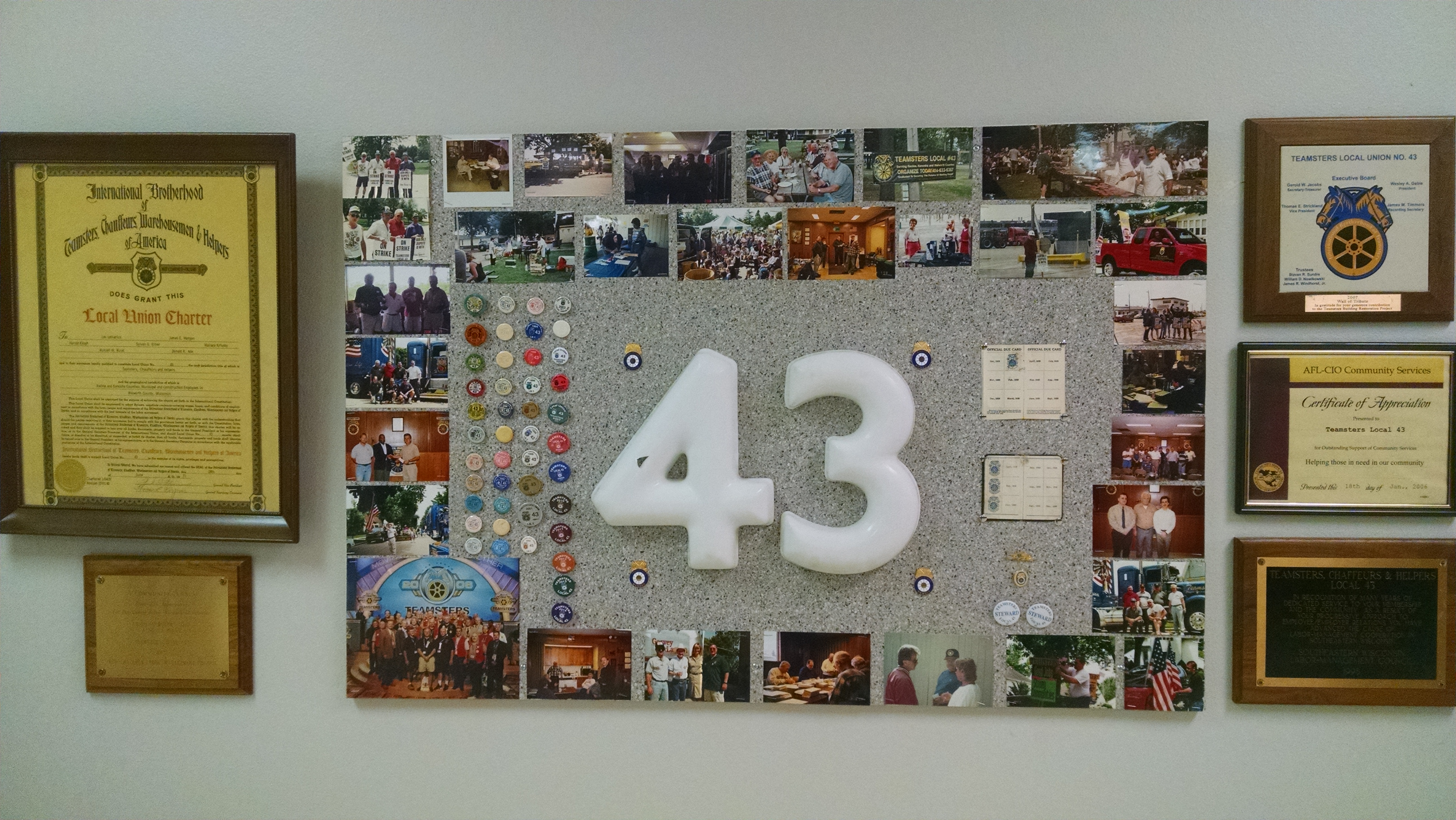 Teamsters Local 43 Remembered Post Merger
Dedicated to these members formerly from Local 43 is a shrine memorializing their Local in their Union hall in the Milwaukee location.
"Where we came from and how we got here helps move us forward," said Teamsters Local 200 Secretary Treasurer Tom Millonzi.
"We put together this shrine so when our new members from Racine and Kenosha come to their Union hall they will see and know that we remember. Remembering how we got here strengthens our solidarity," added Millonzi.
Separate seniority list for regular fulltime dock workers includes
health insurance and pension contributions
On Saturday July 12th and Tuesday July 15th Teamster Local 200 members working at Standard Forwarding overwhelmingly endorsed a dock only seniority list for workers at three facilities in Wisconsin.
"This agreement will give our members heightened protection from subcontracting, and the company help with the ever growing driver shortage nationally," said Teamsters Local 200 Secretary Treasurer Tom Millonzi.
With the help of the International Brotherhood of Teamsters National Freight Division, an agreement was forged and agreed upon by both the Union and the company to give added protection to current drivers at Standard Forwarding.
"Thanks to Assistant National Freight Director Gordon Sweeten for his help in this important issue for curtailing the use of subcontracting and getting more Teamster Drivers at Standard Forwarding," added Local 200 Business Representative Jim Seelow.
Local 200 would like to thank all the Standard Forwarding Teamsters that took part in the vote.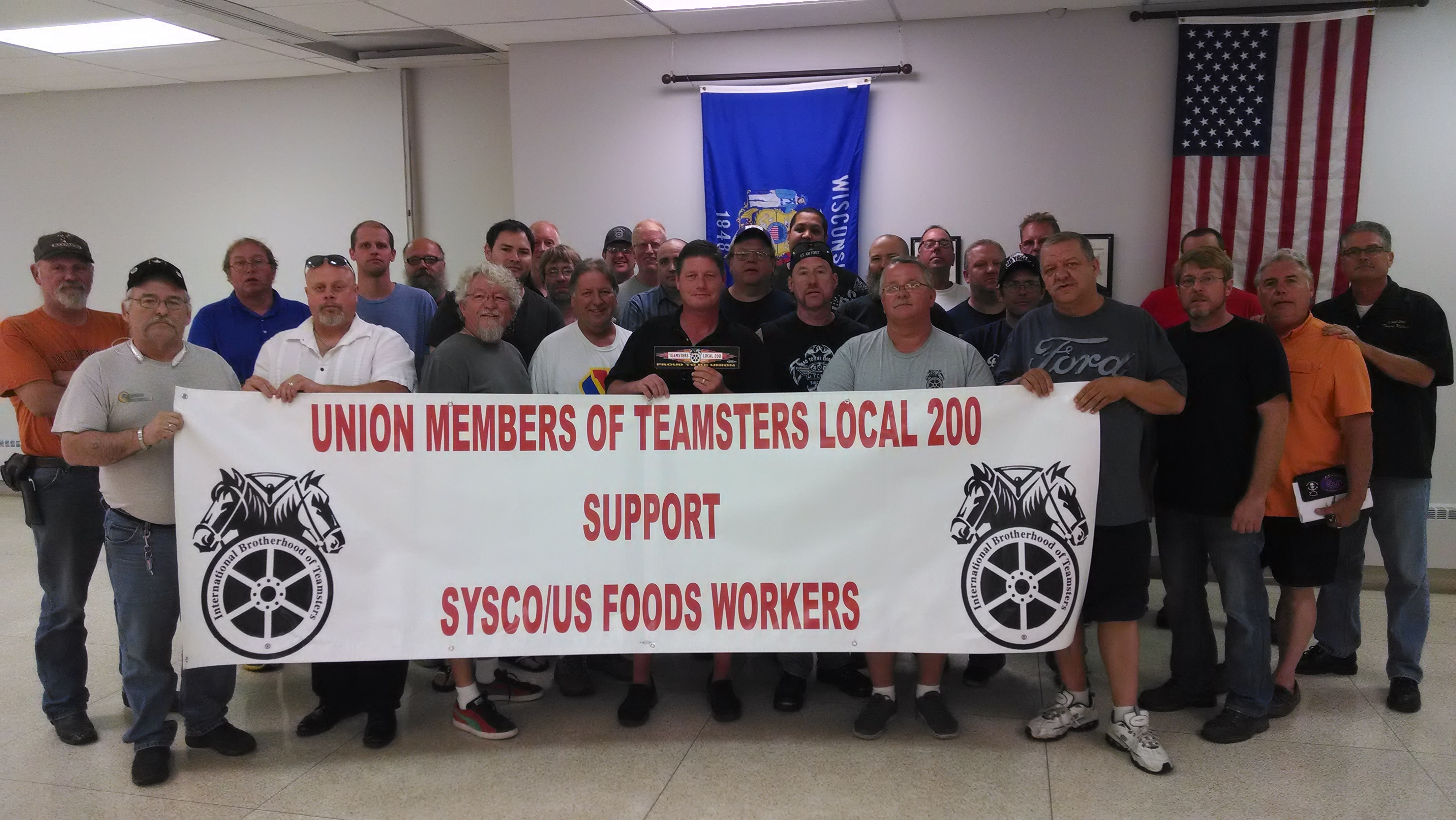 STANDARD FORWARDING LOCAL 200 MEMBERS TAKE TIME OUT OF THEIR RECENT MEETING TO SHOW THEIR SUPPORT FOR THE US FOODS LOCAL 200 TEAMSTERS
---
TEAMSTER LOCAL 43 MEMBERS
VOTE YES TO MERGE
Members of Local 43 overwhelmingly give nod to merge
Saturday June 21, 2014, Teamsters Local 43 members gave their approval to merge with Local 200.
"The message was very clear, the members of Local 43 are in favor of the merge," said Local 200 Secretary Treasurer Tom Millonzi.
Pictured in the accompanying photos during the vote count are; Local 43 office staffer Cindi Vance-Smith, Teamsters Local 43 Secretary Treasurer Wes Gable, Local 200 President Tom Bennett, and Local 200 Secretary Treasurer Tom Millonzi.
Teamsters Local 43 and Local 200 have been in talks about a merger for some time and the membership approval was the next step in the process.
"Now the process moves to the International Brotherhood of Teamsters General Secretary Treasurer Ken Hall's desk where we will await his stamp of approval," said Local 200 President Tom Bennett.
Thanks to all the members of Teamsters Local 43 that participated in the merger vote process.
Local 43's jurisdiction includes the Racine and Kenosha areas, all the way to the Illinois border.
---
---